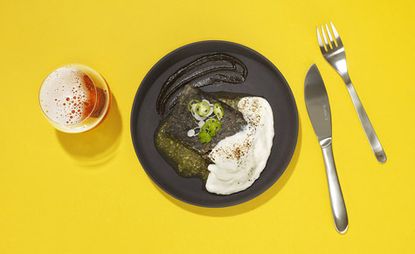 (Image credit: press)
Wallpaper* Newsletter
Receive our daily digest of inspiration, escapism and design stories from around the world direct to your inbox
Thank you for signing up to Wallpaper. You will receive a verification email shortly.
There was a problem. Please refresh the page and try again.
Why good clean fungus is on the very best menus
Huitlacoche, a rare foodstuff whose looks improve the further removed it is from its natural state, has gained superfood status in the States. Of course, the truffley mould which grows on the ears of corn is not unreasonably considered a blight in most countries, including the US, but it has been harvested for it's culinary cache in Mexico for centuries.
The leading light of modern mexican cuisine, Enrique Olvera, offers a very fine Huitlacoche Tamal at his restaurant Pujol in Mexico City. It comes on a bed of Salsa Verde and is topped with a warm Oaxaca cheese foam and sings with the rich earthy flavour of Mexico's favourite fungus. Here he shares the recipe, for the adventurous, and many-utensiled cook to try at home.
Huitlacoche Tamal with Warm Oaxaca Cheese Foam
Serves four
Ingredients:
Huitlacoche Puree
50g butter
100g diced onion
2 cloves crushed garlic
500g chopped huitlacoche
Salt to taste
Salsa Verde
150g green tomatillo tomatoes
1 clove sliced garlic
50g sliced onion
1/2 serrano chilli, sliced in rounds
40g fresh coriander
Huitlacoche Mix
40g butter
60g diced white onion
20g crushed garlic
250g chopped huitlacoche
Salt to taste
300 grams roughly chopped tomatoes, peeled
Tamal (makes 15 tamales)
750g cornmeal dough
500g lard
Salt to taste
250g huitlacoche puree
400ml water
500g stewed huitlacoche
15 30x30cms banana leaves
Oaxaca Cheese Foam
250g diced Oaxaca cheese
250 ml water
250g whipping cream
0.7g xanthic gum
Chilli Mix
20 guajillo chillis, seeds removed
20 ancho chillis, seeds removed
Presentation Ingredients
120g huitlacoche puree
1 batch (see above) salsa verde
4 tamales (without banana leaves)
1 serrano chilli, cut into paper-thin slices
1 spring onion, cut into rings
8g purple epazote sprouts
100g Oaxaca cheese foam (see above)
Chilli mix
Method:
Huitlacoche Puree
Warm the butter in a skillet, sauté the onion and garlic until lightly browned. Add the huitlacoche and cook for 15 minutes. Season, blend and pass through a fine sieve. Set aside.
Salsa Verde
Place the green tomatoes, onion, garlic and serrano chilli on a comal (flat, griddle-like pan). Roast until golden brown. Season and blend with the coriander. Set aside.
Huitlacoche Mix
In a skillet sauté onions and garlic in butter. Add the huitlacoche and cook for 10 minutes over a medium heat. Season and add tomatoes. Cook for a further 5 minutes over medium heat and then set aside.
Tamales
Place the cornmeal dough, lard, salt and huitlacoche puree in a bowl. Knead by hand or blend with a wooden spatula until it forms a smooth, dark paste. Add the water and the huitlacoche mix and set aside.
Place the banana leaves on the comal/griddle to soften and change colour a little. Place 160 grams of the tamal mixture in the centre of a leaf and spread with a spatula to form a 12x12cm square. Fold the ends of the leaf over the mixture and close the tamal. After the tamales are complete, warp them individually in tin foil and place them in a steamer. Steam for 55 minutes. Leave the tamales wrapped in the leaves until ready to serve.
Leftover tamales can be kept for up to three days if refrigerated in an airtight container.
Oaxaca Cheese Foam
Cook the cheese in water over a low heat for 30 minutes until all the whey separates out. Strain and keep the whey only. Add the whipping cream and cook for a further 10 minutes. Add the xanthic gum and beat with a mixer. Place two batches of the mix in a large soda siphon and keep at 60 degrees C.
Chilli Mix
Toast the chillis in the oven at 90 degrees C for 40 minutes. Mix ingredients in a blender until they form a fine powder. Place the mix in a gauze cloth and tie off the top. Set aside.
Presentation
Draw a line of puree down one side of the plate. Create a base of salsa and place the unwrapped tamal on it. Set the Serrano chilli on top of the tamal, then one onion ring, some epazote sprouts, and top it all off with the cheese foam. Tap the gauze pouch over the tamal just before serving to dust it with the fine chilli powder. Repeat for the remaining three plates.
Receive our daily digest of inspiration, escapism and design stories from around the world direct to your inbox