Hanna Liden stacks up a New York icon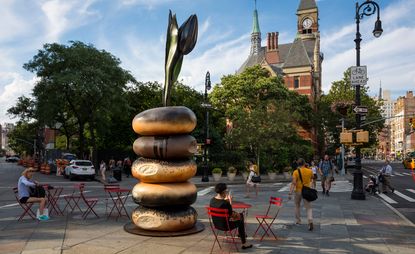 (Image credit: Photography: Nicholas Knight. Courtesy of Art Production Fund)
Swedish artist Hanna Liden has supersized a New York foodie favourite: the bagel. The two-part installation - entitled 'Everything' and presented by Art Production Fund in conjunction with Kiehl's - pits large-scale tributes to the humble breakfast foodstuff against the bustling backdrops of the Hudson River Park and the nearby Ruth Wittenberg Plaza.

Carved from industrial foam and polyurethane, the colossal bagel sculptures are a witty riff on American sculptor Claes Oldenburg's monumental scales and Constantin Brancusi's modernist columns, with a gothic twist. The largest piece, towering over the city's denizens at 17-feet tall, serves as a makeshift vase with black, spray-painted tulip poking out of it - a nod to one of Liden's previous photography works and the inspiration behind this show.

'The bagel – a circle with no beginning and no end – is evocative of the eternal cycle of city life,' explains the artist, who recalls enjoying her first bagel (plain with cream cheese) in 1998 after moving to New York City. 'The black spray paint is a romantic tribute to the darkness and grime, which are essential and beautiful characteristics of our city.' Indeed, most New Yorkers will agree that the city's latest public art project has stacks of appeal.
Receive our daily digest of inspiration, escapism and design stories from around the world direct to your inbox