Winter warmer: Fornasetti Profumi's alluring 'Misterio' scented candle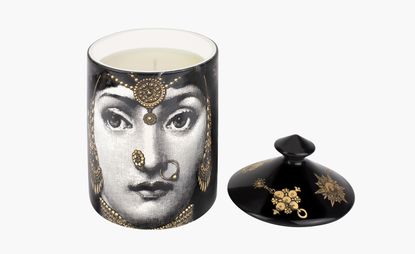 (Image credit: Fornasetti Profumi)
Scented candles may be two a penny these days, but for our money, few come close to those from Fornasetti Profumi, both in terms of fragrance and visual appeal. The Italian design house – built on the work of its prolific founder, Piero Fornasetti, and now under the guidance of Barnaba, his son – released its first collection of scented candles back in 2010; and while the quality of the designs came as no surprise, the scent, called 'Otto', did. Not only was it a delicious fragrance in its own right, but it was formulated by no less a perfumer than Olivier Polge, son of the legendary Chanel 'nose', Jacques Polge.
Several collections and two fragrances later comes 'Misterio', launched as part of the 'L'Eclaireuse' collection. Though it may not have the stellar pedigree of 'Otto', it's been artfully put together by the talented team at Robertet, the Grasse-based perfume house, and for our money it's just as alluring as 'Otto' was. Maybe that's because we have a long-standing love affair with smoky scents, or maybe it's a sign of an inherent quality, but we've been burning 'Misterio' at Wallpaper* HQ all week (doubtless to the horror of the building's fire officer).

Robertet's brief, apart from 'make something that Wallpaper* will love', was apparently to conjure up variations on the theme of a chic, sophisticated Parisian interior. In common with all the Fornasetti Profumi scents, woods and incense play a key role in the composition, with a warm, satisfying base of patchouli, cedar and sandalwood, spicy-fresh cypress and pink pepper, and the leathery-resinous smell of labdanum. The smokiness is surprisingly delicate and ethereal rather than high-church heavy, which means that – unlike most smoky fragrances – 'Misterio' is likely to smell just as appealing in summer as it does in autumn or winter.
INFORMATION
For more information, visit the Fornasetti Profumi website (opens in new tab)