Discover the craftsmanship behind this bergamot scent
Acqua di Parma's new bergamot scent, Bergamotto di Calabria, is an ode to traditional Italian craft and a citrussy sensory hit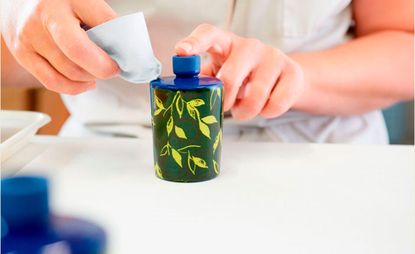 (Image credit: harrods)
Since its beginnings in 1916, Acqua Di Parma has worked to preserve the traditional craft techniques of the Italian micro-territories. This has manifested itself in products made only from locally sourced ingredients, iconic yellow boxes that are hand-embossed in Parma, razors and brushes made in some of the oldest workshops in Florence, and glass bottles made by Murano glassblowers.
While tradition has always been integral to Acqua di Parma, the brand's latest fragrance goes further than any of its previous endeavours.
The bergamot fragrance is extracted from the citrus fruits through a process known as 'sponging', which is practised by a small group of Calabrian artisans. It requires the use of a small, spoon-like utensil called a 'cavatore', which separates the bergamot orange skin from the pulp. The bergamot rinds are then manually rubbed on sea sponges, which absorb the fragrant essence.
The sponges are hand-squeezed into a container, with the resulting liquid forming the central ingredient of the Bergamotto di Calabria scent.
Sponging demands a great deal of skill and is remarkably time-consuming, with one day of hard work by two artisans producing only about 4kg of essential oil. Yet, the results are incomparable. One spritz of Bergamotto di Calabria is its own small sensory explosion of bright citrus. You practically see yellow when you smell it.
The same attention to craftsmanship is extended to the Bergamotto di Calabria bottle production. The porcelain mix is poured into a ceramic mould, left to sit for 30-40 minutes, and then hand-smoothed before it is baked for eight hours. The solid bottle is hand-painted with images of bergamot oranges and vines, and then a label is applied, made from waste powder from marble quarries.
The final product is a one-of-a-kind cologne, a sort of dressing-table monument to the history of Italian craftsmanship that is worth keeping long after the last spritz.
INFORMATION
Mary Cleary is the Beauty & Grooming Editor of Wallpaper*. Having been with the brand since 2017, she became an editor in February 2020 with the launch of the brand's new beauty & grooming channel. Her work seeks to offer a new perspective on beauty, focusing on the pioneering personalities, product designs, and transformative trends within the industry.