Pure imagination: Fornasetti celebrates its seminal dinner plates with new book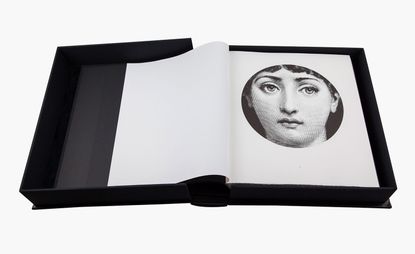 (Image credit: Fornasetti)
'To make a book like this, in this day and age, felt essential to me – to underline the key role of time in [a] human being's work through artisan processes and the pleasure of research of high quality details.'

This is how Barnaba Fornasetti explains his decision to commission Tema e Variazioni: The First Series, 1–100 – a super-luxurious handmade book celebrating his father's iconic series of 'Themes and Variations' dinner plates, based on a portrait of the Italian-born opera singer Lina Cavalieri. In 1952, Piero Fornasetti began tinkering with this image, introducing often-surreal motifs to the original line engraving; today there are almost 400 variations on the theme.

Why Cavalieri's image proved such a fertile source of inspiration is something of a mystery, though Barnaba feels that her face 'has the same expressive gift as the Mona Lisa: it's pure imagination. It doesn't express a feeling or a look but its being so mysterious hits every observer very deeply.'

Limited to 100 editions, numbered and signed by Barnaba himself, this beautiful new book features the first 100 of these designs. Printed on cotton paper using Piero Fornasetti's original drawings to make brass matrices and stitched together with red and white linen thread, Tema e Variazioni features essays by Gio Ponti, Alberto Manguel, Glenn O'Brien and Barnaba himself.

Once the printing was completed, one of the original matrices was inlaid flush into the cloth cover of each book, making each copy absolutely unique – though as Barnaba points out, 'this is a higher number of editions compared with the usual circulation of this kind of high-quality book, considering the "life" of a matrix and its reproduction capacity'. Either way, we think it's sure to become highly collectable – espcially at a mooted price of around €9,000 – so get your order in sooner rather than later.
INFORMATION
Tema e Variazioni: The First Series, 1–100 is available in a limited edition of 100 unique copies. For more information, visit the Fornasetti website
Photography courtesy Fornasetti