Electric Dolce Vita: the Fiat 500 Jolly Spiaggina Icon-e
Ramp up the feel good factor and revisit the blissful simplicity of Fiat's open-sided 1960s icon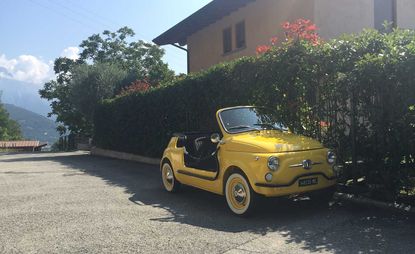 (Image credit: TBC)
Nothing shouts 'the good life' better than driving a bright-yellow vintage 1960s Fiat 500 Jolly Spiaggina – modernised to run solely on electric power – along the beautiful roads around Lake Como in the famous car brand's native Italy. The classic Fiat 500 is already widely adored as one of the best 'everyman cars' ever designed – Italy's version of the English Mini or the French Citroën 2CV – and the Spiaggina version, meaning 'little beach' in Italian, ramps up the feel-good factor a few notches higher.

Taking away the roof and doors of a car breaks down the usual physical barriers to human commuter interaction and creates a metaphorical openness in the process too. Gliding silently through the narrow streets of idyllic lakeside villages – the Spiaggina EV's top speed is only about 50mph and with open-top air flow to contend with, slower is better – crowd reaction is constant and consistently positive. Smiles abound along with shouts of 'Numero uno', 'Bella macchina' and more. Once you get into character it's impossible not to smile and wave back, return the numerous thumbs up signals and shout the odd 'Buongiorno' to any locals sitting outside cafes and bars. Even the grumpiest old men repeat the greeting.
Driving the Spiaggina Icon-e, converted to electric via Fiat heir Lapo Elkann's Garage Italia business, takes a little getting used to, but it's a blissfully simple process by modern-day standards. Entry to the vehicle involves unclipping a VIP-style rope and stepping over a low sill into one of four wicker seats (there are no seatbelts, as this car was born before they were mandatory). The car is turned on with a conventional key in a slot in the yellow metal dashboard and then you simply flick a black switch to its left to put the car into 'Drive'.

The steering wheel is large, thin-rimmed and with no obvious power assistance, but the car is light and tiny, so manoeuvring is simple. Rear legroom is only okay, but it's not a long-haul vehicle. A single driver dial has been updated with an LCD display to indicate Drive, Reverse and Neutral and also how much electric range is left. Don't trust it: The claimed circa 60-mile range we found (to our cost) to be closer to 40 miles, despite the display indicating otherwise. Still, if you use this car for a fun day close to where you hire it, you'll be fine. And if you take the car for more than 24 hours there's a charging cable in the 'boot' to bring it back to 'full' (where the original car housed its tiny rear-mounted engine).

For longer journeys Hertz's 'Selezione Italia' rental fleet also offers other Italian cars including an Alfa Romeo Giulia saloon 'Grand Tour' edition with a vivid blue exterior paint job and a ceiling liner printed with a classical mural, (an acquired taste), but also an efficient modern diesel Alfa Romeo Stelvio SUV able to carry major luggage and passengers with ease. The Fiat 500 Spiaggina isn't cheap at €250 a day, but as a way to connect to your location like no other, it's a one-off experience that's hard to beat.
INFORMATION
Receive our daily digest of inspiration, escapism and design stories from around the world direct to your inbox
Guy Bird is a London-based writer, editor and consultant specialising in cars and car design, but also covers aviation, architecture, street art, sneakers and music. His journalistic experience spans more than 25 years in the UK and global industry. See more at www.guybird.com