Cooking class: Kettle & Brine brings craft-focused cookware to Austin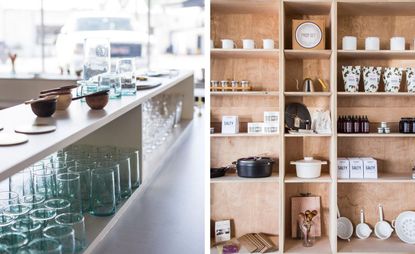 (Image credit: Jenn Hair)
I'm not a chef, I'm an enthusiastic home cook,' points out former interior designer Tarica Navarro. Navarro recently opened Kettle & Brine (opens in new tab), her dream-come-true kitchen and home accouterment shop in west Austin, Texas. Born of a fierce passion for cooking and a love of responsible design, Kettle & Brine's mission is to celebrate coming together around food - whether you are cooking, serving or eating it.
Kettle & Brine offers a curated assortment of thoughtfully-sourced utilitarian cooking accessories and pantry items. These design-focused pieces are handpicked by Navarro for their heirloom-like quality and sourced from all over the world. Cast iron bottle openers sit atop recycled wood cheese boards, ladles are made of maple wood and the spoons are crafted from hand-forged brass.
The shop boasts contemporary brands with elegant forms that follow function including Okayama's Lue (opens in new tab) and the Hudson Valley's Blackcreek Mercantile & Trading Co (opens in new tab). Navarro has also made a point to include local brands, such as Foxwares (opens in new tab) and Settle (opens in new tab), for one-of-a-kind ceramics. Mixed into its offerings are coveted staples like Weige Knives and copper cookware from Mauviel.
In the pantry, Cardamom and Clove Almond Butter from Solstice Canyon (opens in new tab), Weak Knees Gochujang Sriracha from Brooklyn's Mixed Made (opens in new tab) and a wide variety of Jacobsen salts (opens in new tab) ensure visitors can also pick up the right ingredients.
Kettle & Brine's interior calls to mind a well-edited, contemporary home and invites visitors to try out its wares and to stay a while. Navarro created a calm aesthetic with local plants, raw metals, live-edge wood and unfinished concrete.
The living space, grounded by a vintage Beni Ouarain rug, is furnished with chairs by Sabin and fabric by Zak + Fox. She partnered with Kelly DeWitt of KKDW (opens in new tab) to create Kettle & Brine's custom wood slab dining table and kitchen island. The focal point however, is the cashier's counter covered in unpolished brass. 'Fingerprints cover the surface,' says Navarro, 'but with age, this counter will tell stories about our shop.'
INFORMATION
Photography: Jenn Hair
ADDRESS
Kettle & Brine (opens in new tab)
908-C West 12th Street
Austin, Texas
VIEW GOOGLE MAPS (opens in new tab)