Caterham ups the old-school design ante with the Seven Sprint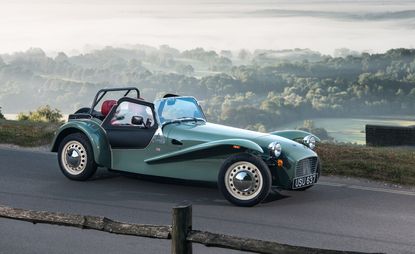 (Image credit: press)
Caterham's evergreen Seven is already a slice of pure automotive nostalgia, but in its newest Sprint trim it ups the ante in terms of old school design. The Sprint has been created – in a strictly limited edition of 60 – to celebrate the 60th anniversary of what must one of the oldest pieces of car design still in production. The Seven began life as a Lotus, the purest evocation of company founder Colin Chapman's ethos of engineering minimalism. After Lotus moved on to making more substantial automobiles, it licensed the Seven to several manufacturers, one of which, Caterham, still builds their cars south of London and keeps the flame alive.

Chapman's original spirit of simplicity lives on in the entry-level 160 model, which matches a simple Suzuki engine and gearbox with the peerless handling and feel of this tiny machine. The joy of the Seven is its flexibility. With its skinny tyres and 80hp three-cylinder engine, the 160 delivers the purest of driving thrills. If you can cope, the company ramps up the power output (and price), all the way up to the flagship 620R model, which has three and a half times the power and just as little weight.

The Sprint is based on the entry-level 160 model, giving it the perfect sporting character – you don't want a gnarly, ferocious beast to wrestle with on a pleasant weekend road trip. Typically, buyers of the lowlier Sevens are given the choice of assembling the cars themselves, but the Sprint is factory built, given its aspirations to craftsmanship. As a result, there's a welcome dose of added quality, courtesy of a full leather interior, slim wooden rimmed steering wheel and the odd splash and dash of chrome.


While all this adds a welcome sense of comforting enclosure, especially with the hood up, the Seven is never going to be a cocoon-like GT. Caterham's closest competitor is probably Morgan, but despite being fellow purveyors of skillfully updated archaisms, a Morgan feels like a Rolls-Royce in comparison to the utterly functional feeling of driving a Seven.

There is a lot to like, not least the strong feeling that this kind of car-driver relationship is not long for this world. Every single move you make in a Caterham is a true synthesis of driver and machine – you feel every bump in the road, see your wheels turning, experience the engagingly chirpy sound produced by the tiny engine and generally get a sense of how things used to be back in the days when driving was a form of physical endurance and not just an excuse to rifle through great tranches of multimedia as you stifle a yawn in near-autonomous silence.

Caterham can't help you with in-car entertainment of the audio kind. Certain details are rough and ready, like the indicator noise that sounds like an HGV is reversing into your blind spot, or the gaps in the canvas that let in the occasional stray drop of water. The Sprint is a very binary car; things are either on or off (and you either like it, or you don't). The windscreen wipers are either on or off. The heater is either on or off, blowing air from an indistinct part of the dashboard and making the flimsy cabin reach a passable level of cosiness – or at least half of it. Most of the time your right side is catching a chill from the imperfect arrangement of canvas and plastic that makes up the hood, while your left kneecap gets a roasting. Push really hard, and you'll find that you either have traction or you don't, but luckily the precise, dextrous brilliance of the steering mean that total control is really very much in your hands at all times.

That's a comfort, given this car's diminutive character. You sit at eyeball level with the wheel nuts of 30-tonne trucks, disconcerting in a traffic jam, near terrifying when passing at speed on the motorway. Yet because you're such an automotive minnow, the Sprint makes a fantastic, albeit unconventional, city car, compact and economical and perfect for short, spirited hops.
At some point in a long, late loop around South London, we are joined by the genuine article, a 1930s two seater of indeterminate provenance. Three quarters of a century separates these two cars, but the basic experience seemed remarkably similar, as we roared away from the traffic lights, rain spraying up around slender wheel arches and drumming down on canvas hoods. At such moments, the Sprint makes perfect sense, a time machine that captures just the right elements of a bygone world.

The Sprint apparently sold out instantly, so dealers will have to be cajoled if you want one of the original cars. But if you want a similar experience, Caterham recently announced a new personalisation programme, 'Caterham Signature'. Although there'll never be the scope to enhance your Caterham in the same manner as an Aston or Bentley, the first fruits of the operation are demonstrated by a new Harrods Special Edition. We're not sure what Colin Chapman would make of what is probably the most ostentatious Seven ever built, but it points the way towards a future of greater customisation – and perhaps slightly more creature comforts – for what is one of the world's great motoring experiences. Keeping the Seven alive for many more years can only be a good thing.
INFORMATION
Caterham Seven Sprint, £27,995; and Caterham Seven Harrods Edition, £59,999. For more information, visit the Caterham Cars website (opens in new tab)
Jonathan Bell has written for Wallpaper* magazine since 1999, covering everything from architecture and transport design to books, tech and graphic design. He is now the magazine's Transport and Technology Editor. Jonathan has written and edited 15 books, including Concept Car Design, 21st Century House, and The New Modern House. He is also the host of Wallpaper's first podcast.