The softer side of nature: Aesop's evocative new Sapporo store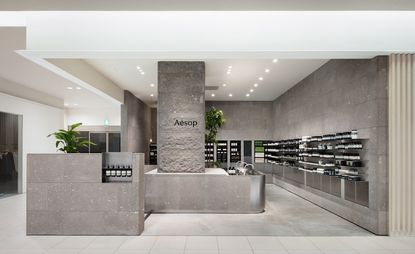 (Image credit: Takumi Ota)
Australian skincare brand Aesop is the whole package. Actually, 'skincare' is perhaps a reductive term given the brand's exploded remit, that now also comprises organic deodorants, fragrances, burning oils and timeless shaving ephemera – but either way, the label's efficacious plant- and lab-born products would be top-tier even without the irresistible minimal design of its packaging and the organic, design-led interiors of its stores.

A new outpost in the northern Japanese city of Sapporo – Aesop also has stores in Tokyo, New York, London, Melbourne, and more – is a defacto apex for a brand with an irrefutable knack for retail architecture.

Spanning a modest 48.6 sq m, the Stellar Place store interior channels both Sapporo city and the broader Hokkaido Prefecture's benign, poetic landscape – from white birch forests to fog-washed mountains, silhouetted above the city itself.

It's a wilfully lofty – and perhaps sentimental – remit, keenly realised by Koichi Futatusmata and Ritsu Shibata of the Fukuoka-based design firm Case-Real (with lighting design by Branch's Tatsuki Nakamura).

Striving for an aura simultaneously 'dynamic but somehow fragile, with a sense of roughness but also delicate', the duo harnessed Sapporo freestone as the space's key material. An easily-mined and lightweight volcanic tuff, freestone has been used as a public building material in Hokkaido for over a century; in its smooth and roughly unrefined forms (both are utilised here), the rock is simultaneously practical and highly evocative of its regional environs.

The light grey expanse is offset with shelves and fixtures in vibration finish stainless steel, together creating a muted, refined space that screams gallery more than concession. That the products themselves – here reconstituted as 'man-made artifacts co-existing with the harsh side of nature' – remain a focus is testament to Aesop's ever-ascendent identity.
The lofty design brief has been keenly realised by Koichi Futatusmata and Ritsu Shibata of the Fukuoka-based design firm Case-Real – with lighting design by Branch's Tatsuki Nakamura
INFORMATION
For more information, visit Aesop's website (opens in new tab)
Photography: Takumi Ota
ADDRESS
Aesop
JR Tower East 2F
Sapporo Stellar Place
Kita 5-jo Nishi 2-chome, 060-0005
VIEW GOOGLE MAPS (opens in new tab)