Is Byton's massive 48-inch screen a new interior design trope for electric vehicles?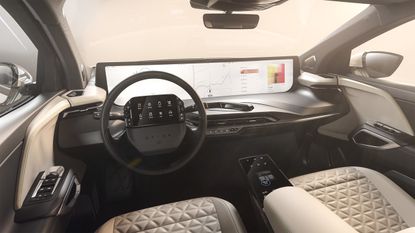 (Image credit: byton.com)
You might have heard of premium Chinese electric car start-up Byton already. It's released two well-received concept cars in the last 18 months – the M-Byte SUV and K-Byte sedan – but its first production EV with a genuinely game-changing 48-inch full-width infotainment screen will receive its global unveil in September 2019.

The first Byton car will be the M-Byte, an electric, mid-sized SUV that should sit between a Jaguar I-Pace and Audi e-tron in length, be offered in rear- or all-wheel drive and offer either 400 or 520km of range. Starting from $45,000, the huge 48-inch screen will be standard on all models. Chinese customers get the car first in late 2019, followed by the US within 12 months and consideration for Europe after that. Under the guidance of ex-BMW i designer Benoît Jacob, the new car company with design studios in Munich and now Shanghai aims to offer new levels of interface usability and digital sophistication beyond current frontrunners Tesla and Mercedes, so we took the opportunity to have a chat with senior VP of design Jacob just ahead of the official opening of the firm's new Shanghai design studio last week.
Wallpaper*: Why are you so excited by this big new screen?
Benoît Jacob: The idea of a very large screen is not new – it's been on concept cars for years – but what is new is that Byton is doing it for real.

W*: How does it work?
BJ: The large screen is what we call a 'remote device' and very different from a typical instrument cluster, centre console and instrument panel. It only displays information, you cannot touch the screen directly to interact with it. Instead you use the 7-inch driver tablet [within the steering wheel hub] for navigation and car control and the passenger can do the same [via the 8-inch centre touchpad]. In addition we want to offer voice and gesture control; for some tasks, they can be the most effective.
RELATED STORY
W*: Does the technology offer any future-proofing?
BJ: Now we have a product that can adapt to very different life cycles. The hardware has a relatively long lifestyle – the body, the interior, the parts – but the software has a completely different lifecycle. Our motivation was to create a platform that can rapidly adapt.

W*: What will this adaptability enable?
BJ: At launch the model will have all the necessary functionality but we will also have the opportunity to launch several business models, related to software, apps and stuff like that. The screen is designed to be the platform. We designed this car knowing probably 20 per cent of the use-case, but there's still another 80 per cent to discover, which app developers or third party businesses will find, to eventually upgrade the car in a regular way.
W*: Who will be Byton's customers?
BJ: In our main market of China, we see strong potential from the 'digital natives'. The premium customer in China is in their mid-30s, 15-20 years younger than the ones in Europe or the US. There is appeal for more 'newness', especially from premium manufacturers and I think we have a meaningful answer to this demand.

W*: If Byton was fashion brand which would it be?
BJ: To be honest I never really thought about it, as to be sustainable is not to be too fashionable. Trends age quickly. Our idea is to have a product that can last and be upgraded. We look at fashion and furniture, but not in this way.
INFORMATION
byton.com (opens in new tab)
Guy Bird is a London-based writer, editor and consultant specialising in cars and car design, but also covers aviation, architecture, street art, sneakers and music. His journalistic experience spans more than 25 years in the UK and global industry. See more at www.guybird.com (opens in new tab)