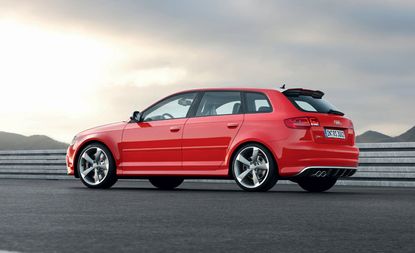 (Image credit: press)
Saving the planet may be at the top of most carmakers' agenda, but the luxury brands haven't quite written off fast and furious motoring. We currently have some pretty hardcore contenders, most notably the BMW 1 Series M Coupé, which many are declaring one of the most enjoyable small performance cars of recent years.
Not to be outshone by BMW, Audi has produced the RS3 Sportback, a serious hot hatch that marks the carmaker's most focused entry into a territory that includes the likes of Mini John Cooper Works and Ford Focus RS. The RS3 is the flagship of the A3 family. It sits above the S3, from which it differentiates itself not just by the added dose of power, but stylistic elements that butch up the overall look - wide front wings, a deeper front bumper, larger spoiler, restyled rear bumper and chunky 19-inch wheels.
Interior design follows a similar masculine aesthetic. This includes lots of soft-touch sporty leather and prominent stitching on the seats, chrome touches here and there, a flat-bottomed fat steering wheel that can be ordered in alcantara, sporty RS instrument gauges and lots and lots of RS branding throughout. With Audi Exclusive you can opt for a host of extra goodies including optional bucket seats that help hold you whilst speeding around corner - something you're most likely to do in a car like this.
The five-door hatchback features the same 2.5 five-cylinder turbo petrol engine that powers the TT RS - these being the only two Audis to feature this coveted engine. It also boasts 340bhp, delivering supercar performance with 0-62mph a sprint in just 4.6 seconds.
The RS3 Sportback is all-wheel drive and is fitted with a seven-speed, double-clutch gearbox filtered down from the Quattro rally cars that allows for both automatic and manual drive, the manual shifts operated through the paddle behind the steering wheel.
Fuel consumption has been kept relatively low - it returns 31mpg on a combined cycle and emits 212g/km of CO2. Most importantly, models of the car will be limited, with only 500 available in the UK, for example, which will naturally increase its desirability.
We drove the car around Velden, which happens to be the birthplace of Quattro, and along the steep roads of the Austrian Alps - a mix of sunshine and sharp showers adding that little bit of extra adventure to the road test. And the car did not disappoint.
As a company, Audi doesn't seem to disappoint either. It has defeated all odds to be one of the sole carmakers out there actually turning a profit in these recession times, selling over a million cars globally last year - up 15 percent from 2009.
Audi also boasts record production of 1,148,791, up 23.4 percent, raising its prestige to Europe's best selling premium marque. The firm is planning 13 new models and a target of 1.2 million sales for 2011. Sadly the A3 bodies will be extinct in less than a year.
What's more Audi just announced its tenth victory at the French sportscar endurance classic Le Mans 24 Hours racing that took place over the weekend. Utilising this racing know-how, Audi is continuously making fabulous sports cars that have the added bonus of exquisite design and a pretty unrivalled attention to detail, especially in interior design.
Whilst most other car manufacturers had almost waved goodbye to the glory days of motoring in a bid to sound genuine in their embrace for green motoring, Audi has been busy trying to find a way to retain the thrill of driving but make it relevant for the 21st century.
The whole e-tron project is centred around this proposition, and judging by the evocative design of the concept cars we've seen so far, many of us cannot wait to experience this second paradigm in motoring.
The RS3 Sportback is clearly not a car that is vital to our existence. You don't need one of these, but a driving enthusiast would for certain desire one. Let's face it, the thrill of driving is here to stay - even if the zero emission autonomous car of the near future will allow us to take the occasional break. What is certain is that there will always be room for fun cars like the RS3.
Receive our daily digest of inspiration, escapism and design stories from around the world direct to your inbox