Aston Martin DBS Superleggera revealed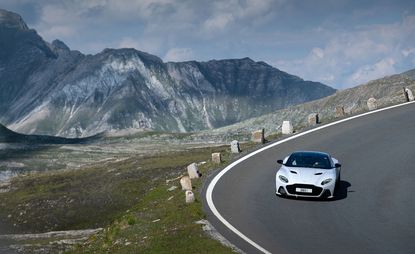 (Image credit: Aston Martin)
So here it is, number three of seven, a rather prosaic way of establishing that the new Aston Martin DBS Superleggera is the third of seven all-new cars to be launched within a seven year period by the revitalised, newly profitable, and freshly competitive Aston Martin. It's also the marque's new flagship, the very nature of which means it's a scarcer commodity than its siblings, the DB11 and Vantage. Faster, dearer, and more exclusive, the DBS Superleggera is designed to compete at the highest level of the luxury sports car market, tempting buyers away from Ferrari and helping bolster the company's image.

At first glimpse, the DBS Superleggera appears closely related to the DB11, the 2016 grand tourer that kickstarted the company's renaissance. It's true that the two cars share plenty of components and proportions, but the Superleggera is a far more sophisticated proposition. Weight-saving comes courtesy of carbon fibre (hence the name, a designation first used on the Italian-designed space-framed cars Aston built in the 1950s and 60s) and a certain stripped out aesthetic – the rear spoiler is now fixed, rather than motorised, for example. Aston makes much of the newer car's 'brutish' character, in keeping with its colossal power output (more of which later), but to our eyes the new aero and dynamic refinements have resulted in one of the best looking contemporary Aston Martins in many years, perhaps since the original DB9
On the road, the DBS Superleggera introduces itself by way of a short, sharp exhaust bark, with the big V12 settling down into a throaty idle. The car practically brims with raw potential, feeling alive in a way that can only be conveyed via a traditional internal combustion engine. Electric power might offer more torque and acceleration, but for legions of enthusiasts, the visceral intensity of traditional horsepower is going to be a very hard habit to forego. That time has not yet arrived, however, and the DBS Superleggera is happy to indulge you in noise, horsepower and visceral intensity.

There are 715 horsepower available, as well as a colossal amount of torque (900 Newton metres of it, for those who like to keep track of such things). In practical terms that means the DBS's power is instantly deployable at any speed, hustling this big machine to 62mph in 3.4 seconds and on to an improbably 211mph top speed. As we all know by now, such stats are largely academic, best kept for bragging rights in supercar owning circles. In the real world, what impresses is the lithe, fluid ride and fingertip-perfect precision of the steering. Combined with the whoomph (not a technical term) provided by the engine, and the DBS Superleggera surges down the road, dives into corners and catapults itself into the next stretch of road with tremendous aplomb. It's addictive and intoxicating; one can only hope that lucky customers get to push their cars even as fraction as hard as the press fleet.
In many respects, the DBS Superleggera is a deeply traditional machine, the synthesis of old world attitudes to power and design filtered through the lens of technological advancement. Had carbon fibre bodywork, Dynamic Torque Control and high-power turbochargers been around in the 50s and 60s, you can be sure the pioneering sports car makers of the age would have deployed them with panache. But it's only now, at the tail-end of the fossil fuelled era, that the ultra-rapid, front-engined super GT has reached its apotheosis.

The DBS Superleggera is depicted in a bold Nick Knight short commissioned to accompany the launch, all spiky, faceted graphics and lurching CGI. It's typical Knight, but quite unlike anything Aston Martin has ever done before, an indication of the new thinking that is going into this 105 year old company.

Just like in nature, automotive evolution is slow and steady; once a form reaches perfection its biggest challenge is a change to its environment. In that respect, change is definitely coming. Aston Martin is ready. The next four cars to complete the set of seven are waiting in the wings, promising new ways of thinking about design, luxury and performance.
INFORMATION
Aston Martin DBS Superleggera, from £225,000. For more information, visit the website
Receive our daily digest of inspiration, escapism and design stories from around the world direct to your inbox
Jonathan Bell has written for Wallpaper* magazine since 1999, covering everything from architecture and transport design to books, tech and graphic design. He is now the magazine's Transport and Technology Editor. Jonathan has written and edited 15 books, including Concept Car Design, 21st Century House, and The New Modern House. He is also the host of Wallpaper's first podcast.