Art in motion: Shantell Martin puts her stamp on Martone Cycling Co's designs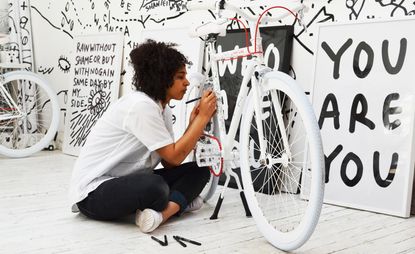 (Image credit: press)
Cycling has been booming in New York City - there are more than twice as many cyclists on the streets than in 2005, according to the New York City Department of Transportation. With all the bikes on the road, it's no wonder that Artspace (opens in new tab) partnered up artist Shantell Martin (opens in new tab), who bikes around New York herself, with Martone Cycling Co for, well, an art bike.

Martin, whose art mainly consists of her own 'language' of black-ink doodles and words scrawled on white surfaces, looked towards urban cycling as her inspiration, using her trademark black ink to write terms like 'Now,' as well as doodles on 26-lb all-white Martone Cycling bicycles accented with an angular basket, red chain and Lucite pedals. 'Martone cycles are beautiful, well made, and the perfect canvas for me,' she said. The bikes aren't meant to be precious works of art for display in your home, you're supposed to actually ride them around town, and not have to worry about the black ink being stripped away from the elements because it's covered in lacquer.

'The word cycle for me represents an unbroken ring, a symbol of growing of understanding of moving forward - cycling is all of those things with the added motion of always moving forward and progressing,' said Martin.

Each bike in the series is a unique work of art, and because of that, they're priced at a hefty £2,500.