Case Real transforms a disappearing tenement house into an Aesop store in Japan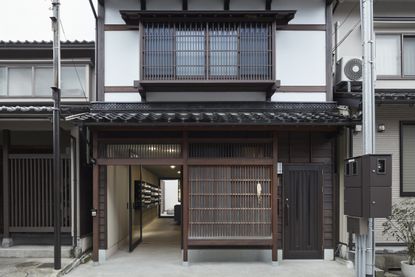 (Image credit: courtesy of Aesop)
Traditional Nagaya row houses (a form of Japanese architecture) have been disappearing from the streets of urban Japan over the last few decades. Built as a practical, short-term solution in response to a high-density population, they are now being replaced with residential constructs catering to the modern-day city dweller.

Aesop's arrival in the city of Kanazawa brings with it the beauty brand's long-standing passion for channelling local culture through design. In collaboration with Fukoka-based interior architecture practice Case-Real, a new Aesop outlet now finds itself housed inside a former Nagaya style home, which has been remodelled in respect of its original domestic function.

Several years prior, the house was broken down due to unavoidable circumstances. Household appliances were fitted upstairs, relegating the original ground-floor space to a storehouse role. Case-Real and Aesop were keen to bring elements of the former home back to life, and so looked to the original floorplan with a retail eye to define the new store.
A number of structural changes were made to improve flow and circulation. Many of the pre-existing interior walls were removed, most notably a dividing wall that ran the length of the ground floor. Following removal, a central sink was inserted, now orbited by points of sale, and a new sparsely furnished lounge. Case-Real also considered the home's outside-in tori-niwa floor in the renovation, using cement emboss-brushed by straw to generate a similar visual experience.

Meanwhile, original interior structural support remained, providing inspiration for the store's colour palette. New fixtures and fittings are awash in dark-toned wood, complimented by a deep, rich beige colour palette throughout.

A mindful affair, the Kanazawa store showcases the quiet side of the Australian beauty giant. Case Real's considered design propels this disappearing form of Japanese architecture into the present.
INFORMATION
For more information, visit the Aesop website (opens in new tab)
ADDRESS
1 Chome-17-9 Higashiyama
Kanazawa, Ishikawa Prefecture 920-0831
Japan
VIEW GOOGLE MAPS (opens in new tab)