Cool for cats: stylish feline accessories are giving us paws for thought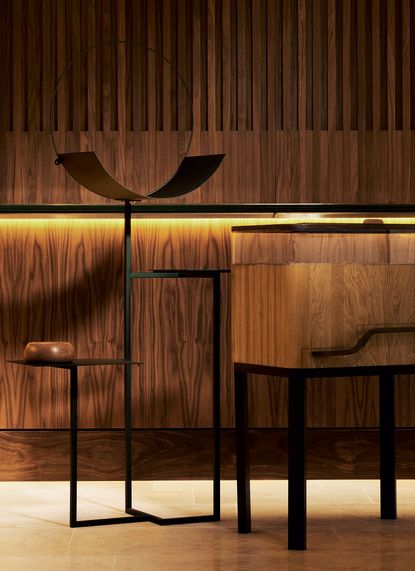 (Image credit: Studio K-H. Set design: Matthew Morris)
American black walnut lines the display case where content, such as music scores, photographs and costumes, from the Roh's rich archives, will be shown. 'Donut' food bowl, €140, by Shigeo Mashiro, for Dong, from Sfera. 'Hoop', €239, by Julie Gaillard, for Meyou Paris. Cat toilet, prototype, by Yihao Xiao.
The comfort of cats – climbing furniture, scratching posts, beds, litter trays and the like – is not an area generally addressed by the design literate. But this much-neglected category has been receiving some attention lately.

French furniture designer Julie Gaillard, in collaboration with Meyou (who make some of the most stylish feline accessories around), has addressed the mountaineering pursuits of cats with 'Hoop'. Meanwhile, Yihao Xiao, a student at Lund University, has tackled the litter tray, turning a cat's latrine into a discreet furnishing, and Sfera has improved mealtimes for our furry friends with its superstylish cherry wood feeding bowl (all pictured top).
RELATED STORY
As originally featured in the September 2018 issue of Wallpaper* (W*234), and shot inside London's Royal Opera House, which has been newly reconfigured by Stanton Williams.