Travel
Drawn from a wide spectrum of disciplines, these young guns are quietly upturning traditional notions of hospitality and even technology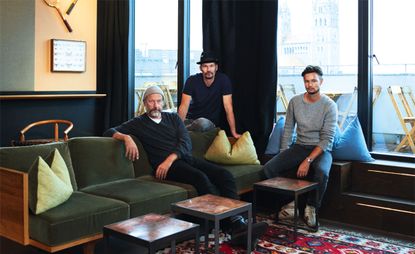 (Image credit: Christian Kain)
'Never repeat yourself' might as well be the motto of Stefen Werner, Sascha Arnold and Niels Jäger (opens in new tab) (pictured, left to right), the Munich-based trio who are stealthily changing the city's hospitality scene one funky project at a time under their A/J/W marquee. Their collective training in architecture, graphic design, sports branding, fashion and media gives them an unusual insight into the varied tastes and interests of their generation. Indeed, every venue they have launched - including a classic cocktail bar, a pop-up nightclub and a magazine kiosk - reflects a youthful energy. 'We like to create spots that we think our peers are likely to feel strongly about,' says Jäger. 'Between the three of us, we have a lot of know-how under one roof and we can fulfil most tasks in-house, from initial concept to communication. This gives all our projects a very personal feel, which I think is crucial.' The last year has been a busy one for the trio, which saw them open a hotel - The Flushing Meadows, where they are pictured - an organic smoothie bar, a café and a farm-to-table canteen, all in Munich.
It's no secret that the rules about how we travel, sleep, play, eat and drink are changing - and over the past year, we dispatched our city editors to the frontline of this shift. Their brief: find the new generation of tastemakers. The list has been whittled down to our final pick of the travel pioneers to watch in 2015.

Writers: Daven Wu, Kiare Keane and Micha Van Dinther
After successful ventures in real estate and software design in the Netherlands, Steven van Wel (pictured in his New York office) moved to the US and launched Karma (opens in new tab), a contract-free Wi-Fi provider. He is so confident in his product - a pocket-sized, portable hot spot giving pay-as-you-go connectivity for those on the move - he swapped his smartphone for a Wi-Fi-dependent iPod Touch, which he uses for both business and socialising. Championing simplicity, he says: 'Our design eliminates anything more complex than an on/of button.' Van Wel aims to expand Karma outside the US with the goal of creating a product that can be added to the 'trinity' of wallet, keys and phone.
Not content with past careers as a model and a doctor, Gunhild Anker Stordalen (pictured at The Thief hotel in Oslo, owned by her husband, Petter Anker Stordalen) is now emerging as a dedicated environmentalist. Her initiatives include the Stordalen Foundation (opens in new tab) and GreeNudge (which fund and promote climate and health projects), and driving the annual non-profit Eat forum (which addresses the world's food-related challenges). With an eye on the hotel industry's ecological footprint, she oversees Nordic Choice Hotels' sustainability strategy, developing a framework of healthy, sustainable and ethically produced food for the group's 20,000 daily guests.
Melina Keays is the entertaining director of Wallpaper*. She has been part of the brand since the magazine's launch in 1996, and is responsible for entertaining content across the print and digital platforms, and for Wallpaper's creative agency Bespoke. A native Londoner, Melina takes inspiration from the whole spectrum of art and design – including film, literature, and fashion. Her work for the brand involves curating content, writing, and creative direction – conceiving luxury interior landscapes with a focus on food, drinks, and entertaining in all its forms