Young gems: a new exhibition at the Museum of London rounds up the city's fresh jewellery talent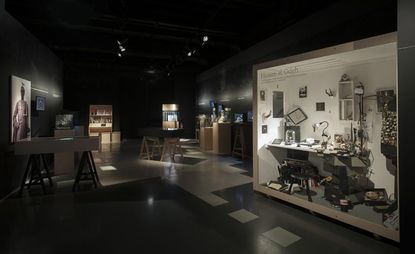 (Image credit: press)
The challenge for the 21st century jeweller is to create pieces that still evoke a sense of wonder or surprise. 'Made in London: Jewellery Now', at the Museum of London, exhibits a new generation of jewellery designers conquering contemporary jewellery. The exhibition, which runs alongside 'Cheapside Hoard: London's Lost Jewels', featuring Elizabethan and Jacobean jewels and gemstones, affirms that jewellery today can be just as captivating and powerful as it was 400 years ago.
Co-curated by the museum's senior fashion curator, Beatrice Behlen, and fashion editor Agata Belcen, the exhibition places the work of seven designers in the context of the workspace, showing how each designer interacts with his or her environment. 'We tried not only to show the jewellery, but also the jeweller's world, to put their designs in context, showing how they work and what inspires them,' says Belhen.
The designers – Jordan Aksill, Imogen Belfield, Rachel Boston, Duffy, Husam el Odeh, Noemi Klein and Frances Wadsworth-Jones – prove that contemporary jewellery is about so much more than aesthetics. From the humorous to the macabre, their designs share a studious curiosity of nature and transformation.
The humble exhibition space is tucked neatly into a dark corner and lets the mise en scène do the talking. Spot-lit vitrines reveal the jewellery in ways unique to each exhibitor. From one wall hangs a photograph of Sir Henry Hayelock's soiled statue in Trafalgar Square. One of the pigeon droppings is represented by Frances Wadsworth-Jones' Heaven Sent brooch, made with sapphires and tourmaline. At the centre of the room stands a traditional crystal display case filled with organically shaped jewellery by Imogen Belfield.
Husam el Odeh gives us a glimpse into his studio by setting up his desk and exhibiting his tools. 'I get bored easily in museums, so I wanted to create a display that really got people intrigued. Every time you look, you discover something new. Looking at the display makes me want to sit down and do some work, because this is actually part of my studio.'
Australian-born jeweller Jordan Askill worked with the curators to create three vignettes from three different collections with corresponding film sequences. He says: 'The idea for my work is to create pieces from found objects that have a history and are given this historical museum feel, so it was an honour for me to have them put here in the context of the Museum of London.'
ADDRESS
Museum of London
150 London Wall
London EC2Y 5HN
Receive our daily digest of inspiration, escapism and design stories from around the world direct to your inbox