'So Far, So Goude': Jean Paul Goude retrospective arrives in Milan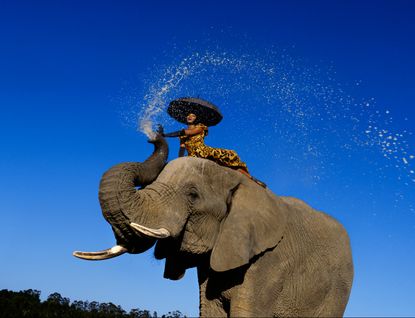 (Image credit: © Jean-Paul Goude)
Though it's been in circulation for almost a decade now, 'So Far, So Goude' – a retrospective exhibit of Jean Paul Goude's more than forty year artistic career – fails to disappoint. Milan's PAC Museum, through a sponsorship with Tod's, is the latest institution to welcome this exhibit, which features 240 artworks starting from the mid 1960s when Goude began painting, to his continued present day photographic and video work for countless magazines and advertising clients.

The entertaining show begins with a display of artwork he produced as a child, and it's clear that at the age of 7 the French-born Goude already had a profound command of a paintbrush. His early years in painting led to his first advertising work for Galeries Lafayette, a decades-long collaboration that would bring his niche and often-radical sensibilities to the masses.

Over the years, there have surely been photographers who have performed on the same lofty artistic level as Goude (his compositions are rigorously planned for and constructed, while he retouches his photos by hand with the obsessive detail of a watercolor artist), but there can not be too many who have had more fun.

The French artist's sharp wit, teenage humor and natural prank-playing sensibility is liberally applied to this show, from the photographs of kitschy couch potatoes to models whose necks or limbs have been photo copied, cut up, and pasted back up like extended dinosaur scales, to Mr Goude's own appearance, like a magical scrunched Leprachan at the feet of a domineering Farida.

Women clearly mesmerised this artist and moved him to great lengths. His work is filled with the faces, rear-ends, crotches and extended bellies of his female muses, three of whom became his wives, like the singer Grace Jones. Goude had a penchant for photographing his wives while they expected his children, but none of them come across as hackneyed as the overdone red carpet bump or magazine cover spread of a nude pregnant woman.

There is so much joy and playfulness in his images—even in ones of buck-naked women that you can never condemn him for exploitation nor for vulgarity. Fashion may be serious business these days, but Goude makes us loosen up about it and most importantly, laugh.
INFORMATION
'So Far, So Goude' remains at Milan's PAC Museum until 19 June. For more information, visit the website
Photography: © Jean-Paul Goude
ADDRESS
Via Palestro, 14, 20121
Milano, Italy
Receive our daily digest of inspiration, escapism and design stories from around the world direct to your inbox