Tailored suits for easing back into office life
Add some structure to your wardrobe with tailored suits from Kwaidan Editions, Eftychia and Wright Le Chapelain, who are reconfiguring officewear archetypes for a new era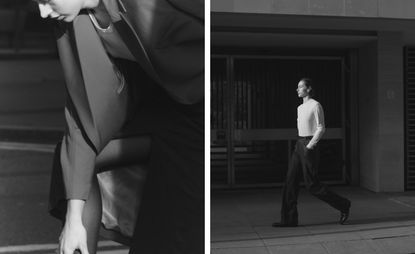 (Image credit: Eftychia)
Once an innately masculine domain, an expertly cut suit has long been a universally recognised signifier of style. Used often in uniforms, tailoring is a uniform itself, of sorts, in which the cut of a collar or the shape of a trouser-leg speaks quiet volumes about the person inside it.

Eftychia, Kwaidan Editions and Wright Le Chapelain are three fashion brands settling not simply on overturning this tradition – that would be too obvious – but reconfiguring it altogether, for a modern woman, or indeed man, to wear. The results are subversive, soft and sensual, as well as strong – pieces that no longer imply having been borrowed from the boys, but which speak to a womanhood that is modern and multifaceted, and changing all the time.
Kwaidan Editions
Since the pair launched their first collection in 2017, Hung La and Léa Dickely of Kwaidan Editions have hollowed out a space for their precisely tailored aesthetic language – one which takes the familiar and turns resolutely on its head. With spells at Balenciaga and Céline, Rick Owens and Alexander McQueen studding their respective biographies, it should come as little surprise that their own brand – whose name translates to 'strange stories', and nods to a cult 1965 film of the same title by Japanese director Masaki Kobayashi – is underpinned by quietly sinister subplots, humming not-quite-inaudibly in the background.
Each collection oscillates between the twin pillars of structure and fluidity. 'Hung comes from the tailoring tradition, which stems from masculine codes and is measured in millimetres, layers of construction,' the pair explain. 'But in the Kwaidan Editions approach, we also try to use the masculine language of traditional tailoring to create personas for women to inhabit and play with.' Suiting remains a key theme each season, but it is punctuated with subtle and precise changes. 'In a previous season there could be a razor-sharp flared trouser and fitted jacket with a very high armhole, a suit for a villain in a 70s film,' they continue. But 'for A/W 2019 there is a looser feeling and cut, a wider leg trouser, an oversized jacket for a woman to "get lost" in, to move freely.'
The A/W 2019 collection, which was inspired by illegal underground raves, old spy films and Mark Leckey's now iconic video installation Fiorucci Made Me Hardcore, started with the idea of anonymity, the duo explains – 'anonymous disguises created as if by the Stasi, or even government-issued uniforms. The suiting becomes an anonymous persona for women, borrowed from men's codes.' While it appears neutral, in browns and beiges, its pure, tailored forms are subverted through their materials: 'a suit in rubberised cotton,' for example, or 'a loud tiger print, something like a controlled outburst'. In these uniforms, the Kwaidan Editions woman can escape surveillance for long enough to assume a new identity altogether.
Eftychia
In Santorini and the neighbouring Greek islands that designer Eftychia Karamolegkou grew up on and around, tailoring didn't have much of a part to play in day-to-day attire. Seeking out the antithesis of island life, she was drawn to metropolitan cities, and the sartorial codes – think: suits and shirts – that went with them. London, then, was a natural fit – and since she graduated from the MA Womenswear course at Central Saint Martins in 2017, her first name (the only one that's needed) has become synonymous with timeless, composed pieces which reimagine officewear with a self-possessed sensuality.
RELATED STORY
'Tailoring has existed from the very beginning,' Karamolegkou explains. But there's a quiet practicality to it, she continues – and that can be sexy, too. 'It looks composed, without even trying, but there are so many codes and details that in a way, it has a secret language.'
These 'codes and details' are key to her collections, which expand each season to form a cohesive and ever-evolving character. A/W 2019 comprises buttery soft leather outerwear and trousers, crisp suiting and pinstripe co-ords. It also incorporates knitwear and dresses for the first time, but the nitty gritty of the details remain central: bespoke square buttons line several shirts and jackets on two twinned edges, so that they open either way, in a neat nod to traditionally gendered fastening. 'It looks "normal" from a distance,' Karamolegkou continues, 'but up close, it's far from it.' There are hidden pockets that are pleats, leather topstitched to look like pinstripes. 'Because it's not about attracting attention – it's more about a feeling.'
Wright Le Chapelain
Imogen Wright and Vincent le Chapelain, born and raised in England and France respectively, share both a business and a romantic partnership – giving their eponymous brand a perspective which is at once masculine and feminine. Their clothes, however, are crafted with the female form in mind. 'At one point in time, tailoring was "borrowed" from a man's wardrobe,' Le Chapelain says. 'For us, it was important it's made for a woman, from the beginning, as opposed to borrowing it and tweaking it for her.'
That diligence emerges in clothing which ranges, for the Pre-Spring 2020 collection, from the always-central suits to schoolboy shorts, bustiers and fluid dress-like shirts. 'We're interested in the life that is given to a piece when you put it in someone else's hands,' Wright explains. 'Often they can be worn in multiple ways, or moved around the body.' Le Chapelain continues: 'One of the jackets has a belt in the back, for example, so if you want to wear it over a jumper, you can, but if you want to make the waist smaller, you can draw that silhouette.'
Wright's enduring love of traditional fabrics, plus a shared belief in the power of local craftsmanship and materials, has led the duo to work with British mills, while the pieces are all proudly produced within a ten-mile radius. 'We're interested in trying to keep our practice as local as possible,' they conclude.
INFORMATION
eftychia.co (opens in new tab)
kwaidaneditions.com (opens in new tab)
wrightlechapelain.com (opens in new tab)