New collaboration sees Toogood 'recut and refashion' Carhartt WIP's signatures
London-based label Toogood has collaborated with Carhartt WIP on a collection of 'hacks' that will preview at Salone del Mobile 2022. Here, Erica and Faye Toogood tell Wallpaper* more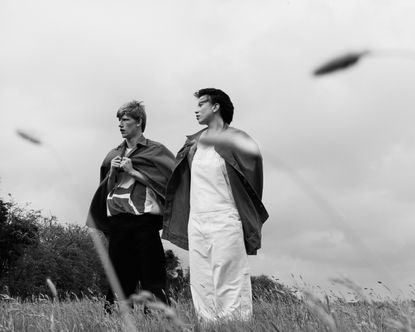 (Image credit: Lara Angelil )
Sisters Erica and Faye Toogood – the duo behind clothing label Toogood, among their many polymathic design ventures – have been wearing Carhartt dungarees since they were teenagers. The robust all-in-one, an icon of workwear embraced by subcultures the world over, has proved a trusted companion for the pair, accompanying them through the various stages of their lives.
'I have a pair of brown Carhartt original dungarees I've had since the 1990s,' says Faye. 'I bought them to wear to art college, then wore them into my thirties through all my pregnancies, and now in my forties, I can be found wearing them in the garden. They are ageless, genderless, and the perfect canvas for the way I live my life.'
Toogood x Carhartt WIP: a 'hacked' collaboration
It is in this spirit that Erica and Faye approach their new collaboration with Carhartt WIP – or, in their parlance, their 'hacking' of the workwear label's signature silhouettes (the project is titled Toogood x Carhartt WIP and will be revealed as part of Salone del Mobile 2022 design festival in Milan). At her own multidisciplinary design practice, also called Toogood, Faye has proved adept at taking the familiar and re-presenting it in an unexpected manner – the soft lines of an armchair might be recast in hard fibreglass, for example – an approach the duo bring here to some of Carharrt WIP's most archetypal designs, melding them with the poetically minded silhouettes of their own clothing collections.
'It wasn't about just recutting everything, or sticking a pattern all over the originals, but collaborating on a deeper level,' says Faye, who previously worked with Carhartt WIP on the design of its store in London's King's Cross neighbourhood. 'This meant fundamentally and viscerally marrying both our shapes and patterns together – the most honest and pure collaboration we could create.'
'We share a common ground in approach to design,' adds Erica. 'Toogood takes a modern, sculptural view on archetypes and universal clothing, and Carharrt WIP has built a fundamentally considered perspective on durable garments. Both brands align in wanting our clothing to be used as a blank canvas, not to cloud the wearer in noise and brand, but to elevate their life and how they move within their own space.'
The capsule collection comprises various examples of these hybrid shapes – 'spliced, collaged and patchworked', as Erica describes – from versions of Carharrt WIP's bib overalls and double-knee pants that recall the line of Toogood's 'Sculptor' trousers, to Carhartt WIP parkas and hoodies reimagined with an 'injection of volume' familiar to fans of Toogood's oversized silhouettes. 'The Toogood pieces we chose are the backbone of the early work we did, and have proved to be totally timeless,' says Erica. 'We've evolved them in different fabrications and refined their patterns over the years, and doing this project had been a big moment – joining the brand's key pieces together and realising they have such similar attributes.'
As for the aesthetic signatures the two brands share, Faye offers: 'passion for utility, for the robust, for a uniform. We also share a passion for breaking boundaries and looking to create something that is not about wearing a fashion label – it is about quiet, slow, persistent and consistent revolution.'
The designers will take the collection to Salone del Mobile next week – the design fair 'very close to Toogood's DNA' – alongside some unexpected companions: three five-metre-high puppets, each wearing a supersized version of three of the collection's looks. 'I wanted to highlight the process, craft and integrity of the hacks and the patterns,' says Faye of the scaled-up pieces, which nonetheless retain all elements of the original designs.
'It's about play, and breaking down boundaries, but also making everyone look at the design and craft involved outside of a traditional fashion environment,' she says as to why they chose to show at a design fair instead of a fashion week. 'Throwing industry norms out the window forces you to look at something in a whole new way.'
INFORMATION
Jack Moss is the Fashion Features Editor at Wallpaper*. Having previously held roles at 10, 10 Men and AnOther magazines, he joined the team in 2022. His work has a particular focus on the moments where fashion and style intersect with other creative disciplines – among them art and design – as well as championing a new generation of international talent and profiling the industry's leading figures and brands.
With contributions from