Thom Browne's latest Golf Collection plays off an Andy Warhol portrait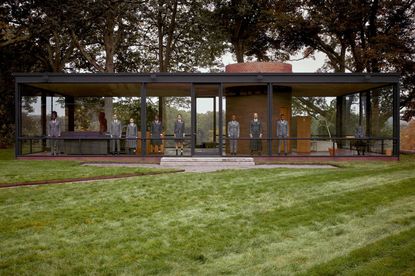 (Image credit: Micaiah Carter )
There's a special synergy when icons of the world of culture meet – but it's not always obvious how you get in the room.
When British photographer David McCabe arrived in Connecticut at Philip Johnson's famed The Glass House in 1964 to shoot Andy Warhol, he couldn't find the front door. Trying to locate an entrance in the the minimalist structure, with its tricks of the light, endless transparency and reflection, McCabe took a fortuitous turn that lead to an unexpectedly intimate encounter with Warhol.
'It must have been about nine in the morning. We stumbled upon the guesthouse and it had this huge porthole type window. And I look in and there's Andy, in bed. My first reaction was to step back – I felt like I was invading his privacy. But he saw me, and he grabbed his shades and put them on and sat up in bed, very regally draped with a satin sheet.' McCabe says, talking on the phone from New York. 'I said screw it, I'm gonna shoot!'

McCabe had photographed Warhol on countless occasions before then, since he'd been hired by the artist to document a year in his life – but until The Glass House, always 'at night, in clubs or in galleries, dimly lit places, pretty challenging situations. But here the light was just beautiful – it was a very easy shoot for me. I'd never been in an environment like that before. If I could design a photo studio, it would be just like that.'

That day McCabe would also capture what is now one of the definitive photographs of Warhol, gazing out of The Glass House, still wearing his shades, but now dressed, in a slick suit and tie. The photographs were not directed, McCabe says, and he simply captured the intensity of the characters who gathered at The Glass House, including Johnson's then partner David Whitney. 'I was just like a fly on the wall – well actually, there aren't really any walls!'

It's that momentous image that inspired designer Thom Browne's latest campaign for a Golf Collection, photographed by Micaiah Carter and featuring friends of the brand, and McCabe himself – playing the role of the late Johnson. The limited-edition offering follow Browne's Tennis Collection, and features an energetic array of Argyle and tartan knitwear and tailoring, and pompom-detail sweatsuits inspired by vintage golf club covers. 'I prefer to be on my side of the camera, quite frankly!' McCabe jokes. It has been 54 years since he was at the Glass House. 'In a way nothing had changed.'
'It was a very nostalgic experience for me to recollect my impressions as a younger man – and then to be surrounded by all these creative people, and Thom's amazing outfits…' The world-famous image of a musing, elegant Warhol – one of McCabe's most enduring and celebrated pictures from the time he spent with the artist – has also been recreated for the collection's campaign, and we think it's a hole in one.
INFORMATION
For more information, visit the Thom Browne website (opens in new tab) and the David McCabe website (opens in new tab)
Charlotte Jansen is a journalist and the author of two books on photography, Girl on Girl (2017) and Photography Now (2021). She is commissioning editor at Elephant magazine and has written on contemporary art and culture for The Guardian, the Financial Times, ELLE, the British Journal of Photography, Frieze and Artsy. Jansen is also presenter of Dior Talks podcast series, The Female Gaze.