The rise of the Swedish fashion phenomenon is charted in a new show in Stockholm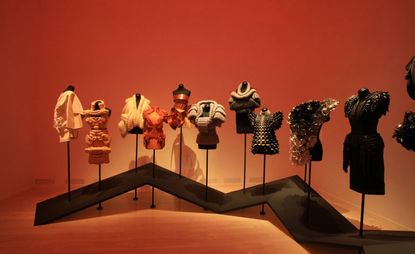 (Image credit: Dan Kullberg)
Sven Harry's Art Museum in Stockholm (opens in new tab) is examining the transformation of Sweden's fashion scene in a new exhibition, stretching from the dawn of the Noughties to now. Functional and affordable fashion are two of the key forces driving this change, with denim by Cheap Monday, Acne Studios and Tiger of Sweden, playing a prominent role.
By the end of the 1990s, when international designers were still putting large logos on their products, Swedish designers were focusing on creating functional clothes that you could move in - a development to do with Swedish society at large, explains one of the exhibition's curators, Cia Jansson, who is also creative director of Swedish Elle. 'We began to be pretty comfortable and our choice of fashion has to fit with picking up and leaving the kids from day care, and then going out for drinks,' she explains.
This change was part of a larger creative development that took place in Sweden around the millennia. The new generation of architects, chefs and designers no longer flirted with countries abroad. They looked at their own backyard for inspiration, and started designing for their own market.
'They realised they had to listen to the needs of Swedish men and women,' says Michael Elmenbeck, co-curator and founder of Bon magazine. (opens in new tab) 'We wanted fashion we could afford. I guess it is part of our socialist heritage. Just look at H&M and IKEA - it has shaped us.' Elmenbeck continues: 'As a result, everyday fashion and "dressing down" was something Swedish designers became pioneers in. Both Acne and Cheap Monday (opens in new tab) designed clothes that a young generation could afford. Meaning Swedish fashion became recognised as cool.'
Organised by different trends, lesser-known names such as Ann-Sofie Back, Whyred, Dagmar, Rodebjer and Sandra Backlund are also prominently featured.
On the rooftop of the museum, the next generation of designers are also on display, including Ida Klamborn, Erik Bjerkesjö and Naim Josefi - paving Swedish fashion's future. However, how that aesthetic will look going forward is still hard to tell, says Elmenbeck. 'They are not interested in mass production, and the fabrics are more exclusive. Having grown up with their iPhone next to them and blogs showing catwalk fashion, their views of what is Swedish have changed slightly. There is a larger focus on colour and high fashion details,' he explains. 'It will be very interesting to see where they will take it next.'