Paris Fashion Week Men's S/S 2019 Editor's Picks
From Acne Studio's new set of archetypes to Yohji Yamamoto's second collaboration with artist Suzume Uchida, we present the Wallpaper* pick of Paris Fashion Week Men's S/S 2019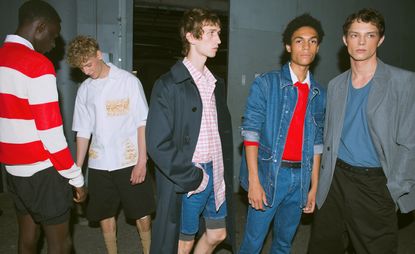 (Image credit: Jason Lloyd-Evans)
AMI: Alexandre Mattiussi brought a piece of Normandy, the designers childhood home, to Paris this season. Mist filled the air as models strode down a wild grassy hillside dressed for a weekend hike in the countryside. A nylon parka with its sleeves rolled up was nonchalantly thrown over a deep v neck jumper, while Cuban collar shirts where half tucked into high-hemmed lean trousers and board shorts. Chunky socks were worn with Velcro fastening sandals and knitted peaked beanies topped off the look
Cerutti 1881: Creative Director Jason Basmajian's collection for Cerruti 1881 saw the designer look to Japan for inspiration and the introduction of a new relaxed silhouette. Models meandered through a telegraph pole lined catwalk with cables hanging overhead and neon signs flashing reminiscent of a Tokyo street at night. Softly tailored jackets and pajama-like trousers came in a slightly crumpled linen and silk blend fabric, while Bermuda shorts were high waisted with an Obi belt fastening. Elsewhere, a diaphanous windbreaker breezily floated around the wearers torso and a slouchy putty suit with fine gauge knit and sandals perfectly summed up the easy mood.
John Lobb: Artistic director Paula Gerbase looks to the Cornish heritage of the footwear brand's founder each season, for S/S 2019 exploring the countryside around Minions, the highest village in Cornwall. Oceanic hues and organic fabrications abounded throughout the men's and women's offering, which featured an evolution of its 'barefoot' tensile construction, its sneaker, double-buckle and Derby shoes. The 'Holt' a limited edition Oxford shoe, with three eyelets chevron hand stitched details, was designed by Lobb's Northampton and Paris Bespoke workshops, in celebration of Saint Crispin, the Patron Saint of shoemakers.
OAMC: Designer Luke Meier forged forward this season taking OMAC on a trip into the future. A loosely cut jacket in lightweight silver foil floated effortlessly around the body, while an elongated lab-like coat in pale grey carried a sophisticated sci-fi elegance. Generously cut shirts with bonded seams and cropped trousers in coated cotton offered an interesting play on proportions. Elsewhere, an oversized hand knitted jumper with hanging loose threads and a watercolour print derived from satellite images added a human touch. Heavy duty military inspired boots with chunky soles grounded the look.
Jil Sander: Luke and Lucie Meier's second full menswear collection for Jil Sander continued to update the brands minimalist legacy with a new boyish charm. The classic Sander uniform of a three button, notch lapelled, tailored black jacket over a neat plain white shirt was present and correct but this time a voluminous web knit cardigan was casually thrown on top and wide leg board shorts completed the look. A generously cut garment dyed parka and washed khaki bomber took their lead from military pilot jumpsuits, while heavy duty military inspired sneakers and boots helped balance the clever play on proportions that ran throughout the collection.
Golden Goose Deluxe Brand: Hot on the heels of their new Florence store opening, Golden Goose Deluxe Brand presented a skater inspired S/S 2019 collection. A roomy cotton windbreaker was teamed with floral print board shorts, topped off with a bucket hat emblazoned with a retro version of the brands logo, while a faded blue denim jacket covered in patch motifs was doubled up with matching jeans. Elsewhere, boxy short sleeve shirts, new interpretations of the brands classic graffitied sneakers and rucksacks with a compartment to hold a skateboard completed the look.
Undercover: Designer Jun Takahashi made his long overdue Paris menswear catwalk debut for S/S 2019 by presenting not one but eight collections. In a moodily lit subterranean space in the depths of the Palais De Tokyo eight distinctly dressed tribes walked menacingly in gangs. Highlights included the 'Vlads', a black clad group of neo goths dressed in lean three-quarterlength jackets and bombers emblazoned with stark white photographic prints inspired by the new wave band Bauhaus, in contrast 'Zoruge' were an eccentric brunch who wore colourful slouchy cardigans over tees printed with old kaiju movie monsters, topped off with berets and polka dot neckerchiefs. For the show finale each gang paraded with their leader carrying a flag decorated with its very own insignia.
Études: The creative collective headed by Jérémie Égry, Aurélien Arbet, Nicolas Poillot and José Lamali delved into Americana for inspiration this season. Cowboys, Ivy League and the early years of hip-hop were all mixed up in a collection that managed to avoid the usual clichés. Baggy suede fringed trousers were team with a sober white shirt and oversized blazer, while blown up collegiate lettering was emblazoned on a basketball shirt and pair with western style jeans. Elsewhere, a painterly print on two silk blouses was provided by LA-based artist Henry Taylor, and a classic bandana motif was blown up to cover a matching shirt and trouser look.
1017 ALYX 9SM: Designer Matthew Williams made his Paris catwalk debut with a confident co-ed collection that seamlessly fused a streetwear swagger with high fashion know how. Models marched forwarded in lean leather trousers and jeans teamed with diamanté-studded bodysuits, voluminous shinny nylon windbreakers and sharply tailored jackets. Some looks were shrouded in netted tent-like coverings offering a super protective layer. Cross body bags came with the designers signature industrial hardware, while backpacks were oversized and angular. The show also included Williams' first collaboration with Nike on a collection of sneakers.
Officine Générale: Pierre Maheo is a designer not concerned with the seasonal whirlwind of hard and fast trends, choosing instead to quietly build on his brand aesthetic. For S/S 2019, he continued to refine items from the Officine Générale lexicon: Military-inspired jackets and neat bombers were teamed with flat front trousers cropped at the ankle. Slim cut indigo jeans were doubled up with a faded blue denim shirt and blazer. A softly tailored suit in seersucker worn with thin leather strap Greek sandals exuded an air of casual elegance.
Ludovic de Saint Sernin: Designer Ludovic de Saint Sernin's third collection saw models dressed in slinky androgynous separates lined up in a sun drenched courtyard. A cropped jacket and lace up jeans appeared in premium Japanese denim, while small denim discs were linked together to make a vest. Elsewhere, relaxed yoga pants were teamed with a gauze bandeau top, while a slinky yellow ribbed jumper with wide neckline was worn on its own. Handcrafted ceramic pendants and charm belts dressed the look.
Mackintosh 0004: S/S 2019 marked Kiko Kostadinov's final collection for the British heritage brand, one renowned for creating the rubberised Mackintosh in 1823. In his four seasons collaborating with the label, Kostadinov has explored archetypal workwear silhouettes and emphasised the brand's renown for creating innovative fabrics, and for S/S 2019 he took inspiration from an image of artist Richard Serra tossing molten lead at a wall as part of his 'Splash' series. Welding silhouettes appeared throughout the collection, with protective coats spliced with industrial snappers, heavy-duty trousers in a patchwork of Arte Povera-inspired sea greens and browns, and long tunics and jackets ruched and cinched at the waist.
Sacai: Stacks of speakers bound together with hi-vis tape stood at the centre of the Sacai catwalk. Electronic beats filled the air as models dressed in designer Chitose Abe's signature hybrid garment combinations weaved in and out of blasting sound banks. Pendleton's South West American blankets were melded with fragments of sportswear and military clothing. The work of tattoo artist Dr Woo was applied as embroideries to deconstructed sweaters, voluminous outerwear pieces and bags. This season sees Sacai collaborate with Nike on a collection of sneakers launching in January 2019.
Balmain: The immediately recognisable opening cords of Michael Jackson's 'Bad' signalled the start of the Balmain show. What followed was a full on glitzy homage to king of pop. Creative director Olivier Rousteing paid tribute with a series of tees spelling out Balmain on there front in the typography from the classic album cover, while soft leather jackets carried wide shoulders and nipped in waistlines reminiscent of the one Jackson wore in the 'Thriller' video. The house's signature all out embellishments appeared on crystal frogged sweatshirts and bombers, while shredded denim jeans were teamed with cropped stone encrusted tuxedo jackets. White socks and black penny loafers made this a full MJ moment.
Thom Browne: Models dressed as garden gnomes walked out wearing tailored waders in grey marl. Throughout the show they mowed the grassy set, occasionally stopping to hand out flowers to the sound of David Bowie's 1967 song 'Come and Buy My Toys.' The collection delivered on Browne's celebrated brand of wacky savoir-faire – whale prints featured on wide shoulder coats, fine lines of pearls became a new pinstripe on suiting. Traditional summer stripes and checks were rendered in fur. Standout was an asymmetric stripe double breasted overcoat in pastoral green. As Bowie sang: 'You shall own a cambric shirt/ You shall work your father's land/ But now you shall play in the market square/ Till you'll be a man.'.
Ann Demeulemeester: The label's designer, Sébastien Meunier, explored transparency in a collection of light sheer layers in classic Demeulemeester black with ivory. Models walked in wide brimmed hats covered with flowing gauze to disguise their faces, a black rose clasped in a lace gloved hand hinted at a mourning procession. Billowing sheer shirts and tunics came with layered ruffles skirting around the edges. Elsewhere military jackets appeared tightly belted at the waist and were worn with skinny trousers and heavy boots, while long ribbons hung loose from outfits.
Wooyoungmi: A matching jacket and shirt in 'glam yellow' pays tribute to the 1974 Terry O'Neill photo of a self-styled David Bowie. Creative Director Katie Chung said backstage that her S/S 2019 collection is more about the next generation of Bowie fans than the man himself. 'It's about the people who have taken inspiration from him – the brand has always been a big fan.' The Korean label, who design the catwalk collection from a studio in Paris, play on the androgynous, romantic and bohemian. Pointed-down shirt collars from the 1970s are added to tailored jackets. Skinny deconstructed jeans are pieced together with cuffs at the ankle. 'This collection is a mix of what's happening now in Asia. Boys are dressing themselves in makeup, wearing earrings. It's real. And I really believe in it.'
Lemaire: Pushers of effortless cool, Christophe Lemaire and Sarah-Linh Tran will reveal in September their full S/S 2019 collection, in a show combining both menswear and womenswear. It is a move that makes sense for a brand as cerebrally chic as theirs. For men, S/S 2019 features the roomy volumes, softly tailored shapes, crunchy cotton twill and sharp denim for which they are so revered. New are two collaborations: lightweight, lace-up sneakers with French footwear brand Veja and a neat, four-piece capsule with British label Sunspel. Talking through the collection, Lemaire remarked that he could never quite find the perfect pyjama suit in black. Et voilà! He's gone and made it himself.
Acne Studios: S/S 2019 is playfully dissident. 'I wanted to experiment with the definition of garments. What would happen if, when you described a pair of jeans, you were actually talking about a blouson? It was the beginning of a new set of archetypes, around which we built a wardrobe that plays with the idea of misinterpretation,' Jonny Johansson, Creative Director of the quirky Swedish fashion label said of his latest collection. Technical jackets are tailored as operatic tuxedos in feather light nylon; an M-1965 field jacket is redone as a city coat. Standout is a chartreuse linen suit with real swag.
Brioni: Nina-Maria Nitsche showed her second men's collection for the label in a series of immersive tableaus. Core are the summer suits with a lighter shoulder structure, chic pyjama tuxedos and fresh white seersucker tailoring. The wardrobe brings the refinement of sartorial tradition into real-life situations. Formal, evening and casualwear are photographed by Anne Schönharting on Brioni men including sports journalist Gérard Holtz, architect Matteo Thun and gallerist Sam Pratt. The 70-year-old artist and craftsman Hisao Hanafusa is shot wearing a black shearling windbreaker and jeans. These diverse characters are the focus of the season.
Yohji Yamamoto: For S/S 2019 he brand makes a case for layering, with a good range of fluid dungarees, wide legged pants and cut out tailoring all in black. The ersatz yearning for more colour during the spring summer seasons has waned; those faithful to a more monochromatic existence cannot go wrong with Yamamoto's elongated-crotch trousers and cut-away coats. S/S 2019 riffs on military themes with uniform details like formal pocket flaps. Straps are multiplied and added to tailoring for decoration. Zips are left open, exposing white shirts, or bare skin. Artist Suzume Uchida returns for a second season; her vintage-style illustrations of women feature on a long, animal printed shirt.
Receive our daily digest of inspiration, escapism and design stories from around the world direct to your inbox
Jack Moss is the Fashion Features Editor at Wallpaper*. Having previously held roles at 10, 10 Men and AnOther magazines, he joined the team in 2022. His work has a particular focus on the moments where fashion and style intersect with other creative disciplines – among them art and design – as well as championing a new generation of international talent and profiling the industry's leading figures and brands.