We're going bananas for sustainable, fruit-and-veg-based fashion
With Veganuary in full swing, we're salivating over green grocer-inspired alternatives to animal product-based accessories. This is style which is simply radishing.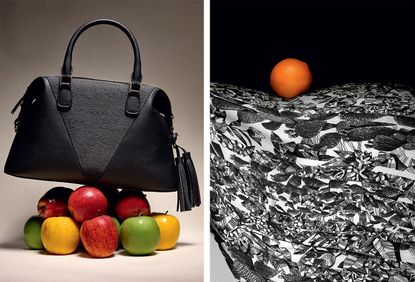 (Image credit: Peter Langer)
Fruit and vegetables are good for us. We all know that. But what if our clothes counted towards our five a day? Would that make the planet healthier, too? We are told the one thing we can do to reduce our carbon emissions is to eat less beef, so the next step would be to wear less leather. We also know that cotton production is water-intensive and polluting. So the next generation of textiles made from apple peel, grape pulp, oranges and pineapples is here not a moment too soon. Never mind eat more greens. What we really need is to wear them.

First, though, designers need to know where to find these healthy new fibres and, in January, the Future Fabrics Expo in London showcased the best of them. The exhibition was the brainchild of Nina Marenzi, who in 2010 founded The Sustainable Angle, a not- for-profit organisation that aims to help reduce the environmental impact of the fashion industry, and Amanda Johnston, a curator and consultant.

Part of their mission is to showcase alternatives to non-renewable, oil-based polyesters and cotton. 'In their place, we are seeing an increase in recycled synthetics and regenerated cellulosic materials from varied plant-based sources,' said Marenzi. At the expo, there was a veritable cocktail of fruit-based fabrics on show, including Vegea, made from grape waste from the wine industry, Orange Fiber, from the Italian citrus industry and producing a textile so soft and luxurious it has already been used by Salvatore Ferragamo; Frumat, a leather alternative from apple waste; and MycoTex, a mushroom-based textile that can be modelled into clothes without the need to cut and sew.

Agricultural waste is becoming a serious business. Jayesh Vir, co-founder and president of banana fibre start-up Green Whisper, says 'the eco- bre market is expected to reach $74bn by 2020'. His banana fibre uses a process free from chemicals and the resulting textiles are lightweight, high strength, super absorbent, stain proof and fire retardant. Already Vir is in talks with various brands in the US, Asia and France – about shoes and clothing – as well as hotels and an airline.
Similarly ambitious is Agraloop, a new system that transforms waste and residue from pineapple, banana and sugar cane into yarn. Dubbed 'Crop-A-Porter', it will reward farmers for doing something productive with their leftovers (which are otherwise burnt or left to rot, producing CO2 along the way), as well as making a low-carbon, smart resource for creating biodegradable textiles. Agraloop won the 2018 Global Change Awards – an event created by the H&M Foundation in an effort to find future solutions for our fashion and textile industry.
For brands such as H&M, as well as luxury giants such as Kering, there is a race to close the loop on non-sustainable virgin materials. The brands that invest in sustainable new materials will be the ones we'll still be talking about, and wearing, in 20 years. H&M has a goal of using 100 per cent 'recycled or other sustainably sourced materials' by 2030. 'We have supported the production of materials derived from citrus peel, grape skins and stalks, and pineapple skin,' says Giorgina Waltier, sustainability manager for H&M UK and Ireland. 'In the future, we hope to incorporate as many of these new materials into our collections as possible.'
RELATED STORY
Petit Pli – Clothes that Grow
Stella McCartney has led the way as a luxury vegetarian brand and now she is increasingly looking to carbon-free alternatives for her sought-after, cruelty-free 'Falabella' tote bags and vegan Adidas Stan Smith trainers. McCartney has partnered with Bolt Threads, an American start-up that is developing Mylo, a lab-grown leather made from mycelium, the underground root structure of mushrooms. Their first Mylo 'Falabella' bag was exhibited as part of the V&A's 'Fashioned From Nature' exhibition last year.
And now a new generation of designers is picking up the torch. One such is Paolo Carzana, currently on a Kering sustainability scholarship at London's Central Saint Martins. He graduated from the University of Westminster in 2018 with an extraordinary collection made exclusively from reclaimed fabrics and Piñatex, an alternative to leather made from pineapple leaves.
Piñatex founder Carmen Hijosa has been working on creating an alternative to leather since the 1990s, when she was consulting for the Philippine leather export industry. Shocked by the level of pollution she saw from traditional leather production, she set out to find a non-petroleum, plant-based, low-carbon leather alternative. She went to London's Royal College of Art to research her idea to turn pineapple leaves into a hard-wearing material and Piñatex is one of the biotech fabrics already available on the market – it is used by shoe brands Artesano and Nae Vegan, as well as in trainers by Boss, and biker jackets by Altir.
In 2019, the company plans to scale up sales and production, with its sights set on interiors and car interiors, as well as fashion and accessories. And there is no shortage of raw material – pineapples are the second biggest tropical fruit crop in the world (mangoes are number one). They come wrapped in 20-25 fibrous leaves that all go to waste when they are picked; this by-product, which previously had no value, can now provide rural communities with additional income.
For designers like Carzana, the plant-based provenance and environmental footprint of new materials like these is everything. 'We need to work intensively with these materials, showing that hand-crafted, thoughtful garments can be made with these textiles and be more interesting than animal-based products,' he says. 'It is working with nature rather than against it.' And when the result is clothes that look good enough to eat, that makes perfect sense.
As originally featured in the March 2019 issue of Wallpaper* (W*240)