Summer trends: the tunic-over-trousers trick
Pair tunic dresses with trousers for an all-round winning look from brands including Hermès, Boss, Fendi and Jil Sander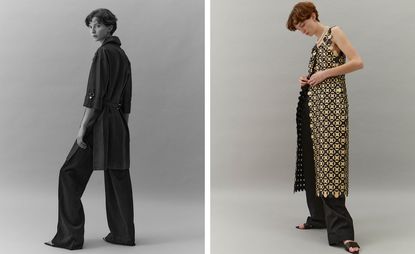 (Image credit: Alice Fischer)
Much has been hypothesised about how we are likely to choose to dress post-pandemic, and how we will approach the summer fashion trends of 2021. Will a new Roaring Twenties usher in drama and decadence, or will we hold onto the low-key leanings we welcomed when spending so much of our time confined at home during lockdowns? Frankly, we recommend riffing between the two opposing mindsets, and modulating between the rarefied and the relaxed, the elegant and the ease-fuelled. A sure-fire way to succeed? Sporting a knee-length tunic dress over trousers.

The tunic-over-trousers trick is smart yet insouciant, and a go-to look for those not quite ready to don just a dress.

For those with a more minimalist mindset, Hermès' pared-back take on the trend features a dress with a built-in scarf, and nods to the purist fashion mood of the 1990s, when elemental design was a winner.

At Boss, meanwhile, the brand's jewel-toned dresses feature sleekly seductive cut-out back details, a dressed-up look that is perfectly balanced out by teaming the pieces with more adrogynous, tailored trousers.
RELATED STORY
Left to right, pet bag, by Prada, H95 headphones by B&O, chain necklace by Louis Vuitton, room spray by Byredo
Summer fashion trends 2021: tunics-over-trousers
At Fendi, the nonchalant tunic-and-trousers combination is enhanced by the fashion brand's equally carefree window-pane print, a motif on a gauzy sheath dress that suggests dappled summer light and puts us in daydreamy mood.

Elsewhere, Jil Sander's intricately constructed leather design reflects the focus on 'visual textures' of the brand's creative directors Lucie and Luke Meier. 'The emphasis on garments and accessories to get you through the day felt right,' the duo say of the relaxed silhouettes in their S/S 2021 collection for Jil Sander, which revelled in voluminous cuts and fluid lengths.

All this easy tunic-and-trousers elegance is a reminder that you can always dress up, even while dressing down.