Space, light, structure: the jewellery of Margaret de Patta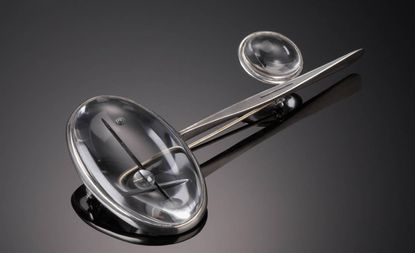 (Image credit: Lee Fatherree)
The words 'contemporary jewellery' so often point to 'futuristic' pieces made from hard metals and clean, sharp lines that it's good to be reminded of the quiet Surrealist quality and softer, irregular contours that typified the American Wearable Art Movement. Nothing embodies its timeless Bauhaus aesthetic more than jeweller and artist Margaret De Patta, whose work is currently the subject of a major retrospective in the US.

The exhibition 'Space, light, structure: The Jewellery of Margaret De Patta' is at the Oakland Museum of California (opens in new tab) until May 13 and will transfer to New York's Museum of Arts and Design (opens in new tab) in June.

De Patta was born in California in 1903 and trained as a sculptor and painter at the California School of Fine Arts. By the age of 23 she had taken up a scholarship at the Arts Students League in New York where the pervading principles and methods of the experimental European art scene - Constructivism, the Bauhaus - began to infiltrate her design sensibilities and inform her aesthetic. But it was only when she couldn't find a wedding ring that echoed her taste for modernist design that she set her sights on jewellery design.

The correlation between jewellery, sculpture and architecture - in that all involved 'space, form, tension, organic structure, scale, texture, interpenetration, superimposition, and economy of means' - was obvious to her.

De Patta's brooches, rings and pendants, then, work like wearable sculpture: pieces move, apposite materials integrate and negative space becomes positive. It's not often that jewellery is awarded the same cultural status as art but, as Ursula Ilse-Neuman, MAD's Curator of Jewelry points out, 'Her cerebral jewellery expresses her own evolving aesthetic and social philosophy as it unfolded over four decades of enormous change in American society.'

Margaret De Patta died in 1964. As a homage to one of its own, the San Francisco jewellery and metal work gallery Velvet da Vinci (opens in new tab) also pays homage to de Patta this month. Having acquired stones and beach pebbles found by De Patta from her estate, the gallery asked 16 jewellers, including Petra Class and Deborah Lozier, to contribute to its De Patta Project. By reinterpreting her work and ways of thinking into their own, the De Patta legacy is carried on in an organic form of which she surely would have approved.
ADDRESS
Oakland Museum of California
1000 Oak St.
Oakland, CA 94607
USA
VIEW GOOGLE MAPS (opens in new tab)