Show girl: Anya Hindmarch on runway sets to bring the house down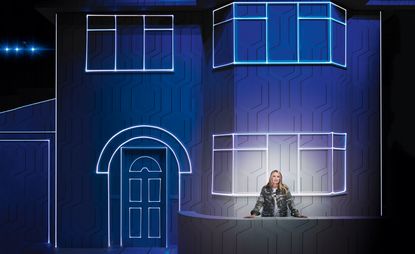 (Image credit: Hannah Starkey)
Wallpaper* Newsletter
Receive our daily digest of inspiration, escapism and design stories from around the world direct to your inbox
Thank you for signing up to Wallpaper. You will receive a verification email shortly.
There was a problem. Please refresh the page and try again.
In celebration of Anya Hindmarch's return to London Fashion Week, with her experiential 'Chubby Cloud' installation, inspired by the cloud motif in her A/W 2018 Chubby Collection, we revisit our December 2017 issue of Wallpaper* (W*225) 'Show Girl' story, celebrating the vibrant history of her fashion show sets.
A packed lunch for guests by the British roadside restaurant chain Little Chef, a collection of accessories featuring road signs originally designed by typographers Margaret Calvert and Jock Kinneir, a motorway for a catwalk, and a specially written score by Stephen Brooke, including passages of Wagner's 'Pilgrim's Chorus' at the finale, belted out by some 120 members of the London Gay Men's Chorus. This is what an Anya Hindmarch show looks, sounds and tastes like.

The designer's A/W15 outing remains typical of the multi-sensory assault that has propelled Anya Hindmarch from a smart accessory brand, popular with the well-heeled of Chelsea, to the top ticket at London Fashion Week and a global powerhouse with 46 stores and 224 other stockists. Hindmarch set up business aged just 18, after placing an advert in Harpers & Queen magazine for her 'deeply spacious leather bucket bag', which she had developed in Florence. In the pre e-commerce era, readers ordered the bag off the page and she delivered, all 500 of them. That led to orders from Joseph, then Harrods, Barneys and Bergdorf Goodman, and the opening of her first store in 1993 on London's Walton Street (she couldn't afford the rent on the ground floor, so settled for the first floor).

Hindmarch quickly understood the need to offer press and buyers more than the showroom walkthrough. She would stage 'events that were very creative and different'. After a couple of presentations with static sets, the first in 2009, Hindmarch added animatronics for her A/W12 show, featuring her 'All I've Ever Wanted' Christmas machine (a 'cheesy, really nasty toy factory complete with a conveyor belt to deliver wrapped toys'), created with set designer Michael Howell. That was followed by S/S13's 'Pomp & Pleasure', a giant, two-storey rotating pop-up book with bags emerging from paper wigs and wall-mounted pictures. For A/W13, a landscape of 50,000 dominoes was collapsed to reveal the bags, in a show called 'Cascade'.
Sensing that 'people may have been bored with chic fashion', and that she might be the antidote, Hindmarch joined the British Fashion Council's official schedule for S/S14 with a runway show. It was her first with actual models and a first for an accessories brand. She called it 'Out of this World'. The audience was teased with what looked like a straightforward fashion show – models elegantly pacing the runway – before handbags started to descend from the ceiling while models, suddenly acrobatic, ascended. Hindmarch had been looking for a way to get the bags to move and 'the girls were just a great delivery mechanism', she says.

The set for A/W14's 'Counter Culture', meanwhile, featured a giant moving barcode as a runway and supermarket trolleys full of accessories. Alongside her polished metal crisp-packet clutches, she launched cereal-box bags embossed with vintage Kellogg's graphics, and even created a special-edition 'Handbags at Dawn Flakes' cereal. For Hindmarch, the shows are always about explaining the collection in a wider context. 'I was thinking about cereals. I immediately thought about supermarkets and conveyor belts as a fun thing to explore for the show.'

Wallpaper* photographed Hindmarch the night before her S/S18 show, outside a detached house that in our honour (at least that's what she told us) had been wallpapered on the outside in Anaglypta, a typically domestic embossed wall-covering. This was her 'symphony to suburbia', entitled 'Absurbia', a kind of Anyagram for the absurdity of suburbia itself. The invitation was a box of Anya Leather soap made in collaboration with Imperial Leather, and models donned housecoats and carried bags and shoes. It was a case of the ordinary made extraordinary.

Hindmarch's team includes opera-set designers, music-score writers – 'Music,' she says, 'is the big emotional pull that can really make or break a show' – choreographers and a large production team. Everything is tested through animations, which Hindmarch refers to as her dashboard. 'You can feel the show beforehand,' she says. 'Without that you have renders and pictures, but you need to feel the emotion, and it's all about the timing.'
Hindmarch started showing at the dawn of social media. Instagram launched in 2010. Now every view from every seat at her show is considered, every guest has a smartphone and can be guaranteed to broadcast their experience far and wide. 'We have a digital presence,' she says. 'For visibility you need content; you need content that makes people look.' When video appeared on Instagram in 2013, she was ready to 'deliver noise, visibility and content'.

Hindmarch's shows also act as a catalyst for other forms of brand communication. Shortly after that transport-themed A/W15 show, an Anya Hindmarch service station pop-up appeared on the third-floor car park of London's Selfridges, while sticker shops opened in Barneys Madison Avenue following her S/S15 show featuring that season's sticker-strewn bags.

More than that, the shows seem to drive Hindmarch's creative process; they are integral to the way she works, rather than just big-budget theatrics. When she first said, 'I think we should do a show', she did it because she realised, 'I needed something that would scare me. The emotion of being scared is similar to being excited, the adrenaline kicks in. And shows give me adrenaline.' All that for what she calls 'seven minutes of judgment'.

As originally featured in the December 2017 issue of Wallpaper* (W*225)
INFORMATION
For more information, visit the Anya Hindmarch website
Receive our daily digest of inspiration, escapism and design stories from around the world direct to your inbox
Also known as Picky Nicky, Nick Vinson has contributed to Wallpaper* Magazine for the past 21 years. He runs Vinson&Co, a London-based bureau specialising in creative direction and interiors for the luxury goods industry. As both an expert and fan of Made in Italy, he divides his time between London and Florence and has decades of experience in the industry as a critic, curator and editor.