Seven Layer: the tech outerwear label inspired by Oasis
Seven Layer looks to the 'Madchester' scene's most memorable musicians for inspiration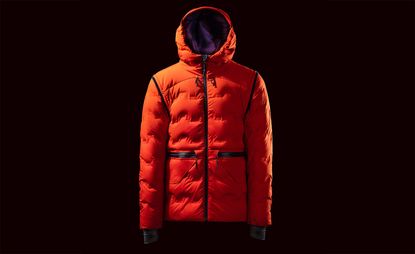 (Image credit: Seven Layer)
There's something marvellously Madchester-centric about the cultural references that inspire Seven Layer CEO and creative director Jamie Lundy. 'I'm an '80s and '90s kid, growing up in my early teens with The Haçienda, Stone Island, CP Company, Kickers, The Stone Roses, Oasis, City and United,' he says. 'Of course that's going to inspire the label now and in the future.'

Stockport-born, Manchester-based Lundy – who took over the tech sportswear brand in 2017 – has found specific influence in the performance-focused and militaristic outerwear styles popularised by the Madchester scene's most riotous musical figureheads. Today, brands beloved by Oasis, like Stone Island and CP Company (both founded by Massimo Osti) are enjoying an enthusiastic style renaissance, due to consumer investment in technologically innovative and craftsmanship-focused clothing. Stone Island was acquired by Moncler in December 2020, at a valuation figure of €1.15bn.
When Lundy – a former British gymnast and engineer – took the reins at Seven Layer, he was keen to instill a 'grittier, military aesthetic' into its DNA, 'with a performance and technical outerwear twist'. The brand is based on the concept of seven clothing components, the first being a base layer, the third a thermal layer and the seventh a cold layer, which can be built onto the body according to need. Lundy recruited design director Chris Vandrill – who has also worked for sustainable outdoor clothing company Finisterre and cycling brand Pearson – to create the brand's Origin System, a functional and minimalist collection, inspired by garments in the 'US Military Generation III Extended Climate Weather Clothing System', a 1980s-developed offering designed to provide adequate protection for soldiers operating in temperatures between -60 and +40°F (-51 to +4°C).

Available to purchase at the brand's Alderley Edge flagship boutique and at United Arrows' Roppongi boutique in Tokyo, Seven Layer's Origin System is made up of protective and high-performing pieces, including T-shirts, sweatshirts and parkas. Its 'Modular Down Outer' jacket is lightweight, stretchy, water-repellent even in torrential downpours and created using DownTek, a fabric with premium down clusters that trap air to provide maximum insulation.
RELATED STORY
As part of Lundy's overhaul of Seven Layer, he was keen to restrucutre its manufacturing processes and supply chains. Pieces in the collection, including the brand's Liam Gallagher-worthy camouflaged 'Field Parka', were manufacturd by British outerwear company ArkAir, using 100 per cent organic cotton from Dinsmore Kells in Northern Island. 'My family-managed engineering company spent the last 40 years fabricating in UK factories in Stockport and Irlam; it made sense to try and continue at least some of that mindset,' Lundy says.

'It's in my blood and my soul,' he adds of his affinity for Manchester as a city. Whether wearing the brand's pieces to brave the elements on a mountain, or simply when listening to Oasis while strolling down your local high street, now the city's stylistic signatures can be part of you too.
INFORMATION