Sole mates: Santoni's spectacular shoes meet Rubelli's fabulous fabrics in an Italian marriage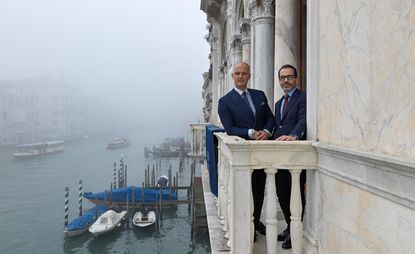 (Image credit: Matteo Piazza)
The light bulb went on for Giuseppe Santoni while on a mission to decorate his mountain house in St Moritz. 'I was choosing furniture fabrics together with my wife,' the CEO of Santoni shoes recalls. 'We liked Rubelli a lot. Then I started looking closer at the colour charts. And I simply saw huge potential.'

Not only did the footwear entrepreneur end up drenching his home in Rubelli fabrics, but he also introduced the distinctive upholsteries to his niche footwear brand. His team began modestly, adding Rubelli's lush textiles to a few designs, including a snappy polka-dot silk velvet that Gio Ponti created for Rubelli in 1934.

'We just started by playing,' Santoni recalls. 'It was a game.' But now, four years later, the partnership has produced a serious, full-scale collection, with over 48 models for both men and women.

The marriage fuses Italian born-and-bred talents. Santoni, founded in 1975, treats its rigorously handmade, perfectly formed and expertly polished shoes like objects to keep on a shelf. Rubelli, founded in 1858, makes upholstery fabrics and textiles beautiful enough to frame and hang on a wall. Each knows its business inside and out, and plans to stay in its respective corner.

'We've dressed homes, sometimes bodies, but never shoes until Giuseppe came along,' says Nicolò Rubelli, great-great-grandson of the company's founder Lorenzo Rubelli. 'Today, people want specialised products. No one would buy a Rubelli car. I'm still confused why fashion brands make watches. I don't order meat in a fish restaurant.'
Still, both brands have recognised the importance of diversifying their businesses. But they do it with carefully thought-out collaborations that bring in the talents of other high-end producers or rising names. Santoni, for example, has made a splash in recent years in Milan with its beautifully curated, salon-like presentations during Fashion Week. Five years ago, the company turned to Britt Moran and Emiliano Salci from Dimore Studio to design installations in its via Montenapoleone showroom, long before the studio became a darling of the design press. It has enlisted the artist Antonio Pippolini and writer Angelo Flaccavento to create entertaining peep-show installations in a gilded Milanese palazzo. Most recently, Santoni has tapped Marco Zanini, former designer for Rochas and Schiaparelli, to create Santoni's first-ever capsule collection of clothing.

Rubelli is no less prolific. The company's core business is textiles and wall hangings, but it recently launched a series of less formal fabrics called Dominique Kieffer, designed by Paola Navone, as well as a partnership to provide fabrics for Armani Casa. It has also begun to produce lighting and furniture under a new Rubelli Casa label, which will have an official, splashy launch during this year's Salone del Mobile in Milan. All the same, pairing furniture upholstery and footwear is an unusual adventure. And technically, it is something of a trick.

'Working with upholstery fabric is a great deal more complicated than leather, as it is neither flexible nor resistant,' Santoni reports. 'But I've adapted my shoe technology and know-how to support these fabrics, and we use different sewing needles.'
The shoes made with Rubelli fabrics are all produced in a special division of Santoni that is dedicated to exotic skins, fur and special leathers that are painted or unusually treated. 'It's like Mercedes-Benz,' says Santoni of his 60-person special unit, situated within the company's headquarters in Le Marche, in central Italy. 'They have the normal factory where they make regular cars. And then they have the special division where they make Formula One cars.'

The Rubelli fabrics add a touch of opulence to Santoni's otherwise rigorous, sober silhouettes. 'Our style is very Venetian. It's an illness, being us!' laughs Rubelli. 'We hope it's contagious! We're not able to detach from it: the reflection of the light, the colours, the gold, the patina, the salt, the time – there's nothing hard about it. The French reproduce the 18th century in a faithful way, using the exact same colours. This is too harsh for us. Our Italian fabrics are absolutely lived in.'
Santoni's silhouettes – with their distinctive attenuations, unusual volumes and highly crafted details – are just as eye-catching. 'We want to make a product and object of desire. When you see it, you say, "Wow, I love it, I want it!"' says Santoni, who transformed the 40-year-old company founded by his father from a manufacturer into a brand in the late 1990s. 'Today, people are only buying truly special products. We don't do commercial products. We don't do shoes to walk in. What we do are objects of desire. Of course, we have day things, but they have beautiful proportions, forms and an aspect that is different than others. We need to distinguish ourselves, making our product special, unique, diverse.'

Up until now, Santoni's shoe shapes and high-quality craft were its main points of differentiation. But now the addition of Rubelli's ornate fabrics on the brand's ladylike pumps, delicate sandals, tassled loafers, low-cut monk-strap shoes, brogues and lace-up shoes for both men and women create an entirely new level of intrigue.

'This gives us the opportunity to use fabrics that are very, very particular,' says Santoni. 'We're able do things that are feminine, special and very beautiful. We give women the most particular items,' he adds. 'But men like the richness too!'
The collaboration has provided growth and exposure for both brands. Although both bosses covet steady growth, they also recognise the importance of staying niche.

'I don't want to grow too much,' says Santoni, who already manages 600 employees. 'I just want to stay exclusive, establish the brand, make it more, well, cool, even though I don't want to use that word. We just need to let people know about us and understand our special way of thinking.'

For Rubelli, the collaboration opens novel levels of demand. 'You may change your shoes every day,' he says. 'But your couch... Never!'

As originally featured in the March 2016 issue of Wallpaper* (W*216)
INFORMATION
For more information, visit the Santoni website (opens in new tab) and the Rubelli website (opens in new tab)