Erwin Blumenfeld's complex early works on show at Osborne Samuel, London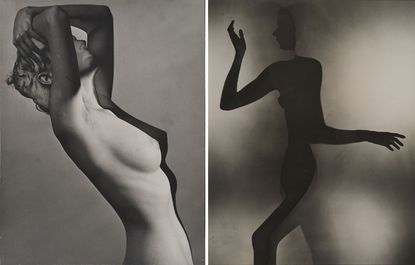 (Image credit: Osborne Samuel)
Long before photography was considered art, Erwin Blumenfeld positioned himself as a photographer for 'art's sake': an artist determined to manipulate his medium, the camera.

The German transplant is widely celebrated for the iconic images he created on the New York fashion magazine circuit, but Blumenfeld's early work betrays a psychological complexity that never waned and that marks his entire oeuvre.

Some of his first collages, drawings and experimental photographs – produced mainly in Berlin, Amsterdam and Paris – have not been shown in London for at least 20 years and are brought together in the major photography exhibition 'Erwin Blumenfeld: From Dada to Vogue,' at Osborne Samuel in London.

'Like an alchemist, Blumenfeld blends various influences from his political context and personal obsessions in his Dadaist work,' explains curator Lou Proud of Blumenfeld's anarchic mixed-media collages, that incorporate religious and fascist symbols alongside self-portraiture and the ever-present female form.

When Blumenfeld began to turn his attention to portrait photography, he continued in this irreverent vein, and started to experiment with unnatural light, slow exposure and solarising techniques on different types of paper with varying levels of silver. 'He was very much a studio photographer who worked his prints', adds Proud, pointing out how in the 1930s, Blumenfeld cut out silhouettes to add in a tweed texture for a fashion montage, or sometimes froze his negatives to create a more crystalline image.

With tremendous vision, Blumenfeld eroticised the body by hiding parts of it, and stripped down a beauty shot until only a simple white space dotted with facial features remained. The examples are myriad: his use of mirrors to add angles to a shot; his high-contrast images; his symmetrical and kaleidoscopic compositions – Blumenfeld innovated fashion photography in ways that are still imitated today.
INFORMATION
'Erwin Blumenfeld: From Dada to Vogue' is on view until 29 October. For more information, visit the Osborne Samuel website (opens in new tab)
Imagery courtesy Osborne Samuel
ADDRESS
Osborne Samuel Gallery
23A Bruton Street
London, W1J 6QG