Paris Fashion Week Women's A/W 2019 Editor's Picks
From Jacquemus' beachside essentials for sunny holidays in St Tropez to Coperni's anticipated return, we present the Wallpaper* picks of Paris Fashion Week A/W 2019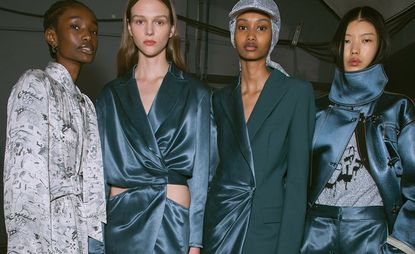 (Image credit: Jason Lloyd-Evans)
Off-White: Virgli Abloh's roaring ascent shows no sign of showing down, so it's apt that the yellow and grey checkerboard runway of his A/W 2019 show nodded to race car culture. His gang of glamazon models, from a flame haired Mariacarla Boscono, who opened the show, to the Hadid sisters who closed it, strutted in his mash up of evening-meets-streetwear silhouettes, like baggy beached denim teamed with skin tight jerseys, asymmetric dresses and basketball trainers, and zesty leather coats teamed with spiky tie-dye boots.
Auralee: Inside the bright space of Atelier Brancusi, Ryoto Iwai presented his first Parisian show with a co-ed collection of modern and monochromatic looks. The Japanese label uses only locally sourced, natural fibres giving lightness and an unparalleled quality to the wool checked coats and mohair camel jackets. Oozing minimalist shapes and neutral tones overall, the collection also includes urban pieces such as a pink puffa jacket and sporty tracksuits in soft baby cashmere.
Noir Kei Ninomiya: The rose has been a recurring floral motif on the Paris runways, and for Noir Kei Ninomiya's third show at Paris Fashion Week, the avant-garde, technique-focused Japanese designer created hyperbolic structure garments resembling graphic layers of 3D flowers. Other more wearable pieces came in the form of eyelet-encrusted leather jackets, quilted patent dresses and gauzy organza bomber jackets. Shades of red and pink populated the otherwise monochromatic black offering, and rose headpieces came courtesy of Azuma Makoto.
Atlein: There's an insouciant seduction behind Antonin Tron's designs, which for A/W 2019 included draped mini dresses in crushed blue velvet, or a luxurious coated jersey resembling leather, pinstriped trousers with deconstructed belt details and bright floral jacquard shirts with asymmetric buttons. Tron's woman is subversive yet sexy, revels in the elevation of a stiletto, and has plenty of alluring oomph for autumn.
Jacquemus: The French brand has a Côte d'Azur appeal and Simon Porte Jacquemus' silhouettes are designed for sun-kissed bodies, beachtime lounging and cocktail o'clock in St Tropez. For A/W 2019, he got well and truly into the holiday spirit, erecting Place Jacquemus, a town square lined with colourful curtain-lined buildings, with a Boulangerie and grocers. His suitcase essentials? Colourful coats and jackets, nipped in waistcoats in ocean tones, loose dresses (in a longer knee skimming length) and hyperbolic earrings. All you need now is an aperitif.
Cyclas: Japanese designer Keiko Onose, of the label Cyclas, is interested in how opposing ideas complement each other in the creation of garments. In her A/W 2019 collection, masculine elements such as a sharp suit mingle with the flowing silhouette of silk dresses and blouses, while hand crafted techniques finish off outerwear jackets and chunky knits. Clashing colours and unexpected volumes also punctuate the looks, with a lime green maxi skirt, hairy alpaca gilet and stiff pleated apron that bring more dimensions to the garments.
Clergerie: The heel was the central and rather chunky focus on the footwear brand's A/W 2019 collection, which featured Sixties platform boots with wooden, block-like heels. Styles had a sculptural hyperbolic quality, and other pieces included slingback Oxford shoes, metallic kitten heels with spindly metal heels and weaved raffia wedges.
Moynat: The hardware details in Moynat's new collection were amplified in a presentation space tiled with panels of mirror. For A/W 2019, creative director Ramesh Nair was inspired by the urban planning of Georges-Eugène Haussmann, who began overhauling Paris in the mid nineteenth century. A minaudière in leather and gold hardware nodded to the structure of the Eiffel Tower, the brand's cube-shape Mini Vanity was innovatively constructed from pieces of grainy slate, and metal accents were carved with curves and grids that nodded to the details of Art Deco.
Yves Salomon: Upcycling is an essential element of today's luxury design DNA. In a bid to encourage more sustainable manufacturing processes, fur label Yves Salomon have teamed up with André Walker, on 'Pieces', a limited collection of shirts, dresses and trousers created from unused offcuts of fur. Think grungy parkas with fur hoods, bright fur bucket hats in turquoise and Klein blue and light brown fur polo necks. Luxurious, environmentally aware, and a wonderful example of Walker's customization-focused aesthetic.
Andreas Kronthaler for Vivienne Westwood: On a catwalk on the first floor of Paris' Hyatt Regency, models strutted in the hyperbolic, historical garments the brand is renowned for. There were great eveningwear propositions here, from exquisitely draped bustier dresses to trailing silk capes for women, to flamboyant fringed trousers and slippery lurex shirts for men. Looks were typically thrown together, a light hearted mix and match of decades and dramatic silhouettes.
Nina Ricci: It's a foreboding task to take on the creative helm of the brand as a burgeoning designer, but LVMH finalists Rushemy Botter and Lisi Herrebrugh, who were shortlisted for their fledgling Antwerp-based menswear label, delivered their debut collection for the Parisian house with aplomb. The duo updated the romantic codes of the house with sleek suiting, voluminous taffeta gowns and sheer dresses created from flouncy folds of chiffon. Their sophomore collection will be awaited with eager anticipation.
Kwaidan Editions: Three years after launching their label, designer duo Léa Dickely and Hung La threw their first runway show in a raw parking garage covered with purple carpet, and offered up a collection based on powerful workwear where traditional codes were transgressed. Silhouettes riffed on classic tailoring and sportswear, and pencil skirts and shoulder bags were imagined in bold red dégradé and tiger print. Elsewhere, soft beiges and browns were contrasted with a dash of canary yellow or screaming red, while long leather coats and dark sunglasses played with the idea of disguise. There's something mysterious, almost bizarre about Kwaidan Editions that dips into Japanese subculture and film, and this collection was its most accomplished portrayal of this allusiveness yet.
A.P.C.: 'There's no place like home', said Jean Touitou, taking the microphone once again at his Rue Madame headquarters. The designer returned to a presentation style setup for A/W 2019, going back to what he does best: chic, relatable basics. Only this time he did it with a little help from his friends, one friend being Suzanne Koller (the brainy fashion director of the weekly magazine M le Monde) and the LA-based brand Brain Dead. They both provided very different design ideas (Koller went for sweaters, fine turtlenecks, woolen trousers and leather boots, while Brain Dead provided hoodies based on the 1972 short movie Future Shock, a documentary about the wild pace at which technology evolves (and that was well before Zuckerberg ruled the Earth). As Touitou explained, the brand will from now on collaborate with a series of creatives ('not necessarily from the fashion world') and drop the collections in its stores.
Francesco Russo: Sensuality is essential to the footwear designer's aesthetic, and his shoes delicately flatter the foot. There was amped up allure on view for A/W 2019, as Russo created knee high boots in intricate lingerie-toned lace, and smart flats in luxurious leopard print jacquard. Nude leather Chelsea boots, chain embellished booties and sleek mid heels with Russo's flattering sharp upper detail are also on our wish list for autumn.
Byredo: The fragrance and accessories brand's fine-feathered A/W 2019 presentation at Galerie Italienne, was dedicated to founder Ben Gorham's passion for birdwatching. 'I first went when I was 7 with my grandfather and have always been fascinated by the progressive codes of the subculture,' he explains. 'I have been inspired by many exotic birds and their colours, two of my favourites are the Nilgiri Blue Robin and the Southern Hill Myna.' The presentation was comprised of a three part exhibition featuring colourful bird houses created in collaboration with designer Christian Halleröd, a presentation of bird watching paraphernalia, including Swarovski-designed binoculars, showcased in vitrines inspired by the Salim Ali Bird Sanctuary in Goa, India and a tropical new selection of 'Blueprint' handbags painted with mirrored inkblots evoking tropical bird species.
Isabel Marant: Season after season, the French designer serves up the quintessence of insouciant Parisienne style. Autumn embraced all of her signatures, from clingy nomadic print dresses, Eighties shearling coats, boiler suits and voluminous shouldered blouses. There were touches of leather and sparkle in the more evening focused looks, which included beaded plunging sweaters, high-waisted shorts and slashed pencil skirts, paired with slouchy knee high boots.
Yasmine Eslami: The lingerie and swimwear aficionado unveiled a host of alluring styles for autumn, from floral lace bras in brown and bold blue tones to swimming costumes in a retro check with plastic hoop details. Unusual cross over straps nodded the distinct details in Eslami's designs, and bright hues bought punch to pretty fabrications.
Christian Louboutin: The accessories label transported guests to the lush interior of Paris' Botanical Gardens for A/W 2019, and on an unusually balmy day in the city, the sun radiated through its expansive glass roof. There was a real hot house of autumn options here, from shoes in rainbow tones, including curving architectural court shoes, to boots with modernist architectural heels, booties in Nineties camo print, and feminine mid-heels embellished with a floral tapestry of shimmering beads.
A_Plan_Application: 'The digital realm is part of every thing now' said artist Anna Blessmann of the glitchy pixelated prints in her third A_Plan_Application collection, imagined in shades of black, white and neon green. The offering featured an abstract white noise print and another kaleidoscopic pattern evoking a malfunctioning television screen. 'The uniform aspect of the brand has been slightly extended,' she adds of the collection, which featured vinyl trenchcoats, oversized padded scarves with concealed pockets, workman's shirts and everyday mid heel boots with tie details.
Birkenstock: The German brand presented its new format '1774', which focuses on special projects, with inspiring entrepreneurs of the design and architecture world. Marie-Louise Scio, daughter of grand hotelier and businessman Robert Scio, now creative director of the famous family-run Hotel Il Pelicano in Italy, has designed a collection of refined pieces called 'Il Dolce far niente' for Birkenstock. Her idea was to create a more elegant version of the signature Arizona shoe with elevated materials such as raffia, soft suede and silk, like a soft red suede style with magenta piping.
Delvaux: Artistic director Christina Zeller was fascinated by the idea of applying clothing signatures from a 'nineteenth century wardrobe' to accessories. The leather surface of one bag featured a fabric effect, which resembled corduroy, and another had splices that nodded to the construction of a trenchcoat. Elsewhere, the brand's top handled Tempête bag was imagined in two tone leather, which was delicately manipulated to resemble soft pleats of fabric.
Mame Kurogouchi: A deeply personal narrative runs through Japanese designer Maiko Kurogouchi's collections. For A/W 2019, the designer had become fascination by shards of blue ceramic from the Edo period. This discovering turned into a visual diary exploring the colour blue, including a daily photograph taken of blue bath salts dispersing into water. Her accompanying collection featured fluid shirt dresses in panels of check and floral embroidery, Chenogasm style silk pyjamas, knitted dresses in an array of oceanic stripes and jacquard waistcoats. Kurogouchi's very own blue period.
Pierre Hardy: This year marks the twentieth anniversary of the French shoe designer's eponymous brand. His signatures include bold colour combinations and graphic motifs. Hardy presented his collection amongst concrete blocks and spongy pieces of foam, and styles included fluorescent neon pumps, sculptural knee high boots that would suit Sixties starlet Polly Maggoo and colour blocked suede loafers.
Ottolinger: Swiss duo Christa Bösch and Cosima Gadient held their second show on the Paris Fashion Week schedule at the 19th century theatre Lycée Jacques Decour. Deconstruction is at the heart of the burgeoning label's ethos, and classic silhouettes, like bourgeois twin sets, double denim and tailoring are twisted for today. Take a demure knitted cardigan and knee length skirt with a pattern that resembles tweed, a denim jacket contoured with an angular fit on the body or a spliced ski suit, adorned with zips and paired with mules.
Hermès: There's a surrealist slant behind Pierre Hardy's shoe presentations for the French luxury house, held most recently inside the opulent rooms of the Money Museum in Paris. For A/W 2019, the legs of female models appeared inside wooden frames, strutting in chunky platform boots with coloured soles. Autumn abounds with other footwear delights, like flat men's boots with buckle details and sumptuous pony skin loafers. On women's wishlists? Cowboy boots with sculptural heels, suede stilettos with whimsical winged details and kitten heels formed from lengths of foulard silk.
Marques'Almeida: For the London-based design duo's sophomore show on the Paris Fashion Week schedule, sun shone through the open roof of its playground location at the Roman Catholic school Saint-Louis de Gonzague. Its Portuguese designers, Marta Marques and Paulo Almeida are renowned for sending a band of 'MA girls down the catwalk', the Paris location of its venue emphasising their diverse heritage. The collection was pretty-meets-punk and featured a host of the brand's design signatures from shirtdresses to glittered denim, biker leathers to sculptural knee-high boots. Exaggerated puffball volumes have been prevalent this season, and these came in bright fuchsia dresses, offset with spiked chokers.
Coperni: Sébastien Meyer and Arnaud Vaillant launched their label Coperni in 2013 to much critical acclaim, including ANDAM's First Collection Prize in 2014, and an LVMH Prize shorlist in 2015. The duo put their fledgling brand on hold to take the creative helm of Courrèges, but now their brand is back. Coperni usurped a show in favour of an intimate presentation, showcasing their contemporary take on Parisian wardrobe classics: suits with deconstructed collars and cut-out pockets, mini dresses with cheeky peep holes, and sharp shirting. The brand has also launched a Black Mirror style Instagram – @copernize_your_life – which invites users to dive into its aesthetic through a plethora of different accounts. We suggest you logon.
Receive our daily digest of inspiration, escapism and design stories from around the world direct to your inbox