Paris Fashion Week S/S 2023: Chanel to Miu Miu
Rounding out fashion month for another season, Paris Fashion Week S/S 2023 arrived as energised as ever. Here are the Wallpaper* highlights, spanning historic houses and runway debuts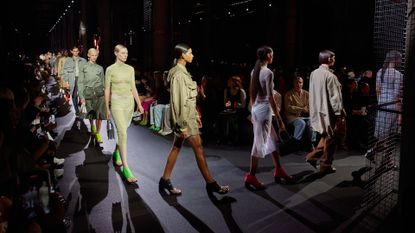 (Image credit: Courtesy of Miu Miu)
Paris Fashion Week S/S 2023 looks set to round out fashion month in climatic manner – from spectacular shows courtesy of France's historic houses (Louis Vuitton, Dior, Chanel, Saint Laurent and Hermès among them) to a new wave of emerging designers showing across the city (Ester Manas, Ludovic de Saint Sernin, Ottolinger and more), Europe's spiritual home of fashion feels as energised as ever. New additions to the nine-day schedule include Victoria Beckham, in her Paris debut, Ib Kamara, who reveals his vision as art and image director of Off-White, and a contingent of Japanese designers making their womenswear return after two years of Covid-19 restrictions, including Comme des Garçons, Junya Watanabe and Yohji Yamamato (Issey Miyake will also show its first collection since the eponymous founder's death earlier this year).
Here is the best of Paris Fashion Week S/S 2023.
The best of Paris Fashion Week S/S 2023
Tuesday 2 October
Louis Vuitton
Louis Vuitton's show set – a 'pulsating monster flower' by artist Philippe Parreno – acted something like a funhouse hall of mirrors, with rows of flashing light bulbs and slowly turning mirrors altering perceptions of perspective and scale. Something similar happened in the collection itself, which Nicolas Ghesquière said had a focus on femininity – 'glorifying its complexity, magnifying it, putting it in the spotlight'. As such, zip pulls were blown up to the size of a hand; vast eyelet belts were printed onto perforated leather tailoring; huge pochette handbags, decorated with the Louis Vuitton monogram, appeared like one of the house's purses had been multiplied to several times its size. 'It's a stylistic exercise that re-evaluates the proportions of clothing and its adjuncts, one in which the codes of femininity unsettle scale,' explained the collection notes. 'The infinitely large and the infinitely small come together on silhouettes, inviting a second look.' The result was something both tough and playful at once; a near-fetishistic celebration of the elements which make Louis Vuitton unique – the symbolic monogram, the hardware of its handbags – zoomed in, highlighted, 'given their due'. 'These are the custodians of a story that endures.'
Miu Miu
Recent seasons have seen Miuccia Prada – at both Miu Miu and her eponymous label – search for what she called 'the idea of directness' last month after her and Raf Simons' S/S 2023 Prada show in Milan. It has meant an exploration of archetypal, near-banal garments; this season at Miu Miu, the opening look comprised two layered T-shirts and a featherweight knit on top, recalling undergarments in their simplicity. 'This collection is about fashion born from reality, and born for reality, to be placed back into that context,' she elucidated in the show notes. '[It] is not a time for meaningless fashion.'
This idea of utility ran throughout the collection. Lightweight nylon parkas became zip-up dresses. Wide bum bags with two large front pockets – in denim or nylon – sat low on the waist. Adjustable toggle fastenings ran throughout; nylon bustiers fastened with slide-release buckles. 'This is not an easy moment to create fashion,' she said. 'For this collection, I wanted to explore the purpose of fashion, its reason. Its usefulness in society and in culture today.'
That said, moments of aesthetic rebellion emerged throughout – after all, Miu Miu describes itself as 'rebellious and seductive', 'an unrestrained portrayal of Miuccia Prada's creativity'. Hybrid flip-flop boots came in neon shades; smatterings of sequinned flowers decorated an otherwise simple T-shirt and skirt; unruly linings emerged from beneath the hem of a jacket. 'Fashion can have a meaning and a reason beyond utility – to decorate, to attract, is a meaning. But it is important that fashion functions – I am not anti-luxury, but I am anti-ostentation.'
Chanel
In 1961, Gabrielle Chanel designed the dresses worn by French actress Delphine Seyrig in Alain Renais' Last Year at Marienbad, a classic of French cinema's new wave. For her S/S 2023 collection, artistic director Virginie Viard looked back towards this moment for a collection which mused more widely on film's power to seduce. 'The films we have seen, those that possess us and those we invent for ourselves,' said Viard of the collection's starting point. 'Marienbad, the nouvelle vague, the allure according to Gabrielle Chanel, Karl [Lagerfeld], the night, feathers, sequins, heels.'
Such elements made for a deeply desirable collection from Viard, who is slowly making a signature at the house, defined by a feeling of simplicity, of stripping back, but nonetheless illuminated with subtle frissons of glamour and craft. Here, light touches of feather and delicate sparkling paillettes adorned beautifully cut tweed tailoring, the easy silhouette reminiscent of the costumes in Last Year at Marienbad and their simplicity of line. Elsewhere, patchwork motifs, photographic prints and subtly juxtaposed elements lent a feeling of collage. 'I like it when things get mixed up,' said Viard.
Another cinematic influence came from Kristen Stewart, the American actress and house muse. A film by Inez and Vinoodh starring Stewart played on the large screens which backdropped the runway; Stewart herself watched on from the front row. 'Whether it's her, or the other women I dress, I need to feel that they like the clothes anyway,' said Viard. 'But, of the people around me, she is the closest to Gabrielle Chanel, at least to my idea of her. She understands Chanel, its clothes. And with her, it becomes even more modern. This collection, it's also her.'
Monday 1 October
Rokh
At Rokh, Rok Hwang uses the archetypes of a woman's wardrobe – the trench coat, the tailored suit, the classic blouse – as the starting point for his collections, mashing them up into complex hybrid garments which this season he characterised as 'The Irrational View', the collection's title. '[It] joins together classic symbols of the wardrobe by applying multiple Rokh codes into one rationalised wardrobe with a modern perspective,' explained the collection notes, with those codes spanning multiple buttons, diagonal cuttings, and 'multi-size, unbalanced pleats'. It was the trench coat – a garment Hwang has explored in previous seasons – which became the collection's nexus, reimagined in various shape-shifting forms, from a full-length skirt (as if the upper half of the trench had been taken clean away) to mini tailored jackets, made from sliced-up trench coats in subtly varying shades. An asymmetric silhouette ran throughout: plissé skirts had undulating hemlines, while dresses were cut diagonally so one side fell gently onto the floor. 'Editing authenticity, adjusting identities,' described Huang of the process. 'Rationalising the irrational view across identities and wardrobes; new comprehensions found in repetitions of fitting, cutting during work in progress.'
Lanvin
A wistful S/S 2023 offering from Bruno Sialelli saw the French designer evoke 'the emotions of couture and memories of Lanvin' in a collection that looked towards the purity and refresh of springtime as inspiration. Refresh might be an apt word – after the high-glamour offerings of recent seasons, this was a more stripped-back approach, part of a move from the house to create a more expansive offering for its customer. Against the backdrop of a film by Joshua Woods, Sialelli proposed an array of elegant tailoring for the season – some left raw on the edges, 'an exchange between the raw and the refined, the perfectly unfinished' – often with just a singular button, which became symbolic of the collection's reductionist outlook. Elsewhere, the influence of couture came in a feeling of craft: macramé vests and dresses were intricately crafted from embroidered silk soutache, while flowers became a delicate motif that reoccurred throughout. Pieces from Jeanne Lanvin's own archive also provided inspiration for the collection – graphic prints from gentleman's ties were printed onto radzimir and decorated dresses and skirts; Lanvin's 1920s robe de style was reimagined in plissé silk chiffon. 'An interplay of the rigour of couture with the impulse of emotion, an attitude of today with gestures that honour the past,' said the house. 'Simple pleasures, pure joys.'
Thom Browne
'As you know, Thom likes to tell a story,' said British actress Gwendoline Christie, the compère and protagonist for Thom Browne's extravagant S/S 2023 presentation. A Cinderella story of sorts – a giant translucent slipper sat at one end of the runway, which wove around the gilded corridors of the Palais Garnier – the half-an-hour or so happening saw a collection that spanned vast taffeta opera coats (which were then removed, revealing spotted tailoring beneath, for the models' second walk of the runway), punk-inspired get-ups (complete with liberty spiked hair), riffs on preppy American tailoring, before an all-out finale where Pose's MJ Rodriguez zoomed around the venue in a shimmering floating car (the hood ornament a tiny recreation of Browne's signature dachshund, Hector). The finale saw Christie transformed, wearing a white pleated opera coat – 'the truest version of herself' – zooming off into the sunset with Rodriguez. 'In Thom Browne's world,' Christie said at the show's close, 'all girls and all boys fit inside the shoe.'
Sacai
Sacai's Chitose Abe said she was thinking about freedom this season, noting a desire to create a collection encompassing feelings of 'positivity, gentle strength, dignity and joy'. Amid an airy, light-filled showspace, lined with hundreds of cube-shaped stools in an array of primary colours, the collection encapsulated a carefree mood: oversized white shirting, jackets sliced along the sleeves for movement, dresses and skirts with deep utility-inspired pockets. As ever, Abe proposed a number of clever hybrid garments – the double-breasted blazer, for example, was reimagined as a sleeveless pleated top; trousers with apron-style pouches on the front – while moments of textural play, from shiny silver fabrications to shimmering sequins, set an optimistic mood. As one slogan T-shirt read: 'I got a feeling it's gon' be alright.'
Sunday 2 October
Givenchy
A heavy downpour of rain might have threatened to disrupt Matthew M Williams' first solo womenswear outing – previously, his women's collections have appeared in co-ed shows – though a brief break in the clouds at showtime proved serendipitous (as if on cue, the rain began again as Williams took his runway bow). This season, Williams said he imagined a 'transatlantic clash', between his own native America and the city of Paris, where he now resides. 'Through the timeless gaze of Hubert de Givenchy, whose contributions to American cinema inspired the nation's perception of everyday elegance, the silhouettes of classic Parisian chic and casual Los Angeles cool consolidate,' the house said in a statement.
In the collection, this culture clash arose in an opposition between elegant black tailoring – one standout was a perfectly sculpted tuxedo jacket, panelled like a corset – and more casual 2000s-inflected elements, from knee-length cargo shorts and stone-washed denim to motorcycle-inspired handbags. A series of heavily embellished gowns in sequin and crystal were perhaps Williams' most dressed-up proposition for the house yet – a nod to house founder Hubert de Givenchy's innate command of eveningwear. 'Everything begins with Hubert, the designer said. 'I looked into his archives with my adopted Parisian eye, but also with my instinctive American eye. The cultural exchange reflected in this collection has been a long time in the making.'
Ottolinger
'To look backwards is to die,' began a short piece of text by Berlin-based writer and artist Calla Henkel, which accompanied Ottolinger's S/S 2023 collection. Indeed, there was a distinct feeling of forward motion to Switzerland-born, Berlin-based Christa Bösch and Cosima Gadient's latest offering, models trouncing down the runway at speed (some complete with wheeled suitcases, as if ready to walk straight on out of the door). Showing amid a sea of bare white mattresses – which doubled as the audience's seats – Bösch and Gadient said they imagined those moments when you get out of bed and have a good feeling about the day ahead. Twisted leather jackets and folded skirts were created in the duo's deconstructed style, while skin-bearing silhouettes – skimpy knit bra tops, sheer printed vests, sporty riffs on swimwear – will no doubt satiate those already invested in their sexy, 1990s-inspired clothing (Bösch and Gadient have an ever-growing legion of fans, evidenced in the amount of Ottolinger clothing worn by the show's attendees). 'You are ready. You will not slow down,' concluded Henkel. 'You will never look back. It is an Ottolinger summer.'
Valentino
Last season, Pierpaolo Piccioli presented a study in pink, using one vivid shade across the collection's various garments (such was the colour's prominence, it came with its own Pantone shade, 'Valentino Pink PP'). Here, the colour reappeared on the numerous VIP attendants at the show dressed by the house, making Piccioli's about-turn on the runway itself more distinct. This season, he chose a more muted palette of beige and brown, designed to be evocative of skin tones, part of a collection that had renewed focus on the body. Adaptable body suits, pieces in stretch lycra and contouring knitwear were created to 'liberate the form', while the Valentino Toile Iconographe – a monogram for the house – enveloped the models' bodies (from shoes to tights to gown, to make-up over the face). Flashes of colour demonstrated Piccioli's unique eye – here, bold yellow, a rich Valentino red – while his usual impressive flourishes of craft, from sprays of delicate feathers to incredible work with sequins and crystal, added the requisite glamour synonymous with the house.
Balenciaga
'The mud show' was the title of Demna's latest presentation for Balenciaga, held on the outskirts of Paris. On arrival, the reason was clear – the showspace itself was a vast mud-filled pit, its trodden-down runway pitted with pools of water (the set was created by Spanish artist Santiago Sierra; the scent enhanced by longtime collaborator Sissel Tolaas). In a letter, the Georgian designer – known for his transporting runway shows – noted that it was a metaphor 'for digging for the truth and being down to earth'. 'I hate boxes and I hate labels and I hate being labelled,' he wrote. 'Fashion loves boxes and labels… individualism in fashion is downgraded to pseudotrends dictated in a post in some stories of some celebrity of the moment… I've decided to no longer explain my collections and verbalise my designs, but to express a state of mind… you either like it or not.'
The statement set the stage for a defiant collection, which continued to mine a dystopian mood (last season, he talked about the experience of fleeing the Abkhaz-Georgian war as a 12-year-old; models dragged their belongings through an Arctic tundra, doubling as a comment on impending climate crisis). Demna elucidated that this collection was about individualism: 'The more you try to be yourself, the more you get punched in your face,' he said (indeed, models appeared bashed and bruised, lips split open). Clothes and bags were purposely soiled – backstage, he said that these items took longer to create than if he had tried to make them perfect – riffs on the various items which have become his hallmarks at Balenciaga (the uniforms of security officers, torn denim jeans, hoodies, oversized leather jackets). Models walked with lifelike baby dolls strapped to their chests, or carried crumpled crisp packets and bedraggled cuddle toys. The final looks had a dark glamour: twisting dresses that knotted onto the body, a sequin gown, hem dragging in the mud.
Beneath the darkness, optimism lurked: 'Every day becomes a battlefield to defend [your] unique identity… but how great it is it be different from one and other,' he said. 'Let us let everyone be anyone and make love not war.'
Saturday 1 October
Akris
A 2011 work by Swiss artist Ugo Rondinone provided the backdrop for Akris' S/S 2023 show, which also marked 100 years of the label. Reading 'We Are Poems' in a rainbow-coloured font – for the finale, a series of dresses would echo the colours of the sculpture – it hovered over the Palais de Tokyo's central fountain, guests looking out towards the Eiffel Tower beyond. It was a fittingly impactful setting for the Swiss house's centenary celebration, seeing current creative director Albert Kriemler select nine pieces from the house's archive from the years 1978-1992 to walk among the new collection. He had discovered them while preparing to shoot them for an upcoming book on Akris' history; struck by the unexpected modernity of the pieces he 'knew right away we had to work with them'. As such, the opening look was a double-face cashmere coat with tie fastening first created in 1978; a 1989 Vicuna blouse and 1983 nappa leather trouser followed. 'Some designs defy time,' said the collection notes of the styles. Kriemler's own work has an equally timeless quality, this season providing a comprehensive wardrobe in his precise, minimally embellished style – from simple overcoats and easy tailoring to lightweight shirt dresses, some edged with lace (a motif drawn from archive pieces from the 1980s). 'Let's call it a rebeginning, an incentive to pause, a point in which everything can reappear or renew itself,' he said in a letter left on each seat. 'A collection where past, present, and future co-exist. A look back to move forward into a new century.'
Hermès
Nadège Vanhee-Cybulski imagined her woman for S/S 2023 at a 'rave in the desert' – 'the sounds sound radiating from behind the hill follows the drift of the dawn: she's never felt anything so beautiful', read the collection notes. Indeed, the vast carpeted show space was evocative of a desert landscape; in its centre, a recreation of a sand dune, which as the show began was projected with an ebb and flow of swirling colours ('the colours from the landscape came alive and began to move, to shimmer as though liquefied'). It led to a collection loosely inspired by outdoor adventures – Vanhee-Cybulski said she imagined '[a] return to a life in the heart of nature' – with pieces nodding to tents, mosquito nets and hammocks, these functional items reimagined in the designer's typically seductive style. A raincoat, for example, rolled up at the back to reveal a breathable mesh underlay – recalling the construction of a tent doorway – while utilitarian details, from toggle fastenings to zip-away openings, added a sense of ease to the otherwise luxurious pieces. A rich, desert-inspired palette – yellow, ochre, sand beige, brown, red and 'dawn pink' – completed this evocative, transporting collection.
Ester Manas
Ester Manas' S/S 2023 collection was titled 'Sunset Body', attempting to capture the languid feeling of a summertime evening – the moment where the 'undressed day turns into an otherwise dressed evening'. Founders Ester Manas and Balthazar Delepierre are known for their 'one size fits all' approach, where sizes span 34-50 (or S to 3XL), often in a singular garment through clever design tricks (a system of adjustable straps, for example). Beyond that, their collections are infused with a feeling of sensuality – 'it's for someone fierce, strong, sexy, a woman who really wants to be seen,' Manas told Wallpaper* earlier this year – here emerging in a sun-kissed exploration of the 'pleasure' of salt, sea, sand and sun ('the collection is only about pleasure', read the notes). Arriving in a vivid palette of pink, orange, blue, lavender and iridescent black ('like a promising night') the various pieces saw body-tracing, swimwear-inspired silhouettes meet feminine flourishes – frills and ruffles, the shine of knitted lurex – and flashes of skin. 'All its variations embrace the idea of a comfort that does not permit itself to be sexy,' the pair say, the final looks giving a brief glimpse of an upcoming collaboration with Danish fashion label Ganni. 'Everyone is welcome.'
Andreas Kronthaler for Vivienne Westwood
'This collection is my dream,' said Andreas Kronthaler prior to his S/S 2023 collection, which looked towards the English metaphysical poet John Donne for inspiration. He had recently read Super-Infinite: The Transformations of John Donne by Katherine Russell; in the collection notes, he quoted a passage from the book on clothing (a particular fascination for the poet, who was part of the court of James I). 'John Donne understood that when we get dressed we ask something of the world. All clothes speak: they say desire me, or oh ignore me, or endow my words with greater seriousness than you would were I not wearing this hat.' It lent the collection a theatrical, Rennaissance flair – the show saw models climb onto a wooden stage in the round – from doublet jackets, bodices and puffed bishop sleeves to swathes of silk jacquard decorated with silk stars (specially commissioned from Stephen Walters, 'perhaps the only silk weaver left in England'). Towering platforms shoes, corseted gowns, and men's underwear Kronthaler has owned since the 1980s completed the eclectic look which – besides the aforementioned jacquards – was crafted entirely from deadstock fabrics. 'I always like to combine new with old,' said the designer. 'To get dressed is to make both a statement and a demand.'
Friday 30 September
Coperni
If you have an Instagram account, it is likely that you will have already witnessed Coperni's thrilling closing act: a nearly nude Bella Hadid being sprayed with Fabrican, a liquid that when hardened creates a wearable textile (such is the speed of this transformation, Hadid was able to walk in the runway in the minimal slip dress just moments after its completion). 'An experience that sublimates the female body in the purest and most innovative way, tempting to immortalise it,' described the collection notes, which also saw the designers Sébastien Meyer and Arnaud Vaillant pay ode to 'women of this world' in all their multiplicities ('to you, women in every city, every desert, every club who magnify space and oxygen, yet fill emptiness and shadows'). Indeed, the collection which preceded the viral finale had a fierce femininity; presented against a grinding techno soundtrack, silhouettes were sliced, tailoring pin sharp, heels Perspex. A run of hologram dresses and shirts were sculpted to the body; more delicate touches of lace emerged from skin-tight slips. The final flourish was a €100,000 version of their signature Swipe bag in solid gold – the second viral moment of the night.
Victoria Beckham
The cloisters of Val-de-Grâce church provided the setting for Victoria Beckham's debut at Paris Fashion Week. Having previously shown in New York and London, Beckham called this latest move a 'recontextualisation' of the established 'hallmarks and codes' of the label – though in many ways it felt like a departure, with Beckham embracing a more vivid expression of sensuality (or, as the collection notes put it, 'an embracing of feminity'). There were sheer, lingerie-inspired dresses with flourishes of lace; sinuous, contouring knits; latex leggings and body suits that peeked out below skirts or above the line of a waistband. A series of sharp, tailored pieces drew the link to Beckham's past collections – here, the outline of a lapel appeared embossed. A duo of dresses with heart motifs – crafted from twists of silk jersey – nodded towards the city's romantic mood, a feeling continued in the celebration post-show, where hundreds of candles lit the historic courtyard outside.
Issey Miyake
'We see design as a process driven by curiosity, built upon a comprehensive exploration – bringing joy, wonder, and hope to life, and of course with a touch of playfulness,' read a short message from Issey Miyake creative director Satoshi Kondo prior to his emotive S/S 2023 show, an ode to the brand's namesake, who died earlier this year (preceding the show, the Japanese designer's portrait was projected onto the show space's walls). 'A form that breathes' was the collection's title, its sculptural forms – 'kneading, carving, and shaping,' Kondo described of the process – reminiscent of Miyake's own extraordinary command of body and silhouette, and how they intertwine. The collection began with what Kondo called 'Torso', comprising sculpted drapes in relatively sombre shades of black and white, before moving towards a more expansive colour palette, itself a hallmark of the label. As ever, innovative processes created pieces with an almost otherworldly quality – bouncy ripples of pleats, made from recycled polyester; innovative knits, which emerged from the body like spikes – appearing best in movement (a group of contemporary dancers, who closed the show, demonstrated the various garments flexibility). 'A form imbued with life, robust and lively,' said the accompanying notes. 'Not defined, not confined, enveloping the body, liberating the mind.
Loewe
The invitation for Jonathan Anderson's latest Loewe show was a single anthurium flower, its glossy red flower encased in a slim white box – 'a product of nature that looks like an object of design, and treated as such,' the designer said of its appeal. At the show venue, an enormous fibreglass recreation of a flower towered over the runway; on the opening looks, flowers were replicated once again – bright white, lime green, classic red – in various sizes, becoming hard corsages on dresses or sprouting from shoes (another pair was placed on the chest of a white gown, stamens pointing outwards suggestively). At his men's show earlier this year in June – a comment on the intersection of nature and technology – real grass sprouted from coats and sneakers; here, the organic became inorganic, cast from fibreglass.
It was a continuation of Anderson's recent fascination with the way we consume imagery; at both Loewe and his eponymous label, surreal elements are an attempt to consider the way that technology shifts our perception of the world – 'are we falling into our screens, becoming our phones?' he said in London last month after his S/S 2023 JW Anderson collection. Here, he talked about 'sharpening, stripping down, thinking forward… a focus on line, colour, shape: the reality of clothing, in tension, with precision.' It meant an exploration of silhouette: polo knit skater dresses were shrunken, shirts blown up. One hoodie had a geometric edge; from the front, it appeared pixelated, as if being viewed on a screen. Hard breastplates – decorated with dainty flowers – sat just away from the body, skewing the shape. Panniers jutted from models' hips.
'I kind of liked this idea of something meditative,' said Anderson, noting that the repetition of looks was part of the collection's 'trickery'. You don't know if it's the look that you saw, or the same person or not; It's more focused. I feel like I'm starting to enjoy just the making of a silhouette.'
Thursday 29 September
Rick Owens
Rick Owens once again used the vast forecourt of Paris' Palais de Tokyo – this time, its central fountain shooting a monumental spire of water high into the air – to backdrop a collection inspired by the figures of ancient Egypt, and biblical epics he would watch as a child (the inspiration points were similar to his men's show this past June, when he said of Egypt, 'I found great comfort in the remoteness and scale of its history'). A feeling of ritual and ceremony permeated the collection: silhouettes were draped around the body (the opening look felt like a play on the mantled statues of classical antiquity), shoulders were peaked, the shape of a jacket evoked the shell of a scarab beetle (a creature ancient Egypt saw as symbolic of eternal life). A black hooded clock was monastic in proportion, while a final flourish of tulle – Rick Owens' take on the ballgown – provided a dramatic closer. Most striking, though, was one of the collection's fabrications – an otherworldly 'gelatinous' leather that had been treated with glycerin to appear sheer.
Chloé
Gabriela Hearst looked towards an unexpected inspiration for her S/S 2023 collection for Chloé – nuclear fusion energy, which the designer called 'a large-scale, peaceful, clean energy source' (environmental concerns are at the heart of Hearst's approach to design, both here and at her eponymous label; here, she had undertaken research into the technology with ITER, Commonwealth Fusion Systems and Helion). Taking place in the darkened Pavillon Vendôme, Hearst looked in particular towards the vast metal tokamak – a powerful magnetic device being developed to produce controlled thermonuclear fusion power – evoking its circular structure in the collection's curved, industrial lines and metal embellishments, while a flashing laser light installation by artist Paolo Montiel-Coppa 'resembled the magnet placement in a tokamak' (it also lent the space the feeling of nightclub, or rave). 'I was surprised how many people didn't know about fusion – the clear opportunity we have with this collection to tell the positive story and cross-pollinate audiences,' said Hearst. 'It is extremely rewarding to use creativity to visually express what we learnt.'
Wednesday 28 September
Acne Studios
Acne Studios' S/S 2023 collection marked ten years since the Stockholm-based label began showing its collections in Paris. To celebrate, Jonny Johansson imagined a 'twisted wedding party', a mood reflected in the all-pink set, which came complete with rumpled satin sheets and shell-adorned candelabras by nail artist Sylvie Macmillan. 'I wanted to put a spin on the classic, kitschy wedding, referencing everything from the tablecloth to the chandelier, the wedding-night bed sheets, the bride's shoe, the bows, and the cute flowers,' said Johansson of the collection itself, which riffed on the archetypes of wedding nuptials in the label's eclectic, undone style. Delicate layers of lace, transparent tulle adorned with flowers, and girlish bows and hearts set a romantic mood, while spikey accessories, battered leather, and the brand's signature denim provided a tougher counterpoint. 'I find weddings fascinating because they are always a melting pot, and they kickstart a lot of aesthetic choices,' Johansson continued. 'There's something cute, kitschy, sweet about weddings – but also something serious, tense, and vulnerable.'
The Row
Mary-Kate and Ashley Olsen continue to bring their distinct brand of ascetic luxury to Paris Fashion Week, presenting a typically restrained – but entirely desirable – collection for S/S 2023. There was, of course, plenty of brilliant outerwear – broad-shouldered coats with hems almost touching the floor; a trench, grasped over the chest with the hand – while a feeling of sensuality came from the silhouette, subtly nipped at the waist and flaring slightly towards the hips, or diaphanous layers which wrapped around the body. A passage of looks saw the designers forge new ground in an exploration of the intimacy and imperfections of handcraft, from a homespun crochet dress and top – the various knitted patterns lending them a feeling of collage – to swathes of delicate netting, intricately stitched with hundreds of shimmering crystals.
Paul Smith
'A suit used to equal a job interview or a formal occasion, but now the suit is cool again,' Paul Smith said at his S/S 2023 menswear show earlier this year, a thematic thread which continues into the designer's latest womenswear collection. Contemporary riffs on tailoring provide the collection's nexus – a sleeveless blazer, with an angular closure is worn with tailored shorts, while a play on the three-piece suit comes in matching satin shirt, overlaid bustier and trouser (Smith calls it a more 'youthful' take on the formalwear staple). Elsewhere, an after-hours mood permeates the collection – Smith says he drew particular inspiration from his musical icons of the 1970s and 80s – in louche silhouettes and tuxedo-inspired elements, which 'blur the lines between day-to-night'. Despite this, the collection retains a resolutely relaxed mood, with gently ruched dresses, oversized trench coats, and soft-to-the-skin boucle, jersey and satin epitomising Smith's uncomplicated, easygoing approach.
Courrèges
'Elapsed time, looking forwards, glancing backwards,' were the evocative starting points of Nicolas Di Felice's latest collection for Courrèges, symbolised by a stream of sand which poured from the ceiling onto the circular runway below – as if attendees were suspended in a giant hourglass (the spectacle was created by French artist Theo Mercier; the sand was made from nut shells 'obtained from 100% renewable raw material'). He did so by looking towards the ocean ('time leads back to nature'), the annular sand-covered runway also evocative of a beach – ruffled-haired models held their shoes in hand, as if wandering home the morning after (rave culture has been a prescient inspiration for Di Felice during his tenure at the house so far). It lent the collection a certain fluidity, which referenced both Di Felice's sleek minimalism and the futurist innovations of the house founder. A series of flou dresses, for example, took their body-skimming line from a 1974 zippered dress, while a wetsuit created in 1981 'evolved' into a leather jacket. Metallic halter swimsuits, spiky silicone dresses – their unique texture evocative of coral – and scuba fabrics completed the beach-side look, which was both recognisable and unexpected at once. 'To look at the past as we look to the idea of the future,' he said. 'As a way to create for the now.'
Tuesday 27 September
Saint Laurent
'Radical fluidity' described Anthony Vaccarello of his glamourous S/S 2023 outing at Saint Laurent, reimagining the enveloping sheath dresses worn by American choreographer Martha Graham – which traced the line of the body and often stretched from head to toe – as diaphanous hooded eveningwear, which also recalled Yves Saint Laurent's 'capuche' dresses of the 1980s. Indeed, the era proved to be something of a theme of the collection, not least in a brilliant array of power-shouldered outerwear – from elongated leather trenches to elegant floor-length wool coats – drawn from the archive and yet contemporary in their boldness of shape (such cinematic silhouettes have been a focus of Vacarello in recent seasons). Set against the usual backdrop of the Eiffel Tower, it was a blockbuster show which closed Paris Fashion Week's first full day in electric manner.
Dior
Florentine noblewoman Catherine de Medici has become one of European history's most evocative figures, bringing the riches of her realm – the Republic of Florence, prior to Italy's unification – to 16th-century France and its royal court through her marriage to King Henry II. Among them, delicate Burano lace, the corset, and platform heels, her imports reshaping Parisian fashion and arguably defining feminine dress for centuries to come. The seductive appeal of De Medici provided the starting point of Maria Grazia Chiuri's S/S 2023 collection for Dior, which explored women's ability to exercise power through fashion. 'The power of fashion becomes the art of woman,' read the collection's notes. 'An art of invention, able to redefine the city of Paris over and over again, each and every time.'
Presented amid a rich Baroque-inspired cardboard 'cave' created by French artist Eva Jospin, Chiuri conjured De Medici's spirit through a 21st-century lens – from swathes of intricate lace to panniers, corsets, and rich, ceremonial silhouettes (billowing sleeves, elbow-length gloves, symbolic embroidery). Contemporary elements were woven through the primarily black collection (De Medici wore only black after the death of her husband; Chiuri noted it was a colour with particular visual power) from toggle fastenings to denim, alongside cargo pants, bomber jackets, and trench coats. 'Fashion dialogues with reality through artifice; the garments of the Court are transformed.'
There was, of course, an autobiographical thread that wove through the collection – Grazia Chiuri herself is an Italian in Paris; she too is attempting to make her mark on the way people dress in both the city and the world beyond. Time will tell Chiuri's own influence, though the success of her tenure so far – Dior's revenues are estimated to have tripled in her time on the job, bringing in close to $7 billion dollar profit – shows she is striking a chord with women with collections that, like De Medici's wardrobe half a millennium before, encompass both power and desire.
Stay tuned for more Wallpaper* coverage from Paris Fashion Week S/S 2023
Jack Moss is the Fashion Features Editor at Wallpaper*. Having previously held roles at 10, 10 Men and AnOther magazines, he joined the team in 2022. His work has a particular focus on the moments where fashion and style intersect with other creative disciplines – among them art and design – as well as championing a new generation of international talent and profiling the industry's leading figures and brands.