MSGM and ToiletPaper design a range of limited-edition sweatshirts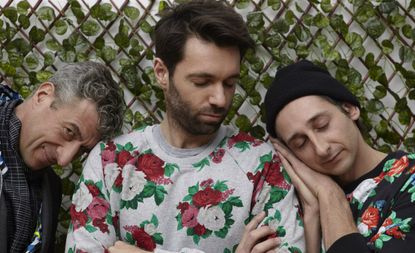 (Image credit: Pierpaolo Ferrari)
For a magazine that prints only images, ToiletPaper has managed to cultivate one of the art media's most distinctive and influential voices. This week the glossy and former Wallpaper* collaborator unveils a series of sensational picture windows at the entrance of the Palais de Tokyo in Paris. Then, at Milan Men's fashion week next week, the magazine will launch its first partnership with fashion label MSGM: a line of unisex sweatshirts featuring ToiletPaper's audacious imagery and MSGM's simple lines.

The range of comfort wear bearing distinctly uncomfortable prints (one features a gold eyelash curler about to clamp down on a pair of falsies) arrives as ToiletPaper strives to expand its influence beyond the page. Three years into its print run, founders Pierpaolo Ferrari, the offbeat commercial photographer, and satirical sculptor Maurizio Cattelan have recognised the limits of arthouse bookshop shelves and Tumblr pages, no matter how clever.

'We are interested in trying out our images in different mediums,' says Ferrari. 'We discovered that a toad in a sandwich works just as well on a sweatshirt.'

For Massimo Giorgetti, the young creative director of MSGM, the collaboration follows the natural order of avant-garde Italian design, marrying like-minded innovators who use bold imagery as their draw. 'I have found thousands of similarities between the subjects of the prints used in my collections and the images printed in the magazine,' says the designer. 'The images in ToiletPaper have always captured my attention, inspiring and entertaining me.'

Giorgetti will make the capsule collection available online later this month through the Parisian concept store Colette, as well as designer fashion sites Lane Crawford, LuisaViaRoma, SSense and The Corner.