Stripes to skatewear: Missoni and Supreme's kaleidoscopic collaboration
In a Transatlanic alliance, the Italian and American fashion labels unite on a colourful capsule collection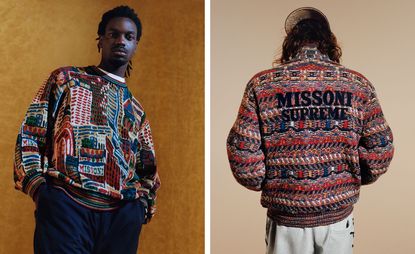 (Image credit: press)
The heritage of Missoni – a brand synonymous with prismatic colours, zig-zag stripes and exuberant pattern – is woven into every thread of the 1953-founded Italian label. Its beginnings are also united with sport: the brand's co-founder Ottavio Missoni was an Olympic hurdler, competing in the 1948 Olympics in London, where he met his future wife and collaborator Rosita. He also designed tracksuits for his team, featuring then-innovative zips.
Skateboarding debuted as a sport at the 2020 Summer Olympics in Tokyo, so it's a neat, and gold-worthy, move that sees Missoni teaming with skate-and-streetwear brand Supreme for a collaboration. It's been a busy month for the New York label, which is fresh from announcing a link-up with Tiffany on a range of tag-inspired pieces, sported by campaign star and Supreme team skateboarder Sean Pablo. Supreme has collaborated with numerous brands and artists over the years, and created sellout drops with Rimowa, The North Face, Louis Vuitton and Fragment Design.
Missoni and Supreme: Weave into the brands' zig-zag world
Ottavio Missoni's knitwear creations nodded to Guatemalan, Aztec and Incan textiles or abstract, impressionist and art deco paintings, and the pieces in the Missoni and Supreme collaborative collection are equally inspiring. Hooded sweatshirts, cosy jumpers, bucket hats and bomber jackets are imagined in a range of prismatic textures, including an intarsia-knit sweater patterned with a bold New York skyline, and a chevron quilted coat featuring striped, knitted cuffs.
Missoni has also had a busy autumn. November marks the opening of the brand's flagship boutique in Shanghai, designed by Milanese architectural firm BBA Studio. In September, the brand also unveiled the debut collection of its new creative director Alberto Caliri.
Whether you are a potential Olympian or simply going for gold in terms of style, Missoni and Supreme's collaboration is a must-have. We recommend you weave your way into the brands' collaborative, colour-swathed sphere.