Milan Fashion Week Women's S/S 2019 Editor's Picks
From Moncler's breathtaking Genius Project digital installations, to master of classics Brunello Cucinelli's organic-inspired pieces, we present the Wallpaper* pick of Milan Fashion Week Women's S/S 2019...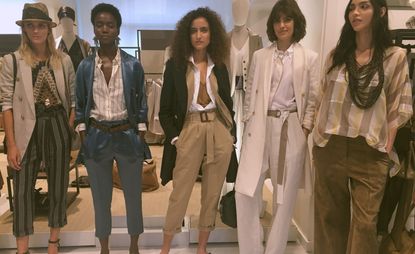 (Image credit: press)
Wallpaper* Newsletter
Receive our daily digest of inspiration, escapism and design stories from around the world direct to your inbox
Thank you for signing up to Wallpaper. You will receive a verification email shortly.
There was a problem. Please refresh the page and try again.
Brunello Cucinelli: Italian label Brunello Cucinelli is going back to nature for S/S 2019; no surprise considering that earlier this month its founder unveiled his recent restorative efforts of the medieval hamlet Solomeo, in the verdant province of Perugia. Cucinelli has looked to an alluring range of organic-inspired materials for spring. This is a collection of luxurious wardrobe classics in natural tones, from lake green to taupe, moonlight blue to safari beige. This means pieces including a pebble white tuxedo jacket in a light herringbone check, leather sliders with delicate beaded details, silk suits and suede culottes. Real forces of nature come spring.
Aspesi: Italian label Aspesi may be renowned for its functional day pieces, but once-upon a-time it experimented with eveningwear. It's a category the brand have reintroduced for S/S 2019, with the Aspesi take on night time culminating in sleek colourful dresses in casual shapes, and with elegant cut outs. The brand shot the collection's accompanying lookbook inside the studio of Milan-based artist Paola Ravasio, and her curving sculptures are showcased against Indian canvas smocks, berry-tone racer back dresses and candy floss pink V-neck shift silhouettes.
Arthur Arbesser: Small glazed ceramic trinkets sat on the seats of guests as they entered Arthur Arbesser's S/S 2019 show. The Viennese designer's collections are always steeped in art references, and for spring, he looked to the work of Italian sculptor Fausto Melotti. Arbesser was inspired by Melotti's focus on mathematical detail, which also allowed for rhythmic disruption. His collection was a deft combination of graphic prints and airy silhouettes: tactile brushstroke prints, Argyll knits and colourful stripes, flowing pyjama silhouettes, gauzy dresses and smocks. Particularly strong was a graphic giraffe print, which featured on full skirts and V-neck dresses, and a series of mobile-like long earrings designed by Nathalie Jean, covered with a chainmail layer of gold knit.
Moncler: The Italian label unveiled the second iteration of its Genius Project, a concept that sees guest designers invited to reimagine its signature down jackets. Swapping last season's physical presentation for a series of breathtaking digital installations, Moncler's mash-up world for spring, featured films projected onto the walls of a vast warehouse space on the outskirts of Milan. Highlights included Simone Rocha's summer silhouettes presented through a video of girlish women frolicking eerily in a meadow, suspended over a shallow pool, Craig Green's eerie animations of cagoule-clad sculptures bobbing like sailors at sea or globulous jellyfish, and Noir Kei Ninomiya's dystopian take on the digital landscape, featuring women appearing as cyborgs or holograms wearing his intricate and avant-garde designs.
Geox: The Italian label presented a versatile footwear and outdoors offering which ranged in influence from punk to party girl, athleisure to rodeo. Highlights included stompy thick sole sandals embellished with studs and buckles, herringbone detail sneakers and transparent plastic raincoats. Plentiful options come spring, whatever the weather.
Fratelli Rossetti: The Italian accessories label celebrates the 50th anniversary of its 'Brera' shoe this year, a tasselled loafer style once declined by the Milan football team for being too ostentatious. For its S/S 2019 presentation at the opulent Palazzo Visconti, the brand presented a classicism-inspired installation, surrounded by busts, plinths and cornices. For spring, the Brera loafer is reimagined with an innovative ombré dyeing technique, which sees two-tone styles in fuchsia and berry, or brown and black. Another version is weaved in leather to resemble python skin. Elsewhere, flat double-strap sandals, wedges and smart Derby styles provide springtime options.
Santoni: Inside the opulent Palazzo Gallarati Scotti, a series of mid-century interiors vignettes greeted guests at the Santoni S/S 2019 presentation. The set up showcased both the brand's womenswear shoe line and Santoni Edited by Marco Zanini offering, presented in still life scenes evoking an office interior, the entrance to a house and a lavish living room. For spring, the brand showcased a collection rich in exuberant metallic and highlighter hues, including its signature weaved sandals in silver and neon orange, lace up boots in striking shamrock, silver coated linen coats and glittering jacquard blazers.
Brognano: Designer Nicola Brognano launched his eponymous label in 2015, and for S/S 2019, his couture-meets-cool aesthetic culminated in a collection inspired by the LA surf scene and Southern Italy. The collection was a combination of menswear-inspired sportswear silhouettes and floaty saccharine shapes, like cycling shorts paired with a voluminous net bustier, a macramé pencil skirt with a photo print shirt of the Italian seaside, and zebra stripe and acid wash denim blazers. Brognano cut his teeth at Giambattista Valli and his dexterity for feminine detail was on display here. Every Venice Beach girl needs a ball gown.
Herno: The Italian outerwear specialist presented two new silhouettes for spring – a reversible bomber jacket and a thermo bonded hooded mackintosh with eye-catching rainbow stripe fixtures. Other highlights for S/S 2019 include lightweight puffer jackets with figurative watercolour prints, jackets constructed from a jacquard leaf motif or using a metallic coated macramé fabric.
Woolrich: For the second iteration of the Griffin Studio x Woolrich collaboration, the adventure label looked to the American outerwear brand's heritage for inspiration. Woolrich's red and black Buffalo check appears as a print across unisex puffer jacket styles, alongside utility-inspired camouflage textiles. There's high-performance poise to the pieces in the collection, which are reversible and feature removable elements: an ideal feature for those warmer springtime temperatures.
Byblos: Italian label Byblos came back with a Burning Man-inspired bang for S/S 2019. Its creative director Manuel Facchini looked to the renowned desert-located festival for inspiration, seen in recent times to encourage steam punk-focused and Mad Max worthy ensembles. Next year you'll be sporting glittering grommet-detail mini dresses, feathered denim jackets, skydiver all in ones in neon hues, and iridescent mini skirts. Festival fashion not for the faint hearted.
Plan C: The Marni family's fur business began in a Milanese apartment, and it was in this space that Carolina Castiglioni, the daughter of former Marni creative director Consuelo Castiglioni, showcased her latest fashion label Plan C. In a space sleekly populated with fluffy mid-century chairs and lamps, Castiglioni presented an eccentric and imaginative collection that recalled all of the acclaimed design traits of her heritage. The debut featured off-kilter looks, like a sleeveless Argyll knit paired with a flowing skirt or turquoise tailoring topped off with a glossy tan overcoat. There were stripes and checks, unusual colour combinations and even cute cartoon prints courtesy of the scribbles of Castiglioni's young daughter.
Tod's: The Italian label has style answers for the most sumptuous of summer dressers. Tod's S/S 2019 collection evoked all the hues of an Italian summer – cobalt blue and burnt orange, sandy beige and ocean sparkling azure, and the men's and women's offering was rich in suede, leather and foulard silks. For female leather fans, there were sporty striped trousers, shirts and biker zip dresses and accessories including neckties, fringed Gammino loafers and T-logo belts. For men, there were double-breasted suits, preppy piped blazers and an array of dark denim. Fantastic options for upcoming Amalfi Coast adventures.
Loro Piana: The Italian cashmere specialists presented a breezy and lightweight collection sure to bolster luxurious summer wardrobes. There were transparent knits in rusty tones; linen kaftans with leather piping and striped bias cut dresses. The collection of summery shades featured sumptuous hits like an airy duffel coat in the brand's signature baby cashmere, and a preppy blazer in sugary pastel yellow. Accessories included chic straw hats and a cute beach bag with practical pouches for your wet and dry swimwear.
Antonio Marras: The travels of real life miniaturist John Marras, Fellini's 1965 film Juliet of the Spirits, images of 50s and 60s nightlife in Mali: there's always a strong narrative thread behind Antonio Marras' collections. For spring he looked to the tale of Princess Romanework, the eldest daughter of the Negus, Emperor Haile Selassie of Ethiopia, who was exiled on the island of Asinara when her commander husband died during African-Italian conflict. This was an imaginative offering that combined Marras' hybrid silhouettes and romance-meets-utilitarian embellishments, with more exotic and intrepid details, like feather trims, pocket army belts, huge headdresses adorned with ferns, model butterflies, camouflage and animal print.
Marco De Vincenzo: American football jerseys in lace, funereal black dresses with ruffles and crystal embellishments, tie dye prints and oversized Crucifix necklaces: for S/S 2019 De Vincenzo delved into the tropes of classic American and Sicilian dress. He took inspiration from a trip his American aunt made to the Italian island, and the accompanying collection was a fusion of US pop-culture and sportswear, and Sicilian conservatism. A culture clash with creative appeal.
Etro: The Italian label made waves for S/S 2019, with an eclectic and joyful collection inspired by surf culture. The label also celebrates its fiftieth anniversary this year and MFW marks the opening of its 'Generation Paisley', exhibition at Milan's MUDEC Museum. For spring Veronica Etro (who has been at the creative helm of the brand for two decades) imagined the ultimate bohemian surfer girl, all patchwork knitted coats, paisley silk pyjamas, crochet dresses in ocean hues and tropical bloom bucket hats. There's been a hint of the Japonism on the S/S 2019 catwalks in Milan (just look to the wooden sandals at Jil Sander and Salvatore Ferragamo), and Etro's girl had an Eastern zen. She's teaming her surfboard with kimono robes and Obi belts, for a truly enlightened ride on the waves.
Golden Goose Deluxe Brand: The footwear and ready-to-wear label drew on its Venetian heritage for spring, and a room leading into its presentation space featured a table lined with touristy trinkets from the canal lined city. There were transparent boots and shirts with 'I Love Venezia' slogans, casual dresses and tailoring in pastels and pebble tones evoking the interiors of palazzos, and pieces printed with images of St Mark's Square. The brand's shoe and trainer offering continually expands each season, and for spring there were hand painted cowboy boots, chunky sliders and trainers with hybrid espadrilles soles.
Dondup: Italian label Dondup has a strong denim heritage, but for S/S 2019 it expanded its offering even further, translating the codes of men's wardrobes into everyday womenswear pieces. In the predominantly black and white offering, there were white shirts and waistcoats worn as dresses, and an abundance of rock and roll silhouettes with buckle and beaded details. A pair of light denim jeans with heavily beaded details had a haute couture casualty, while a t-shirt came emblazoned with the slogan 'Patience always pays', tapping into today's tireless trend for logocentric designs.
The Bridge: Italian leather label is ubiquitous with the garments of working life; its doctor's bag a staple of Italian businessmen. For spring, the label is looking a little more bohemian, having expanded its leather range to include a series of hand and shoulder bags with tassel details and gold studs in a range of tans and browns.
Church's: A surprisingly hot September day brought sunlit synergy to Church's garden party-themed presentation. Held in the rooms and gardens of an ornate Palazzo, the British footwear label showcased a versatile range of styles, from jacquard tassel-detail mules to Mary Jane flats, studded Chelsea boots in colour-blocked black and white, to Derby shoes with graphic floral-motif embellishments. Outside on the lush grass, the brand also showcased a sneaker collection of white plimsolls with colourful accents, surrounded by croquet bats and copies of novels by Evelyn Waugh.
Jimmy Choo: A sleek multi-room palazzo showcased the wide-ranging and opulent collection from the shoe and bag brand. There were stellar pieces here for any shoe aficionado: glittering disco-centric strappy sandals and bags dripping with paillettes, rodeo-worthy boots with sculptural heels, and sporty bejewelled sneakers. There were also interesting fabrications, like cord and rough Hessian. Altogether, a heavyweight line up of shapes, styles and embellishments.
Valextra: Logomania shows no sign of abating. Just take Milan Fashion Week's S/S 2019 season, featuring a logo heavy runway show from sportswear label Fila, a new 'F' embossed version of Fendi's classic Baguette bag and Versace's show ticket, which doubled up as a logo emblazoned wristband. For spring, accessory label Valextra has turned this trend on its head, with the launch of its #NoLogoMyLogo collection. Here, customers are able to adorn their preferred bag style, be it a tote bag or the Valextra's signature Iside shape, with a tessellated monogram of their own initials, in colourful graphic typography. These designs draw inspiration from the Italian industrial designer AG Fronzoni, who also developed typographies and products for Valextra in the 1960s, and have an utterly individual feel.
Giuseppe Zanotti: The Italian footwear and accessories behemoth delved into his boundless bag of embellishment tricks for spring. Amongst sleek stilettos and mid court shoes in neutral leathers like pebble, black and white, there were also leopard print platforms, flat sandals embellished with crystal shells and butterflies and a pair of flip flops with frothy corsages resembling bright blooming roses.
A.F. Vandevorst: Earlier this year, Belgian label A.F. Vandevorst, celebrated its 20th anniversary. But for its first season showing in Milan, co-founder's and husband and wife An Vandevorst and Filip Arickx had something a little more marital on their mind. The show marked the duo's twentieth wedding anniversary, and in an idiosyncratically avant-garde style, they celebrated this milestone with a collection celebrating the clichés of ceremony dressing. Experimenting with traditional wedding dress fabrics like fluid silk satins and crispy cotton poplins, Vandevorst presented a series of gothic and uncanny brides (nurses are also a signature reference), in hybrid and spliced styles, bolstering their alternative look with knee high boots, a gimp mask and macabre make-up.
Bally: A team LA road trip inspired the sepia and peachy tones behind Bally's S/S 2019 collection. On this voyage of discovery, the works of colour photography pioneers Stephen Shore and Joel Sternfeld were uncovered, whose early experimental development processes produced images in pinkish and green shades. The resulting collection of retro silhouettes includes a khaki leather trenchcoat with a sky blue lining, a ribbed polo shirt and skirt in candy stripes and patterned mules inspired by ribbons in Bally's archive. Real photo opportunity pieces.
Missoni: The runway show celebrating Missoni's 65th anniversary was an awesome and immersive affair. Guests sat around tables beneath the spaceship like Mario Bellini-designed Milano Congressi, and were treated to a piano performance by composer Michael Nyman. The Missoni family has invited fashion fans into its vibrant and knitwear-focused world for 65 years (and even into its kitchen with the cookbook it launched earlier this year). The opening section of its S/S 2019 collection was awash with gauzy and delicately ruffled knits in light greys and silvers. Its climax celebrated the Technicolor aesthetic Missoni has long been associated with, all sparkling lurex weaves and figurative knits, chevron stripes, patchwork and the imaginative pizzazz that pours forth from its knitting machines.
Giorgio Armani: Earlier this week Mr Armani lifted off to Milan's Linate Airport, where he held his Emporio Armani runway show inside a cavernous aircraft hanger on its tarmac. He touched back down into the brand's via Bergognone HQ for his brand's Giorgio Armani show, which culminated in a 70+ look collection more under the sea than up high. Imagined in a predominantly grey, pink and turquoise colour palette, there were suits in soft shades, dresses with frothy ruffles and puffy skirts in iridescent organza. Accessories came courtesy of huge floppy hats, clear plastic boots and a good glimmer of chunky catwalk jewels.
Manuel Facchini: The designer's eponymous brand's S/S 2019 collection – held in a dark underground car park – came just four days after his runway debut as creative director of relaunched label Byblos. This was a sexy, embellished and outré offering, which saw models splashing about in low pools of water, wearing alluring cut out gowns, berets, leather mini dresses and embellished knee high boots, in a provocative colour palette of black, white and red.
Fila: The Italian sportswear label is having a fashion moment. In June, Lyst released its quarterly shopping trend report, based on the retail habits of 5 million people, reporting that the Fila's chunky sole Disruptor II sneaker is the second most coveted item of the season. Plus Fendi has been mashing its own logo with Fila's, thanks to a hybrid artwork by Instagram artist Hey Reilly. For S/S 2019, the brand hit the MFW schedule, with an energetic men's and women's runway show of Fila hits. There were sportswear staples like cycling shorts and cagoules; logo t-shirts and backpacks, and an assortment of more party focused styles like stilettos and sequinned tees. Pieces sure to top shoppers lists next season.
Bulgari: Swathes of chainmail curtain surrounded the presentation plinths showcasing Bulgari's latest accessories collection. The Italian luxury house debuted new updates of its Serpenti Forever bag, which, like the chainmail curtains surrounding them, had an outré eighties feel. Take styles embellished with lightning bolts of mirror, or piped with threads of glittering chainmail, or with snake-clasp heads twinkling in mosaic.
Swarovski: Milan Fashion Week marked the launch of Swarovski's 'Book of Dreams', an opulent book celebrating the creative possibilities associated with Swarovski crystals, art directed by Cabana Magazine and with creative direction by Giovanna Battaglia Engelbert. 'It's the brainchild of a fantastic collaboration: an extraordinary mix of artistry and alchemy, fashion and fantasy, all wrapped up in Swarovski's new-season crystal innovations and encased in an opulent visual publication,' says Markus Langes-Swarovski of the tome, whose launch was celebrated with a cocktail at the splendid Villa Orsi Mangelli.
Dušan: Dusan Paunovic, the Milan-based master of fabrication and texture, presented a sumptuous S/S 2019 offering, rich in flaring and oversized shapes, from ribbed knit dresses to wide legged trousers. A boxy workman's jacket provided the perfect outerwear option for spring, while a patterned silk top and trousers in unusually colourful foulard silk, offered an easy option for summer sojourns.
Receive our daily digest of inspiration, escapism and design stories from around the world direct to your inbox