Milan Fashion Week Women's A/W 2019 Editor's Picks
From Donatella Versace's grunge revival to glitter knitwear at Missoni, Ujoh's 10th anniversary collection revisiting signature pieces to Antonio Marras's romantic garments inspired by Modigliani, we present the Wallpaper* picks of Milan Fashion Week A/W 2019.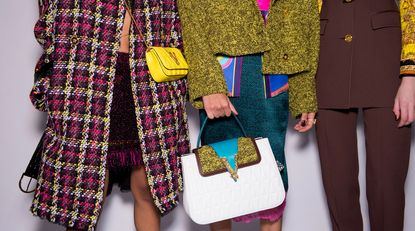 (Image credit: Jason Lloyd Evans)
Versace: There was a smell of teen spirit behind Donatella's Versace's A/W 2019 collection, as the designer looked to the Nirvana-tinged codes of grunge for inspiration. In a show set lined with golden stools and arches formed from giant safety pins, models strode in a typically sexed up take on the trend, in tartan negligees with buckled bra details, slips with embellished lace inserts, boxy leather jackets, slicked back hair and spindly stilettos. Grunge meets glamour head on.
Bulgari: The Roman accessory and jewellery house has introduced a new range of bag shapes for autumn. The apple of our eye is the Serpenti Cabochon – a softly shaped design with graphic padded details inspired by the polished gemstones. The bag's construction features a range of amazing embellishments, including a technique which sees it turned inside out, spray painted then wet-scrubbed with UV paint, or stitched from panels of shimmering watersnake.
Sergio Rossi: The Italian footwear label looked to the factory floor for its A/W 2019 inspiration, erecting a multi-room presentation space designed by Gary Card, inspired by the various stages in shoe production. The space featured a playfully turquoise concept room lined with shoe lasts and a room stacked with over 6000 shoe boxes bearing its latest frilled sr1 creations. The space also showcased a new sneakers style and 1970s patchwork knee-high boots bearing Rossi's bold new logo, inspired by archive typography from 1972.
Plan C: The sophomore collection from the Marni family's granddaughter Carolina Castiglioni ticked all the boxes in terms of colour, bold form and eclecticism. Midcentury furniture populated the domestic presentation space and models populated the scene. Layering was key for A/W 2019, and models sporting beige trenchcoats unusually overlaid with colourful vests, and two-tone cagoules paired with parkas. Bags were bright and graphic, gloves with leather arms resembled protective mitts and shoes came in the form of chunky sandals with angular heels.
Missoni: A sea of purple glitter lined the expansive runway of Missoni's A/W 2019 show, held at Palazzo Del Ghiaccio. The brand showcased its mastery in knitwear with a men's and women's collection that was subtle yet showstopping. More laid-back looks were entirely knitted and included a women's mustard yellow jumpsuit and a men's doublre breasted suit in ombre shades of darkening aubergine. Elsewhere, capes, trailing snoods, ikat print coats and suits were patterned and kaleidoscopic, and nodded to the brand's 67-year knitting prowess.
Herno: A troupe of two-tone pieces made up the Italian outerwear expert's A/W 2019 collection. Voluminous shapes, like capes and oversized puffer jackets, were imagined in an array of black and white tones. Puffer jackets were crafted in plaid and overlaid flocked details, while trenchcoats were constructed from featherlight fabrics, which Herno is particularly renowned for. For autumn, fashion's penchant for neutral tones shows no sign of slowing down.
Sara Battaglia: The Milan designer's muse doesn't go for mottled shades or subtle silhouettes – she loves colour, pattern and volume. Battaglia's A/W 2019 collection abounded in outré silhouettes and tones, from animal print to scarlet vinyl, and included a puff shoulder mini dress, leopard print suit and sexy skirt and pencil skirt two pieces in a range of corduroy shades. Battaglia's label began as a bag brand, and new styles were on view for A/W 2019, including miniature totes with her signature rainbow accordion details.
Jimmy Choo: 'She's dynamic, playful, modern' said Sandra Choi, Jimmy Choo creative director, of the heroine that inspired the brand's A/W 2019 collection. This was a multifarious, dichotomous offering, which incorporated the diverse personalities of Choi's heroine, and also a new 'JC' interlinked monogram. From a snakeskin knee-high boot with a sculptural kitten heel, to a bejeweled patent slingback, a charcoal suede shoulder bag with the brand's monogram, to a crystal shimmering clutch bag, there's plenty here to suit any personality.
Ujoh: 'The collection reinvents signatures such as asymmetry, which are contrasted against soft textures,' said Japan-based designer Mitsuru Nishizaki backstage, of the silhouettes in his tenth anniversary show. Nishizaki is a protégée of Yohji Yamamoto, and his A/W 2019 offering displayed voluminous and deconstructed silhouettes, like shirts with unusual details, knitwear worn upside down and deconstructed tailoring. Fringing was essential here, and scarf-like fronds appeared on the hems of shirts and A-line skirts and looks were imagined in tailoring tones, sky blue, vanilla and apricot.
Santoni: The Italian footwear brand held an exhibition titled Bellezza for its A/W 2019 presentation. The show featured the work of five female artists, who were asked to realise an artwork echoing the styles in collection. The exhibition featured tiles of embroidered poetry by Gabrielle Miller, an abstract video installation by V. Unwin with two models lounging on a carpet by Patricia Urquiola for CC Tapis and a large scale black and white illustration of dancing girls by Iris de Mouy. Standout styles included colourful snakeskin boots, monk strap brogues and stompy Argentian boots in caramel.
Geox: Sculptural details, colour block and print were all punchy components of the Italian footwear house's A/W 2019 women's offering, which included gold heeled boots in crushed pink velvet, quilted loafers, bold typographic print brogues and tortoiseshell heeled booties. For men's, derby shoes and loafers had a chunky heel (a strong trend at the Milan shows) and were finished with two-tone detailing.
Max Mara Weekend: Last season, Max Mara Weekend teamed up with interior designer Anthony Baratta on a breezy and colourful collection inspired by the coastline of Nantucket. For A/W 2019 they've looked to the work of glass artist Ritsue Mishima, on a collection featuring sliced, diced and seemingly haphazardly construct silhouettes, from fur detail camel coats to two-tone puffer jackets with tactile patches. Mishima created an installation to present the collection, which was suspended amongst colourless glass blown pearls.
Hogan: There was alpine endeavour behind the brand's A/W 2019 collection, which was showcased in a multi-room presentation space lined with Arctic-hued fake fur. Puffer jackets in icy shades were belted with carabiners and climbing rope, and in addition to the brand's signature line of trainers, a range of mountain boots featured as haute takes on hiking wear.
Loro Piana: Fabrication is integral to the Italian fashion house, and baby cashmere its softest and most luxurious fabric, was a focus in its A/W 2019 collection. In an offering rich in natural tones, a baby cashmere shawl coat in yolk yellow featured subtle toggles, while a grey striped scarf was paired with a bright green micro knitted skirt and jumper. Other highlights included reversible wool and houndstooth trousers, an Argyl chunky knit jumper in charcoal and knee-high leather boots in a variety of monochromatic tones, including tan and aubergine.
Giuseppe Zanotti: There was a multitude of new styles served up for A/W 2019, from erotic red and black stilettos with studs inspired by an archive Claude Montana jacket owned by Zanotti, to a kitten heel (an unusual height for the aficionado of height elevation) with a crystal embellished bow. The Italian accessories label also expanded its bag offering for autumn, designing sculptural clutch bags in fake ponyskin, and softer cushion-like styles in a range of hues, from white to hot pink.
Antonio Marras: Rich narratives are embedded in Marras' collections (ones that have more depth than a 2D Instagram image). For A/W 2019, the designer was captivated by the tale of Italian artist Modigliani, and the crush he developed age 14 on a hotel owner's daughter named Medea in Iglesias, Sardinia. For the show, guests sat on an imagined artist's studio lined with higgledy-piggledy furniture, and with a book on each seat, laid with an imagined letter Modigliani wrote to a friend of his infatuation. Marras' male and female models strode the catwalk in his signature utilitarian, spliced and diced garments, swathed in brocade, tulle and patchwork.
Aspesi: The Italia brand celebrates its 50th anniversary this year, and its menswear heritage was conveyed in a colourful A/W 2019 collection, which incorporated men's fabrics and androgynous silhouettes. Oversized mackintoshes in coral red and fuchsia vinyl, jackets had a utilitarian elan and were in sunny yellow or Prince of Wales check and silk tailored jackets had delicate padded details. More overtly feminine elements included a floral print, which had an abstract free-hand feel.
MM6 Maison Margiela: Maison Margiela's youngest twin flew to Milan this season to present its new collection in the brand's store, entirely padded with white duvets to match the puffed-up ready-to-wear pieces made with repurposed materials. Slips dresses and pleated skirts, worn by a street cast of 70-year-old Italian models, were associated with more masculine staples such as an oversized trenchcoat and the classic biker jacket, all interpreted in a palette of crisp whites. Even buttons and bags were amplified and stamped with the MM6 logo, while metal earrings and necklaces were sprayed in white and decorated with crystal jewellery as a nod to the maison's chandeliers
Brunello Cucinelli: Neutrals are having a moment, and no one does elegant tones and textures better than Brunello Cucinelli. The Italian brand's A/W 2019 offering abounded in whites, greys and browns, and was a blend of androgynous tailoring and snuggly daytime separates. Chunky knits with alpine patterns and shimmered with sequins, culottes came in caramel leather, white suits in crisp white and bomber jackets in pulled cashmere. Shoes came in the form of cosy shearling-lined mountaineering boots or sturdy Western boots. Pops of scarlet and cerulean accentuated the collection. With these silhouettes, neutrals are well and truly here to stay.
Church's: The British footwear behemoth presented its A/W 2019 collection against panoramic photographs of Holland Park. Chelsea boots featured elegant stud details or XL elastic details, while monk strap shoes were offered up in a range of smart tartans. A series of loafers, Oxford shoes and lace-up boots featured an ultra lightweight chunky sole, designed by St Moritz Blowtech. Shades of black and maroon had a classic, autumnal feel.
Fratelli Rossetti: The Milanese footwear house draws on the streets of its home city for inspiration. For A/W 2019, the label celebrates the 50th anniversary of its 'Brera' loafer, with styles embellished with kaleidoscopic embroidery. Autumn also sees an evolution of Rossetti's horse-bit detail Magenta shoe (the brand has a boutique on this Milan street). Its hardware details are replicated across brogues, boots and loafers.
Woolrich: In recent seasons, Woolrich has debuted a host of creative collaborations. The brand went back to its roots for A/W 2019, celebrating its outerwear heritage, and its historic Buffalo check. This resulted in different formulations, and for women, included fluffy pink and white Buffalo check workwear shirts and tricolour archive prints from the 1970s replicated across boxy puffer jackets. Reds, blacks, whites and blues abounded in the collection. Shoes too featured the 1830-founded brand's idiosyncratic check, printed across mountain boots and snuggly sliders.
Dondup: The Roaring Twenties, with its eccentric and decadent culture as seen in Scott Fitzgerald's The Great Gatsby, is the focus of Dondup's Autumn/Winter 2019 collection. Illustrating just this, maxi sequined slip dresses and mini skirts in red, gold and silver lamé are seen along shirts and blazers bearing zodiac-themed embroideries, while the classic men's suit is given a feminine touch. Inside a Milanese nightclub, the Italian house paid homage to the iconic parties of the 1920s as models sat on golden couches and paraded in their osé outfits.