Raphael Navot, of Silencio fame, designs Pas de Calais' first Paris store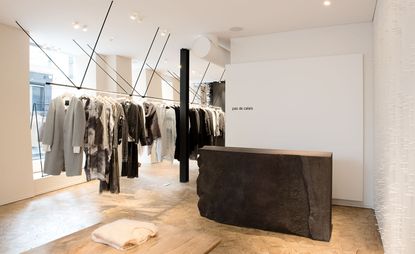 (Image credit: Helene Hilaire)
Pas de Calais, the Japanese womenswear brand created by Yukari Suda, recently opened its first Parisian boutique located on 15 rue de Poitou in the 3rd arrondissement, with the help of the French multidisciplinary designer, Raphael Navot.

Navot, who made a name for himself by leading notable design projects – including David Lynch's Silencio in Paris and furniture design for Cappellini, among others – was tapped by Suda to imagine Pas de Calais's first Parisian flagship in Le Marais.

The designer envisaged the 75 sq m space as a manifestation of Pas de Calais' creative identity, where simple and relaxed shapes meet premium craftsmanship. He also played with the natural character of untreated fissured wood, corroded metal and powdery limestone, and opted for a furniture collection that bears abstract and artisanal appeal.

'I received a carte blanche, which allowed me to explore the brand's identity while researching natural materials in a nearly abstracted environment,' Navot explains. 'The space asked for a humble touch, yet attentive and even complex at times.' Together with architect Virginie Renaut, who directed the site, the pair challenged themselves with some seemingly impossible tasks: like the wooden patchwork floor or the sliced volcanic rock, labelled 'impossible' by many companies.

These artisanal adventures often come with many challenges, and Pas de Calais was not the only project that Raphael Navot has had to tactfully negociate in recent years. The designer famously translated film director David Lynch's many ingenious and sometimes outlandish ideas into Silencio – the cult private Parisian members' club.

'I had to interpret his sketches, words and scenography into full scope interiors,' he explains of the 2011 project. 'There were many funny moments along the way as he can be eccentric at times,' he says, adding, 'He was curiously concerned about the actual manner we intended to construct the 600 sq m golden wood cladding that covers the club's walls,' Navot remembers. 'He insisted that we hire a bunch of gypsies,' he pauses, 'To be accurate three: one to play the guitar, another to sing while dipping wooden blocks in a bucket of gold, and the third to place them one by one on the walls. Up to this date I don't know if it was a joke as he kept repeating these worksite instructions in front of a bunch of perplexed engineers!'

But all jokes aside, Navot deserves a lot of credit for his masterfully layered interiors – with or without a trio of guitar-playing gypsies in his back pocket.
INFORMATION
For more information, visit Pas de Calais' website (opens in new tab)
Photography: Helene Hilaire
ADDRESS
15 Rue de Poitou, Le Marais, 75003 Paris, France
VIEW GOOGLE MAPS (opens in new tab)