Stranger things: new label Kepler explores duality in fashion and beyond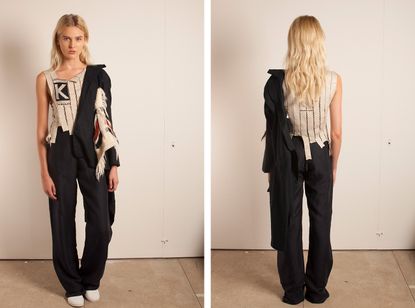 (Image credit: Kepler)
Based on the idea of an alternative reality other than life on Earth as we know it, Kepler, a new London-based fashion brand by Alexandra Hadjikyriacou and Jaimee McKenna feels just like that: strangely familiar, yet stimulatingly singular.

The label's namesake is Kepler 186 f, a planet discovered by NASA two years ago with a radius similar to Earth and located within another sun's habitable zone. 'We liked the idea of a duality between the Earth and [planet] Kepler,' say the duo, who studied at Central Saint Martins, 'in the same way that Kepler is a combination of two individuals.'

Hadjikyriacou and McKenna both have textile and knitwear degrees – a solid basis for their collaboration. But they also share a fascination for the history of clothes. 'We source our silk yarn from Japan because they manufacture the most beautiful yarns; our cashmere and wool are from Scotland,' they explain.
A look from Kepler's 'Season 1' collection
'Our cashmere army jumper and jacquard scarf were produced in Scotland due to their fantastic handwriting for cashmere, and our woollen jacquard football scarves were made in Alex's home country of Cyprus.'

This union of different traditions and techniques has led Hadjikyriacou and McKenna's research into 'military uniforms, Renaissance art, and tribes in Africa'. One look – a cream silk dress layered with a rusty brown knitted dress from their Season 1 collection – is based on the idea of wedding dresses made out of silk parachutes during 1940s wartime. Another look, a blue knitted jumper with slouchy draping, is a harmonious combination of what they say is 'the different way each of us sees the world and interprets it.'

Duality and harmony are at the core of Kepler. 'With some looks we had a vision for the garment and chose the materials to best reflect it, for others we found a beautiful material and engineered the garment to best reflect that,' the pair say. Each garment balances out colour, texture and silhouette into a whole that is both functional and spirited.