Brand from the bloc: Budapest label ÁERON's subdued minimalism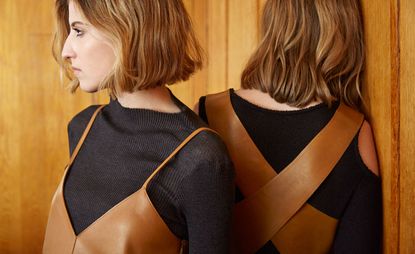 (Image credit: ÁERON)
'Designed, crafted and born in Budapest' – it's not something you often hear about a contemporary womenswear brand, but ÁERON, founded in 2012 by Eszter Áron and joined by CEO Vivien Lászlóffy last year, delivers just that.

Strictly producing every garment in and around the Hungarian capital, ÁERON embraces an ethics of quality that resonates with an audience that in four years has grown to include 15 countries.

Undoubtedly universal in spirit, it's also undeniable that Budapest has a major influence on the brand's aesthetic. 'The energy, creativity, and simple coolness [of Budapest] is quite addictive,' explain Áron and Lászlóffy. 'The city is truly a mix of bohemian and underground places while still having so much elegance, beauty and history. It's a vividly calm place, especially compared to other big cities – in Budapest there is a sense of tranquility and bustle at the same time.'

ÁERON embodies these characteristics through its use of Japanese and Italian fabrics – Japan is its biggest market, probably owing to a shared interest in superior quality and innovative materials – and colour palettes that embrace muted and rustic shades of grey, charcoal, ruby, amber and off-white.

The A/W 2016/17 lookbook was shot against the backdrop of a communist housing block. It doesn't communicate the usual bleakness, but instead has an exterior painted in rosy hues and an interior with dark wooden paneling: almost embodying the Marxist utopia that proved out of reach. The two 'real time creative women' ÁERON chose to partner with instead of models are the Spanish duo Berta Bernad and Ybarra Pasch, a creative director living in New York, and a photographer and artist.

Together they exude an air of intimacy and sisterhood. In the separates – that have details like unfinished seams, extra-long sleeves, frayed hems and conspicuous zips and stitching – there's rigidity and strength to be found, structure and soundness, but also warmth, playfulness and sensuality. The images perfectly sum up the idea that Lászlóffy refers to when describing the campaign: 'a communist realism linked to contemporary minimalism'.
INFORMATION
For more information, visit the ÁERON website (opens in new tab)
Photography courtesy ÁERON