Hushed tones: simple, wearable clothes speak of a quiet revolution
A new and muted mood is (quietly) gaining momentum, from brands including Deveaux, Dušan and Legres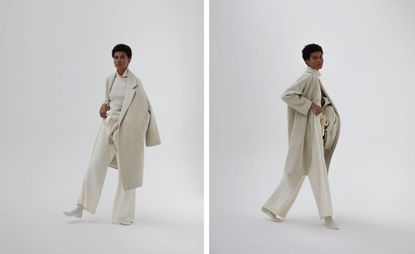 (Image credit: Paul Phung)
Between 1987 and 1996, the Japanese photographer Shoichi Aoki captured fashion editors at Paris Fashion Week, striding across cobbled courtyards in high-waisted long black skirts and modest, matching jackets, or sitting together, hashing out the collections in smart peacoats and thick brown corduroy trousers. Unstaged and unfiltered, the images documented an industry that was indifferent to our gaze, on the cusp of the pomp and celebrity the digital age would bring.

Today's around-the-shows looks are knowingly bold and shamelessly brash. Yet, while René Storck's nubby grey wool top or Dušan's sinuous inky-velvet tunic may struggle for attention next to the orgy of print and pattern on display, a new, muted mood is gaining momentum. 'If you talk to a lot of people who have worked in fashion for more than ten years, they want to be more laid-back,' says Canadian photographer-turned-fashion designer Tommy Ton. 'Everyone is overwhelmed.'

A lot has changed since 2005, when Ton launched Jak & Jil, an online diary of photographs snapped at the doorways to fashion shows around the world. Back then, his lens zoomed into the fall of the latest collar or the fold of an off-the-runway cuff. He recorded the pageantry that seemed a reaction to the diktat of black neutrality as the industry norm. It was a time when neutral colours couldn't pop from screens – when e-commerce pioneers such as Net-A-Porter pushed bold, energetic styles.
Top, coat, £2,820; top, £900; dress, £1,360; trousers, £1,080, all by The Row. Boots, €650, by Legres. Earring, worn throughout, £136 per pair, by J Hardyment. '646 Leggera' chair, £678, by Gio Ponti, for Cassina. Bottom, cardigan, £1,930; skirt, £1,565, both by Loro Piana. Tights, £19, by Wolford. Boots, €650, by Legres. 'Roquebrune' chair, £1,080, by Eileen Gray, for ClassiCon, from Aram Store
'It used to be suggested that you couldn't sell brown online,' says Elizabeth von der Goltz, global buying director at Net-A-Porter. But two decades since the site launched, our LED screens have been replaced with OLED, allowing for more depth of tone. The advance of video technology has helped highlight fabrications up close, bringing even the darkest colours to life: 'We are really backing tonal dressing as a trend, ensuring we offeran array of hues within one tone, like beige and grey – we've bought into grey in a big way for the season ahead,' von der Goltz says.

Much of the company's buy will focus on layering, including coats and shirt dresses from Ton's debut collection as creative director of the fledgling New York label Deveaux. Co-founders Matthew Breen and Andrea Tsao had discovered Ton's library of over a million images and seen it as an education in the nuances of personal style. 'Street style was great research; as a photographer, you're looking more aesthetically, but as a designer you have to be more grounded in reality and understand why something works,' Ton says. For Deveaux that means a certain calmness and functional elegance: 'beautiful everyday pieces with a loose fit'.
Deveaux shares the same insouciant style favoured by the highbrow American luxury label The Row, which is rebellious in its simplicity. 'I think we're all in a place where we want to cleanse the palate and not fuss about getting dressed. We want to feel invested in clothes that are sustainable and not over-buy,' Ton says. 'Our mission is to make clothes that whisper and that make sense. It's more inspiring to see a woman wearing one of our dresses pushing her baby around as opposed to seeing it at a gala.'

Deveaux's approach reflects a renewed cynicism towards throwaway styles. Likewise, Serbian-born Dušan Paunovic has weathered the seasonal whims of fashion for two decades, making discreet, beautiful clothes in his adopted hometown of Milan. 'If I were to start my label today, I think it would be more difficult. There's so much information, so many collections, and the power of big brands is even stronger than it used to be,' he says. Yet, his is a manner of dressing that is never in or out. It is about a certain pragmatism, a respect for quality, something that will not 'get in the way'. 'My clothes are quiet,' he adds.

The three co-founders of new London-based label Legres share his approach. They work with Italian artisans to create timeless boots in unfussy colours, and wish to remain unnamed. 'In this age of oversharing, hyper-connectivity and aggressive marketing, we wanted to express a different vision,' they say. 'We are looking for an audience that shares our love of craftsmanship, and is not only looking for a commodity to take a photo of.'

The radical simplicity of Loro Piana's cashmere tracksuits and the fine suiting at Agnona subvert the maximalist street style spectacle, which Ton celebrated early on. These are clothes for fully formed characters: a dress to flatter a woman who has zero time to get dressed; a good easy suit in which to feel understood. 'To me, that is more of a challenge than focusing on whether or not an influencer will wear it to a show,' Ton says. There is a new minimalism beside the madness. §
A version of this article originally appeared in the September 2019 issue of Wallpaper* (W*246)
Left, blouse, £1,058; dress (worn as skirt), £768, both by René Storck. Bra, price on request, by Nude Label. 'Roquebrune' chair, £1,080, by Eileen Gray, for ClassiCon, from Aram Store. Right, Jacket, £1,965; jumper, £665; jumper (worn around shoulder), £665; trousers, £1,165, all by Agnona
London based writer Dal Chodha is editor-in-chief of Archivist Addendum — a publishing project that explores the gap between fashion editorial and academe. He writes for various international titles and journals on fashion, art and culture and is a contributing editor at Wallpaper*. Chodha has been working in academic institutions for more than a decade and is Stage 1 Leader of the BA Fashion Communication and Promotion course at Central Saint Martins. In 2020 he published his first book SHOW NOTES, an original hybrid of journalism, poetry and provocation.