High functioning: the next generation of minimalists defining a new, easy-going, all-day elegance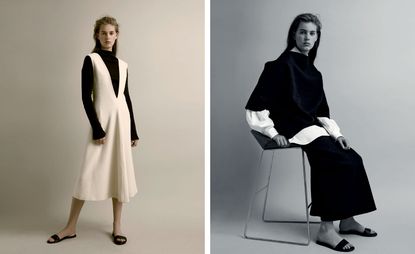 (Image credit: Dušan Paunovic)
Wallpaper* Newsletter
Receive our daily digest of inspiration, escapism and design stories from around the world direct to your inbox
Thank you for signing up to Wallpaper. You will receive a verification email shortly.
There was a problem. Please refresh the page and try again.
Fashion can sometimes be read as a contest between the Roundheads and Cavaliers, the minimal and the baroque, opposing forces cycling in and out of favour. It's just that the Cavaliers, inevitably, make for better pictures. They get the attention, as is their wont.

There is a new kind of minimalism on the rise right now, if you know where to look for it. Gone, though, is the deconstruction of gender norms that preoccupied designers working at the height of minimalist fashion in the early 1990s (Helmut Lang, Jil Sander and Martin Margiela for Hermès were exemplars of the style). Buttoned-up androgynous suiting has been replaced by nomadic kimono-style jackets worn with wide-legged trousers and Moroccan slippers as seen at The Row. The clinical starkness of black and white has been swapped for a more seductive palette of navy and grey as seen in the collections of 1205, the cult label that quietly insists on tactility and intimacy in the digital age.

The relaxed sensuality of everything designer Christophe Lemaire shows for his namesake brand in Paris makes the same argument. With influences from classic Mongolian costume, with its fat patterns and deconstructed softness, to the aloof glamour of 1970s Sonia Rykiel and Guy Paulin, Lemaire's style is a kind of haute essentialism.

In many ways this new easy-going elegance is a nod to the pioneering minimalist Zoran Ladicorbic. The Yugoslavian-born designer arrived in New York in 1972 and premiered his Five Easy Pieces collection in 1976 with the gossamer and glitz of the Studio 54 era in full swing. Including just one pair of black trousers, a black skirt and three ivory tops, the collection was revolutionary. With no buttons, snaps or zippers, Ladicorbic's clothes were then radical in their less-is-moreness.

He thought of the collection as distinctively American - 'Simple shapes, confident and uncluttered is the American way,' he said, way back in 1993 - and his infuence on Calvin Klein and Donna Karan and their sportswear-inspired minimalism of the 1990s is clear. Ladicorbic, a prickly, private character, withdrew his clothes from traditional retail in the early 2000s, and he now only sells to a select (and very wealthy) clientele. His influence, though, is perhaps stronger than ever.

'These clothes require a woman with character, someone with great confidence,' says the Serbian-born, Milan-based designer Dušan Paunovic, who worked with Ladicorbic for six years before establishing his own eponymous label in 1999. Paunovic's collections, too, have largely remained a secret only known to gallerists, designers and architects. 'I strive to make clothes that are modern without directly reflecting the times,' he says, offering an essentials wardrobe that questions the need for constant reinvention.

But if the new minimalism feels like an older minimalism revisited, there are aspects of it that are utterly contemporary, in a counter-contemporary way. 'I think that with an overload of information, we have lost our instinctive sense of touch,' says Paula Gerbase, the designer behind 1205. 'My fabric choices are consciously unreadable from a distance, and totally truthful to this search for intimacy. This move towards a simpler way of being is a rebellion against our time.'

As technology makes our lives and relationships more varied but virtual, it has encouraged designers to deliver textures, cuts and silhouettes intended to inspire a deeper connection to the body. Whimsical, frothy clothes can't compete with the whimsy and froth available to us through modern technologies. 'What we place onto our bodies should neutralise the images and sounds that constantly flash in our faces, encouraging a clearer and more focused mind,' argues the motion designer Julien Simshäuser, whose clients include Chanel, Google and the National Trust. 'So in that respect, how can minimalism ever be wrong?'

More people, it seems, are seeking an understated, quiet functionality, even in clothes incorporating technology or the very latest high-tech fabrics. 'I really appreciate the advantage of new fabrication techniques where you don't directly see the tech but you can feel it,' says Simshäuser. 'In such a classic discipline like fashion, technology shouldn't be the detail. It should be invisible.' (The design world, which has embraced new technology in design and production but stubbornly resisted trying to incorporate it into actual product, is ahead of fashion in some ways. The British designer Jasper Morrison, the godfather of super- functionalism, is the hero of the hour.)

Along with new ways of living, the white-out blur of life and work, the role that clothes play in our day-to-day lives has also changed. 'Our lives in some ways have become simpler, less defined by rules of social etiquette,' says Maria Lemos, founder of Rainbowwave fashion agency and owner of London lifestyle boutique Mouki Mou. 'It is acceptable to wear the same clothes from morning to night, to wear fats in the evening, and to wear jewellery in the morning. This is liberating women from social restrictions and allowing us to develop a personal style.' Lemos has always been drawn to the principle of less is more. Clothes should defy time and seasonality and get better as they wear. Lemos cites Japanese labels such as Arts & Science and 45rpm as leaders of the style; clothes that resist the seasonal whim of fashion.

For the ultimate in pared-back precision, you can't go far wrong with Dušan's pleated silk shift, a leather bucket bag by LA-based multi-medium design studio Building Block, and 1205's tailored dress in soft baby alpaca, which propose a luxury that is both exacting and eloquent, understated and quietly useful.

As originally featured in the September 2015 edition of Wallpaper* (W*198)
Receive our daily digest of inspiration, escapism and design stories from around the world direct to your inbox
London based writer Dal Chodha is editor-in-chief of Archivist Addendum — a publishing project that explores the gap between fashion editorial and academe. He writes for various international titles and journals on fashion, art and culture and is a contributing editor at Wallpaper*. Chodha has been working in academic institutions for more than a decade and is Stage 1 Leader of the BA Fashion Communication and Promotion course at Central Saint Martins. In 2020 he published his first book SHOW NOTES, an original hybrid of journalism, poetry and provocation.