Body and sole: Roksanda and Malone Souliers step in line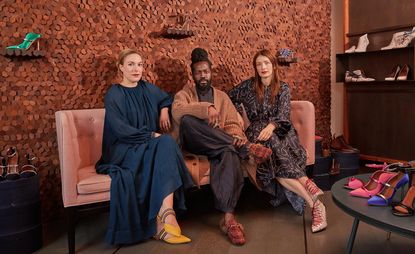 (Image credit: Malone Souliers)
Earlier this week, womenswear designer Roksanda and luxurious footwear label Malone Souliers paired up for a second season, collaborating on the shoe designs for Roksanda's Rothko-hued A/W 2017 show.

Since the launch of Malone Souliers seven seasons ago, the London-based shoe brand has become synonymous with intelligent design, crafting pieces using precise lines and beautiful colour-blocked details. Is it no surprise, then, that the architect-trained, Serbian-born Roksanda, who is renowned for her own use of colour and geometry (inspired by artists such as William Eggleston, Julia Dault and Hélio Oiticica), first tapped the duo in S/S 2017 for a footwear collaboration.

'There is now a real sense of creative intimacy and communication,' explains Roy Luwolt, founder and managing director of Malone Souliers, of the second runway collection. 'We've both become really invested in the raw design process of the project.'

For A/W 2017, this process culminated in slouchy thigh-high and ankle length boots, and delicate slip-on mules in rich claret, chestnut and bright red nappa leather. 'The styles evolved around finding something that would give the collection a supple and slouchy look without being too heavy,' explains Malone Souliers founder and creative director Mary Alice Malone. 'We wanted to reflect Roksanda's flowing silhouettes.' This looser shape was also echoed in Roksanda's interest in nomadic uniforms, with boots resembling luxurious versions of expedition-ready footwear, featuring drawstrings in heavy leather, threaded through colourful enamel eyelets.
'We wanted the shoes to mimic the contrasting ideologies of traditionalism and modernism in the collection; focusing on texture, contour and colour, curved heels and rubberised and lacquered colour blocking,' explains Roksanda of the designs, that reflect both of the labels' interests in fabrications. Roksanda's own pieces have featured embellishments using plastics and tiny spheres blown up with air, while Malone Souliers own A/W 2017 collection featured silk landscape prints, inspired by early Chinese paintings. 'The pieces that we have made are undeniably relevant to both brands,' Luwolt adds, emphasising that, in terms of collaboration, the shoe really does fit.
INFORMATION
For more information, visit the Roksanda website (opens in new tab), and the Malone Souliers website (opens in new tab)