'Making Dreams': Fendi's filmic venture at Cinema Manzoni, Milan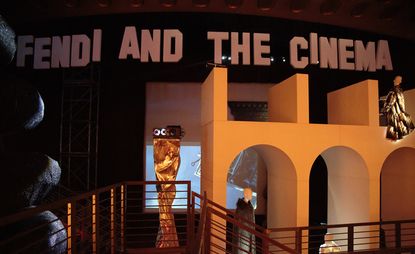 (Image credit: Fendi)
Fendi has long been one of cinema's favoured costumiers, dressing leading ladies in scene-stealing furs. From Madonna in Evita and Michelle Pfeiffer in The Age of Innocence through to the sublime Isabelle Huppert in Lady of the Camelias and the slightly ridiculous Gwyneth Paltrow in The Royal Tenenbaums, all have delivered iconic dramatic turns in Fendi, occasionally to Oscar-winning effect.

'Cinema has always been an important part of our family life and our brand,' says Silvia Venturini Fendi. 'I remember as a little girl, film screenings were events in their own right. The cinema would enter our house, we would set up a white screen and the whole event would be met with a religious silence. We have worked alongside the greatest directors of yesterday and today, from Luchino Visconti to Wes Anderson, from Martin Scorsese to Giuseppe Tornatore, and we will continue to do so.'

Fendi is now celebrating its cinematic CV with an exhibition at Milan's Cinema Manzoni, one of the world's loveliest little movie houses. Designed by Mario Cavallè in 1947, the cinema has been closed since 2006 but is reopening for the Fendi presentation.

'Making Dreams: Fendi and the Cinema' - aptly timed to open during Milan Fashion Week (opens in new tab) - is curated by design duo Patrick Kinmonth and Antonio Monfreda, the team behind the acclaimed 'Valentino: Master of Couture' exhibition (opens in new tab). The pair have artfully co-ordinated costumes and film clips and screenings, including Visconti's Conversation Piece, starring the statuesque Silvano Mangano in Fendi furs. The film, newly restored by Fendi for the exhibition, is accompanied by a new documentary about the making of the director's late masterpiece.

The cinema has been divided into seven themed areas for the exhibition, created with fantastical temporary architecture, including triumphal arches, amphitheatres and glass walkways and, at its heart, a flower-shaped pavilion with video screens playing some of Fendi's starring roles.

'Making Dreams' coincides with the opening of Fendi's palatial new store on nearby Via Montenapoleone, designed by Gwenaël Nicolas. Housed in the 16th century Palazzo Carcassola-Grandi, the two-storey boutique pays tribute to the brand's Roman roots with lashings of Travertine marble, leather, bronze and stone, and features The Baguette Wall, made up of 40,000 bronze spikes, and a room dedicated to its Selleria collection which offers a made-to-order service. There is also an installation by Italian artists Nucleo, a specially commissioned video piece by Patrick Jean, photography by Karl Lagerfeld and carpets designed by American artist Haynes Robinson, while the VIP room promises calm and Gio Ponti armchairs.