Le Kasha's lightweight linens are inspired by the Egyptian desert
'I don't want Le Kasha items to be hanging in your wardrobe waiting for one particular occasion, but to be items that you live in'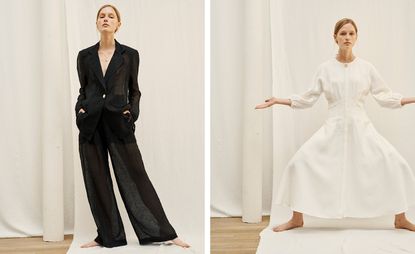 (Image credit: Le Kasha)
Magnificent dunes, endless sky, ancient settlements built from sand and long hot days melting into mysterious nights… While travel and adventure is largely on hold, for Mali Marciano of longstanding Parisian cashmere manufacturer Le Kasha, Le Voyage goes on. This spring (despite having to postpone the planned launch in an Egyptian oasis) Le Kasha is nonetheless debuting its new collection.

Inspired by the raw beauty of the desert, Le Kasha's Lin de Voyage capsule is as evocative as it is elegant. A complete summer collection in 100 per cent organic Italian linen, it is designed and produced in the Le Kasha atelier in Paris. Magically resistant to creasing – the better for packing light – the pieces stay pristine and graceful day to night: beach to bar and beyond. Le Kasha, which counted Coco Chanel among its clients in the 1920s, remains a family run company, and its reputation for fine cashmere has lasted for generations.
Today under Marciano's guidance, the label is extending its travel-friendly and luxuriously versatile ethos to other textiles, including a silk collection inspired by the ancient silk trading routes, and now linen. Linen textiles are some of the oldest and most noble with a history that dates back millennia: ancient Egyptians sometimes used linen as a form of currency and mummies were wrapped in the textile as a symbol of light and purity.

Marciano designed the Lin de Voyage collection in direct response to her own travels in the area. 'Every time I find myself in a special place, I always wonder what I would like to be wearing in that moment,' she says. 'Every landscape, the colours, the smells, they all give me some inspiration and the Lin de Voyage collection originated in Egypt. As a child I became fascinated while on a trip there with my family and it has intrigued me ever since. I wanted to create a collection with a local fabric that links back to its history.'
RELATED STORY
Each Le Kasha collection is designed with travel in mind, but their easy versatility makes them especially appropriate for now. 'I want Le Kasha pieces to travel with you everywhere, no matter where you might be,' says Marciano, who is spending her lockdown days in Tel Aviv. 'I don't want Le Kasha items to be hanging in your wardrobe waiting for one particular occasion, but to be items that you live in, and wear all the time in any situation. It's not about fashion, trend-led pieces, but about items that are adaptable to any place, time or situation you might find yourself in. They are pieces that will travel with you.' And in the meantime, they might transport you too.
INFORMATION
lekasha.com