Inside the haunting splendour that is Alexander McQueen's Savage Beauty at London's V&A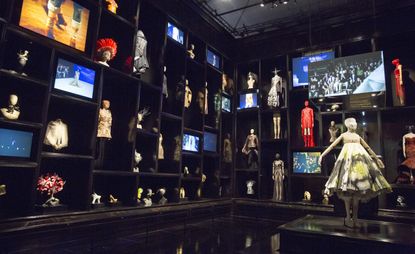 (Image credit: Courtesy of Victoria and Albert Museum London)
'You've got to know the rules to break them,' Alexander McQueen once said, 'That's what I'm here for; to demolish the rules but to keep tradition.' Designer, influencer, visionary, trendsetter, sometime anarchist, McQueen was a showman like no other. His fashion week presentations doubled as theatre; raw, gritty, thematic, sometimes disturbing, but always thought-provoking, and his retrospective 'Savage Beauty' at London's V&A is spun from the same golden thread.

The show expands upon New York's Costume Institute at the Metropolitan Museum of Art's initial exhibition of the same name, and now includes 240 ensembles lent by private collectors including Katy England, Annabelle Neilson and the Isabella Blow Collection.

In addition to showcasing McQueen's tremendous skill and expertise within the fashion realm of pattern-making and drape, it also chronicles his collection's narratives as a platform to re-examine history and debate current affairs. From the Stanley Kubrick-inspired 'The Shining' runway snowstorm of 1999's to 2006's 'The Widows of Culloden' which famously saw Kate Moss floating above the audience like a ghostly hologram.

The son of an East End taxi driver, McQueen was first and foremost a champion of London. His creativity in cut and construction derived from his early training on London's Savile Row as a tailor's apprentice from the age of 15, followed by tuition at Central Saint Martins; his draping and dressmaking skills developed during his tenure as creative director at Givenchy in Paris.

Just as his shows began in gritty industrial locations on shoestring budgets, so too does this exhibition, the design itself conceived by his former production company Gainsbury and Whiting. It opens amidst humble concrete rendered surrounds, which house examples of his early tailoring, slashed lace and shredded leather. The next room, by contrast, is dominated by gilt gold frames that mount his darker Victorian dramatics and focus on metamorphic female forms through his black swan gown. Next up: a bone-clad cave which unearths his romantic primitivism - tapping into his fascination with tribalism and ancient African civilisations. A regal, wood panelled chamber furthermore hosts his queenly works, championing royal regalia and his ode to the Scottish kilt.

Then it's onto the exhibition's cabinet of curiosities, which focuses on McQueen's fetishes including collaborations with Philip Treacy for millinery and Shaun Leane's thematic jewellery. Another career highlight captured here is S/S 1999's 'No 13' finale that saw Shalom Harlow standing on a turntable dressed in a buckled white dress being sprayed with paint by two robot arms.

Some of his most haute gowns are later housed within wooden and glass vitrines, before we enter the white tiled set of Lady Gaga's 'Bad Romance' clip. McQueen's 'Plato's Atlantis' 2010 show debuted the track via live streaming, and this offering draws together his glittering Swarovski crystal mini-crini dresses and those iconic armadillo heels.

'I want to be the purveyor of a certain silhouette or a way of cutting, so that when I'm dead and gone people will know that the twenty-first century was started by Alexander McQueen.' This show sets that statement in stone.

The exhibition's fitting denouement is McQueen's 'Asylum' collection that was staged inside a two-way mirrored box whereby the audience was reflected in the glass before the show began, but once it started, the caged models could not see out. 'It was about trying to trap something that wasn't conventionally beautiful to show that beauty comes from within,' reverberates his quote, immortalised on a nearby wall.
The exhibition's denouement is McQueen's 'Asylum' collection that was staged inside a two-way mirrored box whereby the audience was reflected in the glass before the show began, but once it started, the caged models could not see out. 'It was about trying to trap something that wasn't conventionally beautiful to show that beauty comes from within,' reverberates his quote, immortalised on a wall nearby. Courtesy of Victoria and Albert Museum London
ADDRESS
V&A
Cromwell Road
London, SW7 2RL