Low theatre: South Bronx-based designers Hul Arnold explore futurist fluidity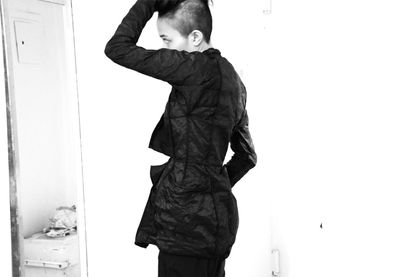 (Image credit: Hul Arnold)
According to Dieter Rams, 'Good design is as little design as possible' – a tenet to which the South Bronx-based collaborative duo Hul Arnold avidly subscribe. From their minimalist pattern-cutting techniques to a quiet rejection of convention, the emerging brand is seeking to reconceptualise androgyny and luxury without the fireworks of some other houses. Instead of high theatre, they offer a particularly contemporary version of cool, one in which structure and fluidity converge, and where unconventional fabrics offer fresh twists on old themes.

At the helm are Bopha Hul and Troy Arnold, whose collaborative process is integral to the label's success: 'Our collaborative state becomes enhanced when both sides of the "brain" are activated,' they explain. 'One of us has the idea, the other executes it.' The pair work in harmony with the admirable aim of producing 'timeless, quality products that transition the seasons'.

Behind that traditional ethos lurks a rather more radical edge to their work. Hul Arnold's 'One World' concept – a world in which masculinity and femininity converge – touches on wider cultural movements, but finds particular significance with the duo. Where others have sought to explode gender categories through carnivalesque androgyny, Hul Arnold instead seek fluidity; an aesthetic through which women can find 'new ways to stylise men's clothing without having to be so literal' and in which men can 'challenge' norms through 'silhouettes many would consider effeminate'. Their unconventional use of fabrics gesture towards such a post-gender world, incorporating articulated neoprene and spacer mesh into more traditional pieces for any client of any gender.

Later this year, Hul Arnold will launch their first store-based experience at Sean Knibb's conceptual retail space Flowerboy Project in Los Angeles, but for now, New York is home. 'South Bronx has a rich history in the arts and for birthing new movements; it's not a kept secret by any means,' they say. But for the team, they continue, 'it's a perfect bubble to incubate our creativity without the contrived and diluted nature of Lower Manhattan or Brooklyn proper'.

The coming year holds collaborations with artists and musicians, the continuation of their 'Logue' project profiling multidisciplinary creative figures, and, of course, new collections. If you're in search of a brave new world this year, keep an eye firmly focused on the South Bronx.
INFORMATION
For more information, visit Hul Arnold's website (opens in new tab)