Champagne and caramel: Hermès' delectably hued Hong Kong boutique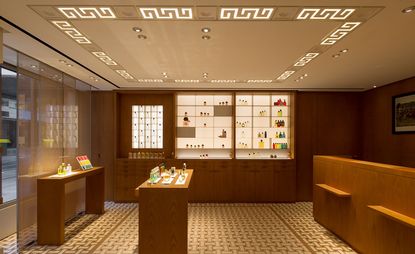 (Image credit: press)
Hong Kong has no shortage of luxury stores, but Hermès' newest flagship sets a vertiginous new benchmark for ultra-refined interiors without the bling that plagues many sartorial ventures across the city.

A gleaming new five storey facade that wraps around the corner of Prince's Building on Ice House Street and Des Voeux Road is the most distinctive feature. Conceptualised by the Paris-based architecture agency RDAI, it takes the form of a decidedly contemporary three dimensional 'forest' of vertical copper-coloured aluminium slats, a nod to local traditional bamboo scaffolding.

Inside the airy 9,167 sq ft store, spread out over three stories with two entrances, natural bamboo takes centre stage in the form of caramel-toned parquet flooring and furnishings while a cascade of minimalist staircases lead from the ground level dedicated to menswear, perfumes and the brand's signature silk and cashmere scarves, to womenswear on the mezzanine, and homewares above.
So far, so chic… but it is the impeccable detailing and masterful blend of materiality that make this space so distinctive. RDAI has good form when it comes to delivering the family-owned French brand's trademark heritage- meets-modern-glamour; it has crafted over 300 interiors and architecture projects for Hermès. The brand opened its first store in Hong Kong in 1975 and today has 40 stores in the city, Mainland China and Taiwan.

According to RDAI artistic director Denis Montel, each Hermès store exhibits a unique personality. 'Our intention was to carry forward signature Hermès aesthetics like the Ex-Libris motif grey and gold mosaic flooring on the ground floor and furnishings but we approached it as a building with its own soul and volume,' he says.

Throughout, the predominantly open-plan interiors, with discreet spaces defined by screens or displays, offer a balanced interplay of natural and subdued lighting that compliment the rich, tactile layering of lacquered wood, leather, stucco, marble, and custom woven metal.

A subtle palette of muted, natural hues graduate from stone and burnt wood tones downstairs to lighter, more feminine champagne above. The timber display cabinets, sleek metal rails, and low-slung leather armchairs and sofas arranged in intimate salons and the boudoir on the mezzanine – are minimalist, but curvaceous.

Montel says the layout is a response to the building's low ceilings and 'messy' internal structure featuring many concrete columns of different sizes. 'We took advantage of that to create a sense of different spaces. You don't feel like you are in a big store, because it comes from the simple idea of a maison,' he explains.

This is not to say there isn't room for a touch of French flamboyance. The third floor devoted to homewares features a hand-stitched, leather-clad foosball table complete with meticulously hand-painted players, while a collection of Hong Kong-exclusive limited edition clutches reflects the spirit of the city with whimsical birdcage, a skyline of skyscrapers, a cockatoo and a horse's head designs. The store also showcases Parisian artists Zim & Zou's colourful window installation of paper castles.

'We wanted something very special in Hong Kong, for it to feel welcoming like a home,' says Hermès CEO Alex Dumas.
INFORMATION
For more information, visit the Hermes website (opens in new tab), and the RDAI website (opens in new tab)
ADDRESS
Ground Floor
Landmark Prince's
10 Chater Road
Central, Hong Kong
VIEW GOOGLE MAPS (opens in new tab)