Pierre Hardy on his trippy, space-travelling and equestrian shoe designs for Hermès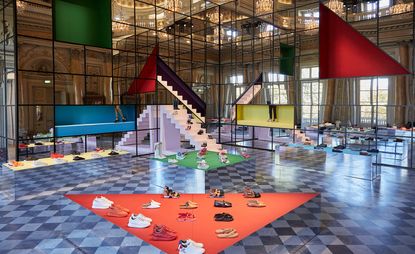 (Image credit: Hermès)
The day before Hermès footwear presentation in Paris, the luxury house's shoe and haute joaillerie designer Pierre Hardy is serenely watching the mirrored and colour-blocked installation that will house his latest designs take shape. 'It's cool huh?' he smiles, gesticulating to the geometric walls of mirror, and stair-lined chambers conceived by long-time collaborator Mathias Kiss, which will soon showcase his pieces. His cheerful ease is the mark of a designer who has been creating footwear for the house – one which revels in the brand's Parisian, equestrian and silk scarf-swathed heritage – since 1990.

The presentation installation, all block-colour, straight lines and reflective surfaces, acts in terrific contrast to the opulent neoclassical backdrop of the Monnaie de Paris. But there are similarities within the space too: a respect for geometry and construction, and a wonderful sense of form, whether it is pared-back and mirrored or golden, corniced and mural-clad. Reinterpreting classic forms is also central to Hardy's design output. 'I always try to make a bridge between silk, clothing, and the equestrian and to find the right relationship between all of these' he says of his approach.
For S/S 2019, Hardy's men's and women's offering is vibrant, multifarious and a touch psychedelic. 'I think the idea of heavy, light, pointy, sharp, nowadays doesn't matter,' he says of his hybrid design approach, which for spring sees spliced women's styles like a strappy-sandal-come loafer or a men's Oxford shoe in casual denim. 'It's all very flexible!' he enthuses.

Versatile indeed, but there is also a fabulous sense of magic behind Hardy's latest creations. 'There is this dreamy, fun feeling,' he smiles, signalling to a series of women's metallic platform heels and sandals, boasting straps of varying thicknesses. These refer to the "Eat me" and "Drink me" foods and liquids in Alice in Wonderland that make its protagonist shrink or grow in size – 'It's about the micro and the mega!'

Elsewhere, chunky wooden wedges with cloud shapes carved into the heel, and court shoes with sculptural antenna-like metal heels nod to interstellar space travel. 'The heel is based on a "Sputnik" jewellery design from years ago,' says Hardy, who has also been designing jewellery for Hermès since 2001 and haute joaillerie since 2010. 'One of my dreams is to go into space!' Hardy also had a different trip in mind when he was designing sunset and star detail wedges patched together from different leathers, and riding boots with silk ribbons in psychedelic pastels. 'The pattern is of Hermès' Rue du Faubourg Saint-Honoré store,' Hardy says, 'But with clouds, stairs and rainbows. A dreamy vision of a classic façade.'

Hardy's men's offering has a particular nod to Hermès' equestrian heritage. There are white sneakers printed with his illustration of a horse's carriage (for women, there is a trainer with a whimsical Pegasus print), and neon trainers with stirrup-clasp details.
Hardy designed his first trainer for the brand in 1997, but his S/S 2019 offering shows off a new understanding of performance shoe construction. There are leather styles with expertly stitched uppers or with tessellated 'H' motif soles. 'Designing a trainer is more like creating a car or armchair,' Hardy says. 'It's about technology and efficiency.'

Amongst trainers and espadrilles with astrological or watchmaking prints, there are also a series of bold monochrome lace up shoes from the house's S/S 2019 collection. Hermès' is renowned for its signature orange shades, and in tones like burgundy or olive, the upper and sole of these shoes are imagined in the same rich hue. 'A shoe all in one colour seems so shocking and surprising!' Hardy laughs. 'Multi-pattern, multi-layer, multi-colour… I wanted to create something simple!'

'There are so many ways to stretch the classics,' Hardy adds. 'I think that is the answer to how working here has lasted so long! There is always something to manipulate, even if it existed five, ten or 20 years ago.'
INFORMATION
For more information, visit the Hermès website
Receive our daily digest of inspiration, escapism and design stories from around the world direct to your inbox