Heel spin: the French fashionista injecting Parisian panache into Stella Luna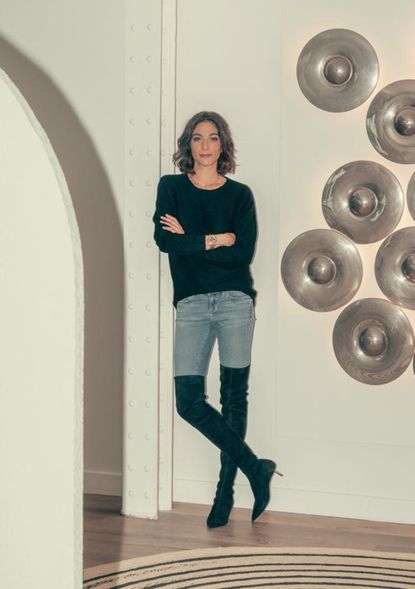 (Image credit: Romain Laprade)
I had no shoe design background at all,' says Capucine Safyurtlu, the chic former fashion stylist who became the first creative director of Chinese footwear label Stella Luna in February 2016. Its founder and CEO, Stephen Chi, saw Safyurtlu's Parisian aesthetic and Vogue-honed editing prowess as essential arsenal for European expansion.
'What was really missing at Stella Luna was a strong DNA,' explains Safyurtlu of the 12-year-old label, which is owned by Stella International Holdings, a Hong Kong footwear manufacturer that has been working for luxury brands such as Prada, Givenchy and Paul Smith since its creation in 1982. Developing samples with Stella Luna's skilled Italian shoemakers and tanneries, Safyurtlu set about introducing signature styles that can be tweaked and evolved each season, including a gold buckle, inspired by a bracelet, with 'a noisy click-clack sound', a double metal ring detail, and a sculptural cigarette heel.
Safyurtlu had seen an encyclopaedic stretch of footwear shapes and finishes in her former role as a fashion editor, first at Numéro and then at French Vogue, and she now applies her stylist's skill in editing and refining an image to the process of shoemaking. 'Creatively, I'm free to work how I want,' she says. 'My magazine background has helped me to understand exactly what I want from my collections.' For A/W18, this means fluffy sandals with flat gold buckles, sparkling cone-heel pumps, loafers with inbuilt chunky socks and spindly boots with patent frills. 'The cigarette heel has been relaunched for autumn,' says Safyurtlu. 'Only thinner and in gold metal.'
Stella Luna has 164 stockists across Asia and nine in the Middle East. It is also growing its retail partner network in the UK, US and Italy, and is carried by a number of department stores, including Selfridges and Barneys New York. The brand bolstered its European presence back in 2012 with the opening of its first Paris flagship, designed by Jamie Fobert Architects. It now has three boutiques across the city. In his collaboration with Safyurtlu, Chi was keen to imbue the brand with more Parisian punch. 'Haute couture was part of my upbringing,' she says. 'My first memories of my mother are of her wearing Hubert de Givenchy and Yves Saint Laurent.'
While plissé and pearl details have a Place Vendôme pizzazz, there's a smart selling instinct behind Safyurtlu's approach. Browse Stella Luna's website and its product is ordered into sections according to a shoe's visual signature, such as a cone or cigarette heel. It's a savvy way for customers to attune themselves with the brand's new shapes, and shop according to their preferred style.
'I quickly sketch ideas, with a special focus on heels,' says Safyurtlu, waving a hand over the pots of pencils and colourful permanent markers that sit on the desk of her o ce in the 1st arrondissement. She sees her studio team in Padua, Italy, at least fortnightly, re ning technical sketches and fabrics before the brand's nal pieces are produced in China. Her work is now synonymous with Stella Luna's European growth, and it's an achievement Safyurtlu is taking in her stride. §
As originally featured in the October 2018 issue of Wallpaper* (W*235)
INFORMATION
For more information, visit the Stella Luna's website