David Collins Studio completes art deco-inspired Harrods' Superbrands department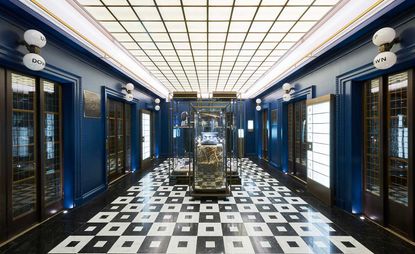 (Image credit: Adrien Dirand)
'Menswear has experienced a quiet revolution over the past few years,' states Michael Ward, managing director of Harrods, reflecting on the London store's ongoing revamp of this long-overlooked department. 'Menswear within Harrods has gone from strength to strength, and we want to match this growth with the investment in a truly unique destination.'

The launch of the Men's Superbrands department, is the first step in a seven-phase redevelopment of Menswear and Sports at the iconic London store, which responds to recent innovations and increased customer demand within the sector. The longer term mens department project, which spans 155,000sq ft, is set to complete by 2020, and is the largest investment in Harrods' menswear history.

Superbrands opened at the end of 2018 with an opulent but timeless interior dreamt up by London-based practice David Collins Studio, which has, in the past five years, also revamped the store's shoe department and food hall (opens in new tab).
Moving from the store's ground floor, where it has been present for more than 80 years, up to the second floor, the menswear department now has a more navigable floor plan made up of serene walkways and intimate squares, almost like a miniature town.

'I'd like to think that it doesn't feel "masculine" in a typical way,' reflects David Collins Studio creative director Simon Rawlings, who led the project. 'We really focused on creating a space with beautifully engineered details that will stand the test of time and will be there for years to come.'

The studio looked to the building itself as well as the store's extensive archive for inspiration, resulting in an interior that nods to classic men's tailoring as well as art deco architecture. 2,060 sq m of black and white marble is arranged in art deco-inspired patterns across the floors and walls, while polished walnut forms display cases, frames and cornicing. The Harrods logo can also be seen, subtly integrated into the detailing, appearing in stitched leather, marquetry and bronze inlay in stone.
'We always start the creative process by delving into the archives,' explains Rawlings. 'It's so important that the design has a connection with the heritage of the building.'

Painted in rich, distinctive colours that help to aid way finding within the department, the squares that connect the various brand concessions are furnished with chairs, standing lamps and bespoke artworks that give the space a domestic feel.

'I wanted to create a more evocative mood in these spaces,' says Rawlings. 'I wanted the lighting level to be lower and for the lighting fixtures to be product based rather than architectural – so it's very layered with a much calmer atmosphere. It's almost like we were designing a home or a hotel rather than a retail experience.'

These intimate corners also house glass and walnut vitrines with mixed product displays where shoppers can stop and discover brands they would otherwise pass by.

'Male shoppers tend to be creatures of habit,' muses Rawlings, who together with his team researched the shopping patterns of men. 'These findings were incorporated into the design and planning, interior architecture and visual merchandising – we wanted to create a layout that would excite and entice them into trying something different.'
INFORMATION
For more information, visit the Harrods website (opens in new tab); David Collins Studio website (opens in new tab)
ADDRESS
Harrods
87-135 Brompton Road
Knightsbridge, London
SW1X 7XL
VIEW GOOGLE MAPS (opens in new tab)